Fluhr, the first U.S. importer of Giant-made bikes, led a multi-generational bike industry family as president of Beacon Cycle.
Editor's note: This story has been updated to add remarks from former Giant CEO Tony Lo.
LAGUNA WOODS, Calif. (BRAIN) — The first time Steven Fluhr attended the New York City bike trade show, he was treated like royalty. After all, he was accompanied by one of the kings of the industry during the 1970s bike boom: his father Robert.
"I felt like a prince walking around with Dad, because everyone knew him and people kept coming up to him," recalled Steven, who is now 57 and owns M&M Cyclery, with two Chicago-area stores.
Robert "Bob" J. Fluhr passed away Dec. 15 at his home in California. He was 83.
For many years Fluhr was president of Milwaukee-based Beacon Cycle, which had five warehouses at one point and was once the largest bike distributor in the country that was not a bike manufacturer. His father, Harry Fluhr, had founded Beacon after World War II. Bob and his brother Ed joined the company in the 1950s.
While Ed focused on dealer relations, Bob was the master sourcer, and as the bike boom exploded in the 1970s he was ahead of his time in importing bikes and P&A from developing countries. Beacon brought in bikes from Europe and Japan, including Jeunet & Mercier from France, Sekini from Japan, Junker from Holland and Schauff from Germany.
Beacon was the first U.S. distributor to bring in bikes from a then-tiny Taiwanese bike maker, Giant. The Giant-made bikes were sold under the Beacon label. Giant's Tony Lo remembers that when Fluhr came to Taiwan in 1974, he spent two years visiting factories before deciding on Giant. 
"He surprised many people when he choose Giant, which was then a new small company, and our price was relatively high," Lo told BRAIN in an email. "I remember Bob told me when he decided to buy from us, 'I chose Giant for the quality and my trust in you,' which meant a lot to a then-young man like me.
"I sincerely appreciate Bob's business and friendship," Lo said. 
Fluhr's expertise was known worldwide. Fluhr visited China — two years before President Nixon's historic visit — to consult on establishing bike manufacturing there.
Steven Fluhr remembers his father taking a call on Thanksgiving Day from an executive at Mattel who asked for help sourcing a tire for a new children's scooter. "They begged him for help, and the day after Thanksgiving he got on a plane to Japan and got the tire made," he said.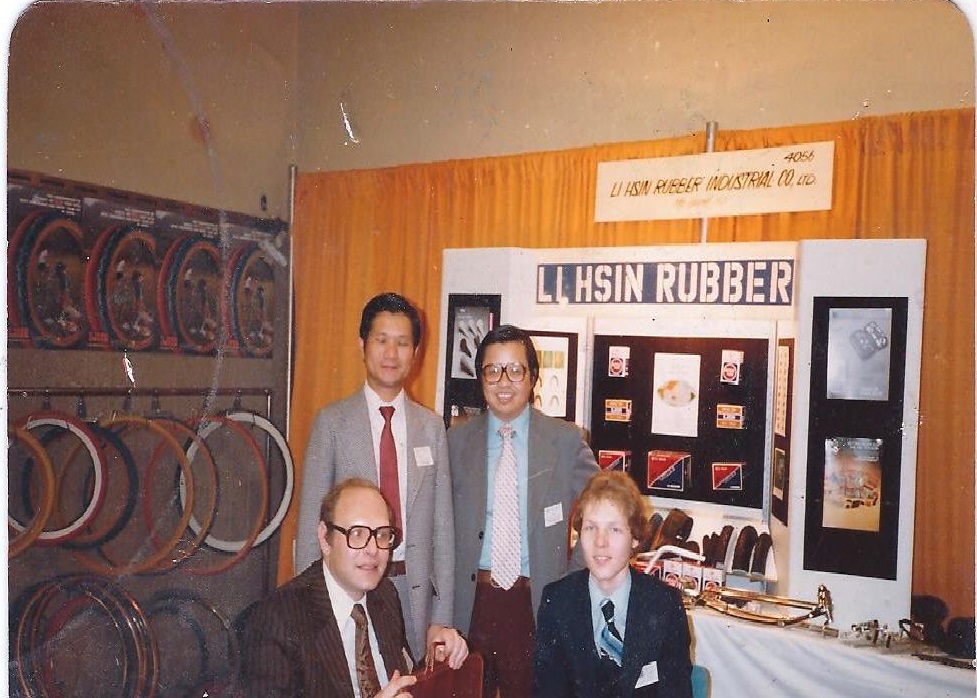 Fluhr was also ahead of his time in hiring practices. In 1974, he hired Carolyn Meyer as a regional sales rep — she was likely the first female sales rep in the U.S. bike industry. Meyer went on to work for Diamondback, Trek and Schwinn, and retired last year. She kept in touch with the Fluhrs throughout the years.
"I really do owe my career to Bob," Meyer told BRAIN this week. "He was just a soft-spoken, kind man who was a very good listener. And he was a man of great integrity," Meyer said.
The Fluhrs sold Beacon Cycle to U.S. Industries in about 1974, and he stayed with the company as it moved to Chicago, while Ed retired. USI liquidated Beacon a few years later and Fluhr ran a manufacturer's rep business for a few years before retiring to California.
Besides Steven Fluhr, who opened M&M Cyclery in 1988, the third generation of bike industry Fluhrs includes Samuel Fluhr, Bob Fluhr's nephew and Ed's son. Sam Fluhr worked as a sales rep for Beacon and now owns and operates Bikers Supply, a distributor in Cedarburg, Wisconsin.
He remembers his uncle as an innovator and a leader who had a big role in helping many retailers and suppliers get their start in the industry. He also remembers working in the business as a boy, helping make reflectors.
"I remember him as a man who loved taking care of his kids. He would take us to the county fair, the state fair. ... He was a typical bike industry guy. He started with a small company and it just grew," Sam Fluhr said.
Bob Fluhr leaves his wife, Jackie, to whom he was married 57 years. They had three children, Steven, Brian and Debbie, and eight grandchildren. His brother Ed passed away in the early 1980s.
A memorial service is planned for this Sunday, Jan. 7, at Pacific Views Memorial Park, 3500 Pacific View Drive in Corona Del Mar, California. The service is at 11 a.m. The family is asking that donations be made in Robert's honor to the Michael J. Fox Foundation for Parkinson's Research.