ASHLAND, Ore. (BRAIN) — QBP's Women's Bike Mechanic Scholarship, now in its 6th year, has had many success stories. To find one, you don't need to look far: B Vivit, an instructor at United Bicycle Institute. Vivit earned a scholarship to attend a 2-week class at UBI last year.
At the time, Vivit was floor manager at Huckleberry Bicycles in San Francisco.
"After the class was over, I was giving feedback to some of the instructors over text since they had my phone number. They recommended I apply to teach here because they had seen and overheard me helping other students and teaching during class. It all happened very quickly, and I've been here for 18 months now," said Vivit.
Vivit assists with UBI's Pro course, and in the framebuilding shop and also manages the social media account for UBIs Ashland, Oregon, campus.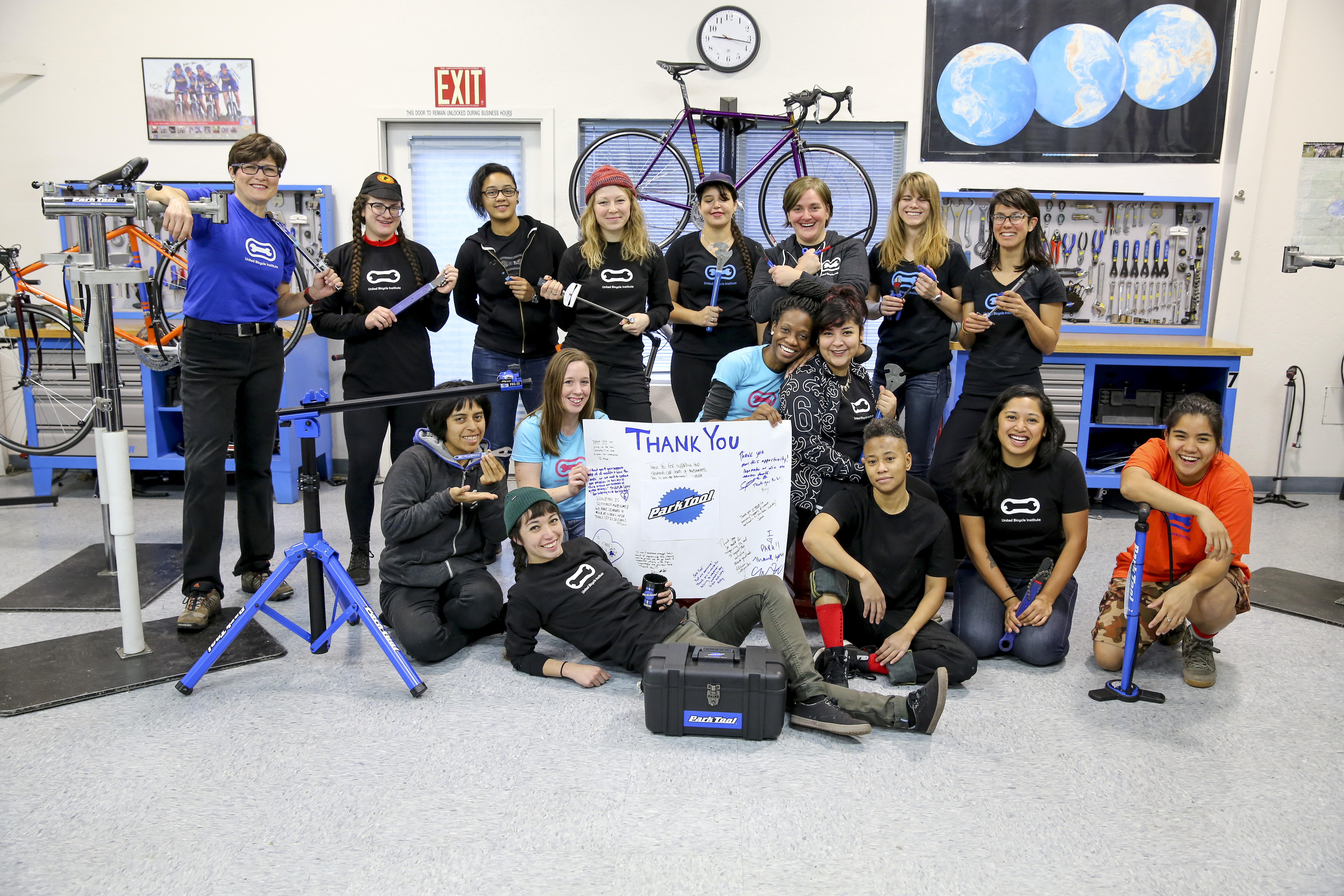 Registration is now open, through Nov. 2, for the next round of 32 scholarships, which will be awarded to 32 women, trans, nonbinary, gender nonconforming and intersex individuals, allowing them to attend UBI's Professional Repair and Shop Operation course at either the Ashland or Portland, Oregon, campus in February 2019.
Over the years the scholarship has helped more than 75 individuals strengthen their bike mechanic skills and broaden their career horizons.
Starting in 2016, all scholarship winners attended UBI for the same 2-week class. In 2017, the scholarship was granted to 32 people, filling two courses in the spring and the fall.
Vivit said, "I think every woman and every WTF (woman/trans/femme-identifying) working in the industry should apply even if they think they won't get it the scholarship. A lot of folks are reluctant to apply, and don't think they can do it, but they can."
This year the scholarship classes are being held at both campuses, said QBP's Kaitlin Johnson, who is the director of the women's scholarship and previously worked as a mechanic.
"We've always held it at the Ashland campus, but this year we are changing it up and the first course will be held in Ashland and the second in Portland. They'll overlap by a week," she said.
"It's really incredible to have a class full of women. About 300 people usually apply, and I wish we had 300 scholarships to give out because everyone who applies would be incredible recipients. It's so tough to narrow it down."
To qualify, applicants must currently be employed at a bike shop in the U.S. or U.S. territory, although women in volunteer, intern and trainee positions are also eligible. UBI covers the cost of lodging, and small stipend for food and other costs is awarded upon completion of the course, but scholarship winners are responsible for transportation costs to and from Oregon.
Winners will be announced in early December.
Scholarship sponsors include Dero Racks, Spank, Maxxis, WTB, DT Swiss, Problem Solvers, and title sponsors SRAM, UBI and Park Tool, which supplies each participant with a travel tool kit to take home after the course.
To apply, visit qbp.com/womensscholarship.