BEND, Ore. (BRAIN) — Many consumers and even bike retailers may not have heard of the Project321 brand before last week. But the Bend, Oregon-based component maker got a shot of name recognition when Crankbrothers announced at the start of October that its new Synthesis line of front- and rear-tuned carbon wheels would include Project321 hub internals.
The collaboration was an unexpected one for Project321 co-owner and product designer Jake Liles. Up to that point, his company, which also makes automotive accessories, had been focused only on aftermarket hubs, hub parts, Lefty fork adapters and custom wheels for the bike market.
Founded in Fresno, California, Project321 has its roots in the moto/ATV market. Around 2007, Liles wanted to put a Cannondale Lefty fork on his Giant mountain bike. "Cannondale has its own headtube, so so I made this adapter. Then I made another five or 10 and posted them on MTBR," Liles said.
He sold those adapters direct to consumers, "then the calls kept coming in on that."
Liles soon expanded to Lefty hubs and started opening dealers sales. Then he found that those Lefty hub customers wanted matching rear hubs, which he produced using Industry Nine drivers. Traditional non-Lefty front hubs soon followed.
In January 2017, Project321 introduced its own hub drive design — a low-drag magnetic ratchet pawl system.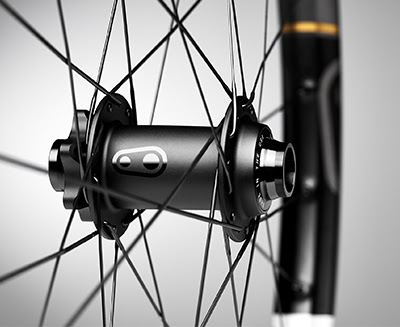 "We didn't invent the magnet concept. That's been around. But we put the magnets on top of the pawl so it's a pulling force, as opposed to a pushing force, and that's how we really get the lower drag numbers than other pawl systems," Liles said.
"Then early this year Crankbrothers made contact about this new wheel and we collaborated on that. And that's where we're at now."
The timing was serendipitous. In October 2017, Project321 relocated from Fresno to Bend, outfitting its new shop with equipment that was faster and more versatile than the company previously had. 
"We expanded our capacity in the move automatically, before we ever had any conversation with Crankbrothers. We were ready for an OE job even though it wasn't part of our plan," Liles said.
He also brought in new machinery that allowed Project321 to produce its own pawls and drive rings in-house — work that had previously been farmed out and put the company at the mercy of the vendor's production schedule. "Now we can produce many times more parts over any given period of time," Liles said.
The Crankbrothers partnership has significantly increased Project321's production, making all the front and rear hubs for the brand's top-end Synthesis enduro (E 11), cross-country/trail (XCT 11)  and downhill (DH 11) tuned carbon wheels. And Liles sees the collaboration going a long way toward raising awareness about his brand. 
"We're so product oriented — we're not a marketing company by any means. We're just not good at that. We accept that. We let the product drive the interest," he said. "Crankbrothers is pretty huge. They have international distribution and advertising. I think people are going to go, 'Who is Project321?' and look us up. They'll see they can get the same thing in different colors and hole counts and they can put their rims on it. 
"I think we have a lot to benefit from on that front. I think Crankbrothers realizes they're doing that for us just having the product out and about."
More information: project321.com | Crankbrothers Synthesis wheels.