BROOKLYN, N.Y. (BRAIN) — You can't buy one (not a new one, anyway), but New Belgium Brewery's cruisers are some of the most popular and visible bikes in the country. 
In 1995, the Fort Collins, Colorado-based craft brewer began offering free bikes to its workers after a year of employment. The bikes became coveted collectors' items, as well as basic transportation, and New Belgium later began raffling them and offering them as prizes and promotions for fundraisers, but never for sale. 
The employee-owned company now has a second brewery, in Asheville, North Carolina, and about 700 employees. Over the years, its cruisers have been custom made by Schwinn, Spot, Felt, Electra and Detroit Bikes. For 2019, the company tapped Brooklyn Bicycle Company, a brand founded in 2011. 
Brooklyn Bicycle's president, Ryan Zagata, said its version of a New Belgium cruiser varies from most previous iterations because it has gears. "My understanding is that Fort Collins is quite flat, so a single-speed is fine there. But Asheville has hills, so that opened the door for us to do something a little different with gears."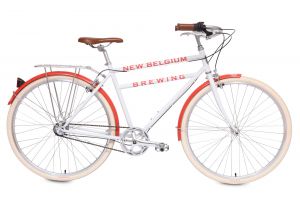 The New Belgium bikes are based on Brooklyn's Driggs 3 model, a three-speeder with a double-butted chromoly frame with geometry by Rivendell Cycles' Grant Petersen, a former member of Brooklyn's board of advisers. The three-speed bikes feature trademark New Belgium colors and logos and a Brooklyn head badge. 
Zagata declined to say how many of the bikes Brooklyn will make for New Belgium. Besides offering them to employees, New Belgium provides them as displays at retailers and prizes at its Tour de Fat festivals. Brooklyn's Driggs 3 model retails for $599. 
"They were just a really fun company to work with," Zagata told BRAIN. "They've worked with some very big bike companies in the past, so it's nice for us to fall into their portfolio. A couple cases of their beer showed up in our showroom in Brooklyn recently — we've almost worked our way through it and the bikes are being loaded up over the next couple days," he said.
"New Belgium has a cult following amongst our team," he said. "It's exciting to work with a brand that aligns so well with who we are and what we do. There was so much effort and care that went into this process and we're thrilled with the outcome."
Zagata said Brooklyn has a growing business in selling fleets of bikes to corporations and hotels. It also continues to sell bikes through its website with delivery through about 425 North American IBDs, many of whom also stock the bikes. The company was one of the first to offer a "click-and-brick" fulfillment program, in 2012. "At the time, no one understood what we were doing," Zagata said. Now there are many online bike brands doing something similar.
"Finding good IBD partners is one of the most valuable things we've done. Once you find someone who understands your story and understands their customers, it's a great partnership. There's nothing better. There's no way in hell I would ever compete with them," he said.