SANTA FE, N.M. (BRAIN) — What began as a white-water kayak excursion to California's Kern River has — 20 years later — put Ben Sarrazin smack in the middle of the e-bike revolution.
Today he owns Yuba, a small bicycle company specializing in cargo bikes with headquarters in Cotati, California, not far from another of California's famous white-water destinations — the Yuba.
Sarrazin, a native of France and now a U.S. citizen, said he came to kayak California's rivers when he was young. "I wasn't excited about doing something after earning my master's degree. I wanted to get out in the world," he said, sipping a cold San Pellegrino outside Santa Fe's Violet Crown, a combo theater, pub and eatery.
He was in the city to meet with editors at Outside magazine, giving them a chance to ride and evaluate his Electric Supermarché, an electrified Dutch-style front cargo loader. Outside's offices flank an REI store and that's where Sarrazin and I agreed to meet. We later wandered down to the Violet Crown to talk.
Sarrazin has a long history in the cargo market thanks to his early involvement with Ross Evans and Kipchoge Spencer at Xtracycle. There he handled, among other things, its sales in Europe. Xtracycle, at the time, was best known for its FreeRadical, a rear-end that could mate to a regular bike transforming it into a longtail.
Before Sarrazin left the Oakland, California, there were conflicting points of view among the Xtracycle staff: Should Xtracycle continue to sell kits rather than complete bikes? Sarrazin opted for complete models and left to launch his own business in 2006, starting with the Mundo cargo bike model. Later, Xtracycle began selling its own brand of cargo bikes including electric versions.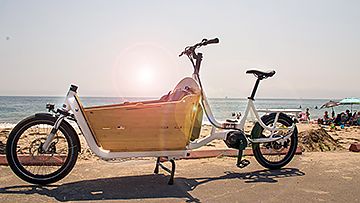 Yuba now has about 120 dealers in the U.S., although Sarrazin said that number fluctuates. The company builds its bikes in Taiwan and distributes them from its Northern California warehouse.
Sixteen months ago, Yuba moved from Petaluma to the small Northern California town of Cotati which sits astride U.S. 101. And last year Sarrazin opened an office in France. The company employs 10 people in the U.S., seven in France and three in Asia.
Last year Yuba sold approximately 5,000 bikes with U.S. sales outstripping Europe. Sarrazin, 45, with his wife, Emily, and their two children, live part-time near Annecy in the French Alps. "I spend about half my time here (in the U.S.) and half in Europe," he said.
BRAIN: Dealers, in general, are feeling the pinch of tightening margins on bikes and other products. What can dealers expect from Yuba?
"If the auto industry was trying to get a 40 percent margin, most cars could be $100,000."
Sarrazin: Compound margins can be as high as 43 percent. Also, we don't have model years which means that our models don't need to be discounted because of inventory. For dealers, this is huge.
BRAIN: Last year you sold about 5,000 units. How did that breakdown between the U.S. and Europe and will that shift?
Sarrazin: Last year we sold about three-fifths of our inventory in the U.S. and Canada dealer direct, and the remainder in Europe. But we are expecting that to shift with 60 percent of our sales in Europe and 40 percent in North America with France and Germany our top European markets.
BRAIN: Consumers shopping for bikes today are often startled by prices they see, and cargo bikes are no exception. What could the industry do to bring prices more in line with consumer pocketbooks?
Sarrazin: That's a good question. One, we need to reduce the number of actors involved in the supply chain. Second, change the retail margin model to a service-added model much like the auto industry. For instance, if the auto industry was trying to get a 40 percent margin, most cars could be $100,000. We need to find ways to add dollars into retail pockets without making the products inaccessible. In other words, warranty, financing, service and other value-added programs. But the question remains: if bikes were half the cost they are today, would retailers and brand partners be able to sell more units and be more profitable?
BRAIN: How do you size up the overall market for cargo bikes, whether front loaders like the Bosch-powered Supermarché, or people-and-package hauling longtails like the Spicy Curry, Sweet Curry, Boda Boda and Mundo lines?
Sarrazin: The market is on the verge of exploding and the interest in cargo bikes is humongous particularly in Europe. Right now, cargo bikes account for about 2% of sales. I think they could go as high as 10 to 20% over time in the electric segment. It's gotten pretty competitive, but the market is growing fast.
BRAIN: What's driving consumer and business interest in cargo bikes, particularly in Europe?
Sarrazin: A couple of things. Younger Europeans, especially, are highly sensitive to environmental issues. They're experiencing climate change. It now gets really hot and polluted in European cities. And traffic congestion — it's everywhere. They understand electric vehicles and e-bikes can make a difference. And many European cities are closing off sections of their downtown to most traffic. Cargo bikes make excellent delivery vehicles in these cities. And this trend will continue.
BRAIN: What about the U.S. market?
Sarrazin: It's going to keep growing, but it will depend on how infrastructure and how the urban landscape is organized in communities. If the bike infrastructure is good, then sales will grow for e-bikes and e-cargo bikes. But look at Southern California. It's affluent, it's relatively flat, there's some infrastructure, but people's lives are so spread out. There's too much distance between home and work. It can be very hard to integrate cargo bikes into a daily lifestyle given that reality.