Editor's note: A version of this article was published in the May 1 edition of BRAIN.
MONTEREY, Calif. (BRAIN) — Walmart's unveiling of a high-end bike brand at the Sea Otter Classic is the latest example of the retail giant's aim to sell to upscale online shoppers — whether they are shopping for cosmetics, mattresses, or, in this case, bikes starting at $2,300.
Walmart is moving into e-commerce rapidly and on multiple fronts, including the acquisition of existing brands and retailers, like Moosejaw, the outdoor retailer, and Jet.com, Bonobos, ModCloth and ELOQUII in recent years.
Moosejaw was in the news last year when some high-end outdoor brands objected to their products being placed on a Walmart "microsite." The microsite offered a product selection that was "curated" by Moosejaw, but several upscale brands thought the site was too connected to Walmart for their taste. 
But the Walmart venture that most closely resembles Viathon is Allswell, the "digitally native" mattress brand Walmart created and launched last year. Like Allswell, Viathon will not be sold in Walmart stores or on the Walmart website. In fact, there's almost no public connection between Viathon and Walmart (Although a company spokeswoman told BRAIN there's a possibility the bikes will sell on Walmart.com, someday).
Viathon is far from the typical Walmart bike and the brand boasts deep industry horsepower. Its frames — all carbon — were designed and engineered by Kevin Quan Studios in Toronto and manufactured in Asia. Quan is a mechanical engineer who has designed bikes for Cervélo, BH, Parlee, Diamondback and other brands. Quan also is part owner of the wheel brand Knight Composites.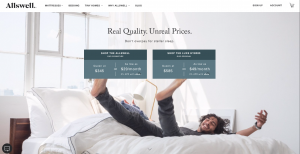 Viathon's brand manager is Zach Spinhirne-Martin out of San Bruno, California. Before being tasked with launching Viathon, Spinhirne-Martin was responsible for all online bike sales on Walmart's e-commerce platforms, which include Walmart.com, Jet.com, Moosejaw.com, and Hayneedle.com. Before that, he was a senior buyer for bike hardgoods at Backcountry.com and is a former USA Cycling team mechanic.
For marketing, Viathon has hired CrankTank, the marketing company founded by industry veteran Scott Montgomery.
CrankTank's Mark Jordan, the former bike marketing manager at Fox Factory, represented Viathon at Sea Otter. Jordan noted people's initial wariness at the event.
"Of course, there was some backlash with the Walmart connection,'' Jordan said. "The negativity starts in-store with reports of forks installed backward. But when people saw these bikes here, it was like, 'Hey, these are real bikes!'''
The Viathon models — road, gravel and 29er hardtail mountain bike — will be available with three component group options or as framesets. They will be shipped to consumers from Lucidity/Podium Marketing in Carlsbad, California. Lucidity is led by industry veteran Richard Wittenberg, who has worked with Factor, Ridley, Cannondale, and Asahi, among other brands.
Viathon bikes require consumers to install the seatpost, handlebars, front wheel and pedals, which are not included. Preset torque wrenches are included with instructions and an 800 number for additional assistance. Furthermore, the shipping box opens from the side so the bike can be slid out, instead of lifted from the top.
Jordan said the company is discussing working with mobile service providers such as Velofix for fulfillment.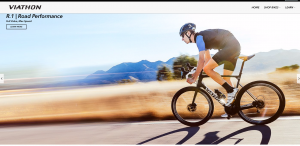 Viathon eventually will employ all standard marketing strategies online and in real life, including offering demos at Outerbike in Sun Valley, Idaho, next month, he said. The company is not disclosing sales goals, he said.
But Jordan said Viathon is in this for the long run.
"We're trying to build a culture, building an education," he said. "With Walmart's reach, we will create an awareness of the brand."
Along those lines, Jordan said Viathon soon will announce a gravel racing team. It also has a blog on its website authored by noted cycling and outdoors journalist Aaron Gulley.
Walmart and bikes: no strangers
While perhaps not directly connection to the Viathon project, Walmart has indirectly been a major player in the cycling world in recent years, even aside from the fact that the discount stores dominate the juvenile bike market in the U.S. The Walton family's foundation has supported the development of bike trails, facilities and events in the retailer's homebase of Bentonville, Arkansas, which has quickly become a major cycling destination.   
RZC Investments, founded by Tom and Steuart Walton, grandsons of Walmart founder Sam Walton, made news in 2017 by buying a 95% share of the British clothing brand Rapha. RZC also has invested in Allied Cycle Works, the high-end bike manufacturer in Little Rock, Arkansas.
Several sources at January's bankruptcy auction for Advanced Sports Enterprises told BRAIN that representatives from Moosejaw were in attendance. The ASE assets on auction included the Performance stores and e-commerce business, and bike brands including Fuji, Kestrel, Breezer and SE Bikes.
Viathon: the next leviathan, or a vanity project?
Viathon bikes are priced aggressively, but no more so than some other B2C brands like Canyon. The Viathon G.1 Gravel bike with SRAM Force, for example, is $3,550. For comparison, a Canyon Grail CF SL 8.0, a carbon gravel bike with SRAM Force, retails for $3,100. Trek's Boone 5 Disc has a SRAM Rival drivetrain, but also has the brand's IsoSpeed front and rear suspension feature. It retails for $3,550. A Specialized CruX Elite, also with Rival, is $3,200.
Industry veteran Alan Goldsmith, founder of the Supergo retail store and mail order business, which he sold to Performance Bicycle, is not impressed.
"Viathon seems like a bike-loving Waltons' half-baked vanity project, not a serious formula for beating the rest," Goldsmith told BRAIN.
"The well-designed proprietary framesets are competitive with major brands but hardly breakthrough … (or) state of art. The component spec' is in-line with other value brands at close price points. But it's not as if they're giving Dura-Ace for the Ultegra price. The bike industry is too commoditized for any company to accomplish that."
Goldsmith said specialty bike retailers need to develop a plan to compete with all the online-only brands.
"They should compete by being an expert in Viathon's (and others') technology, spec' and prices. Create and print a handy comparison table of Viathon vs. the dealer's models. Study other brands' FAQs, consumer and expert reviews, and use all negative data to defeat the shopper's interest. Learn the consumer's wants and needs and be well-prepared to explain how the dealer's brands satisfy better than the online competitors," he said.