By Michael Gamstetter
ADELAIDE, Australia (BRAIN) — Rarely does a company take to social media and website comments to claim another supplier violated its intellectual property rights. But that's been the approach of Zidaz Izaz, owner of the Australian handlebar brand Eyropro.
On Instagram and in comments below a consumer website review, Izaz has publicly called out Coefficient Cycling Company and its Wave handlebar, charging that the Wave infringes on his patented design.
Both handlebars are constructed of carbon fiber and consist of sections that curve up, down, forward and backward in order to provide the rider with greater comfort while riding. Although not identical, the drop-bar designs do look similar.
The dispute entered new territory last month when Don Sheff, the owner of Coefficient, received a patent covering the Wave bar. Sheff's is a utility patent, while Izaz's patent — granted this spring — is a design patent.
Rick Sutton, Coefficient's chief operating officer, began promoting the Wave bar this spring, and the bar soon received a positive review in CyclingTips. Around the same time, Izaz began attacking Coefficient on Instagram, saying the Wave bar is a "rip off of my USA-issued design."
"The Eyropro handlebar was released in Adelaide, South Australia in January 2017. Our site was active April 2017. I have a strong belief Don Sheff saw my bar in Adelaide in January 2017 when it was released and has copied it," Izaz said.
Sheff denies ever having been to Australia.
 

 

 

View this post on Instagram
Izaz has used Instagram to call out Sutton, as well as several of the Wave bar's brand ambassadors and others using the bars, saying they should "be ashamed."
Sutton's take
Sutton said he is confident that his company's bars do not infringe on Izaz's design patent, despite the similar appearance.
"We hired an additional patent attorney to verify that the advice of our retained attorney is accurate. They agreed there is no infringement. And that's even without our patent," Sutton said.
But not only is Izaz adamant that the Wave bar infringes on his patent, he also contends that Sheff's patent doesn't cover his own handlebar.
"If Coefficient is going to say they have rights over me because of an earlier priority date, then the bar they are talking about is the old Wave bar. Coefficient cannot use it to protect the new Wave bar as it is not the same," Izaz said.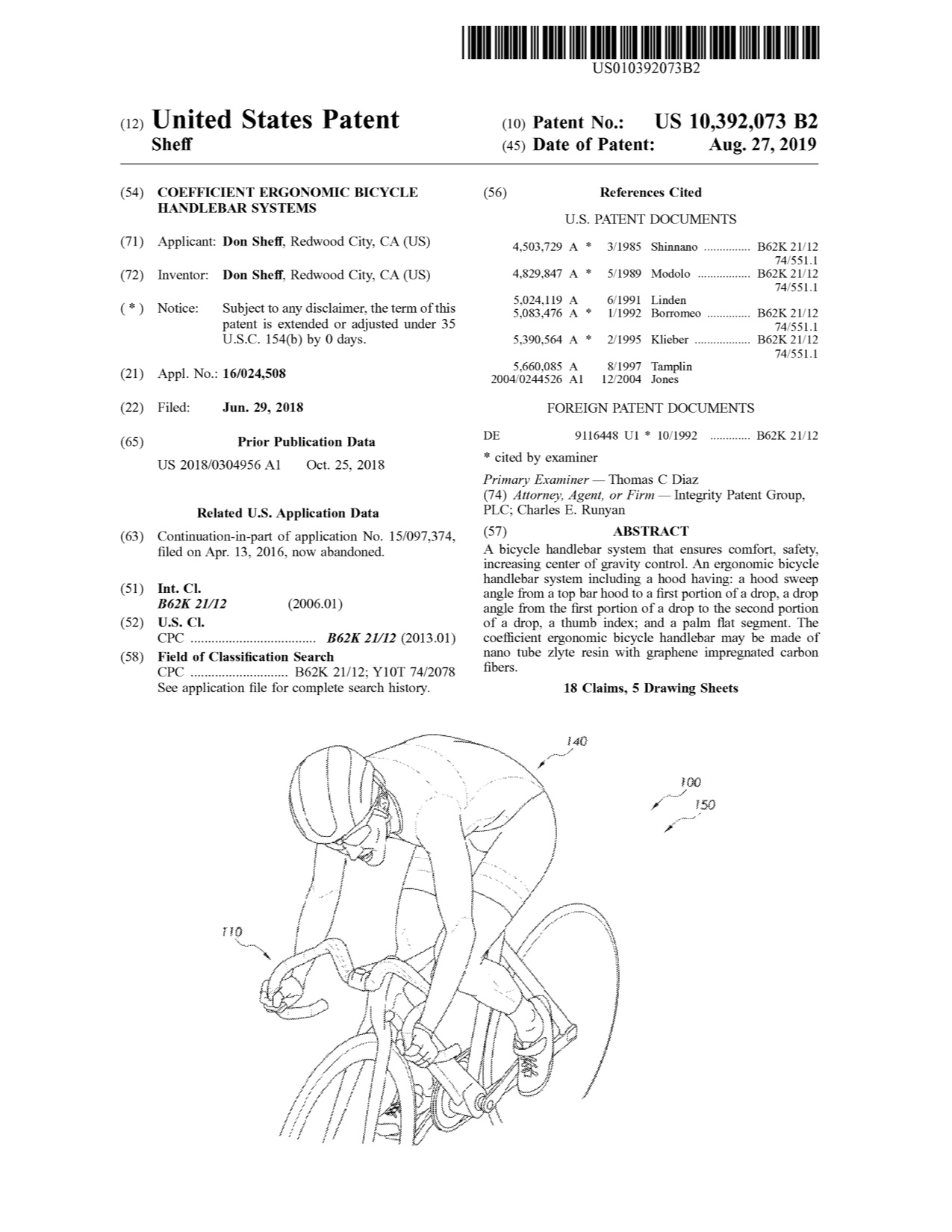 Sutton said Coefficient is prepared to defend its intellectual property and protect its reputation.
"We (received) a cease and desist, by which point in time Izaz had slandered the company and me personally. And some of my friends were targets of his where he sent messages through social media. Our patent attorney says we have done nothing wrong. But I wanted to double check so we consulted two other attorneys. They looked at the patents and both came back with the same opinion as our attorney.
"One firm has also done patent litigation work. I hired them to reply with a letter outlining the reasons Eyropro is wrong. One of the firms we consulted is a corporate law firm and they sculpted the second half of the letter including a cease and desist in Australia and the U.S., citing Izaz's defamatory comments," Sutton said.
Sutton said he doesn't relish the idea of fighting in the courts with Izaz, nor does he want it to escalate, but he feels he has no choice.
"We made an early decision not to try to shut Eyropro down. We're not willing to spend the money to shut him down in court. We asked him to stop saying the things he was saying in public because it's wrong, not just ethically, but legally," he said.
Sutton tried to make nice with Izaz publicly, when he posted a message on Eyropro's Instagram page. "Hey Daz [sic], Coefficient has a patent that predates everything you've filed. Maybe focus on selling your bar.
There's plenty of room in the market for both companies and we have no intention of saying or doing anything to discourage your success."
But Izaz said he has no intention of sharing the market with Wave. "Sutton is playing games as he knows Coefficient ripped me off. He can forget about having a free ride off the back of my work and financial outlay," he said.
Izaz said he conceived of his ergonomic bar design in 1999 and filed for intellectual property rights in Australia. The design, however, was not registered, nor was it examined, he said. He applied for a U.S. design patent in June 2018, which was granted in April 2019.
"I tried for a utility patent for my design in 2017. I was showed prior art that would prevent it being successful, so I registered the design instead," he said.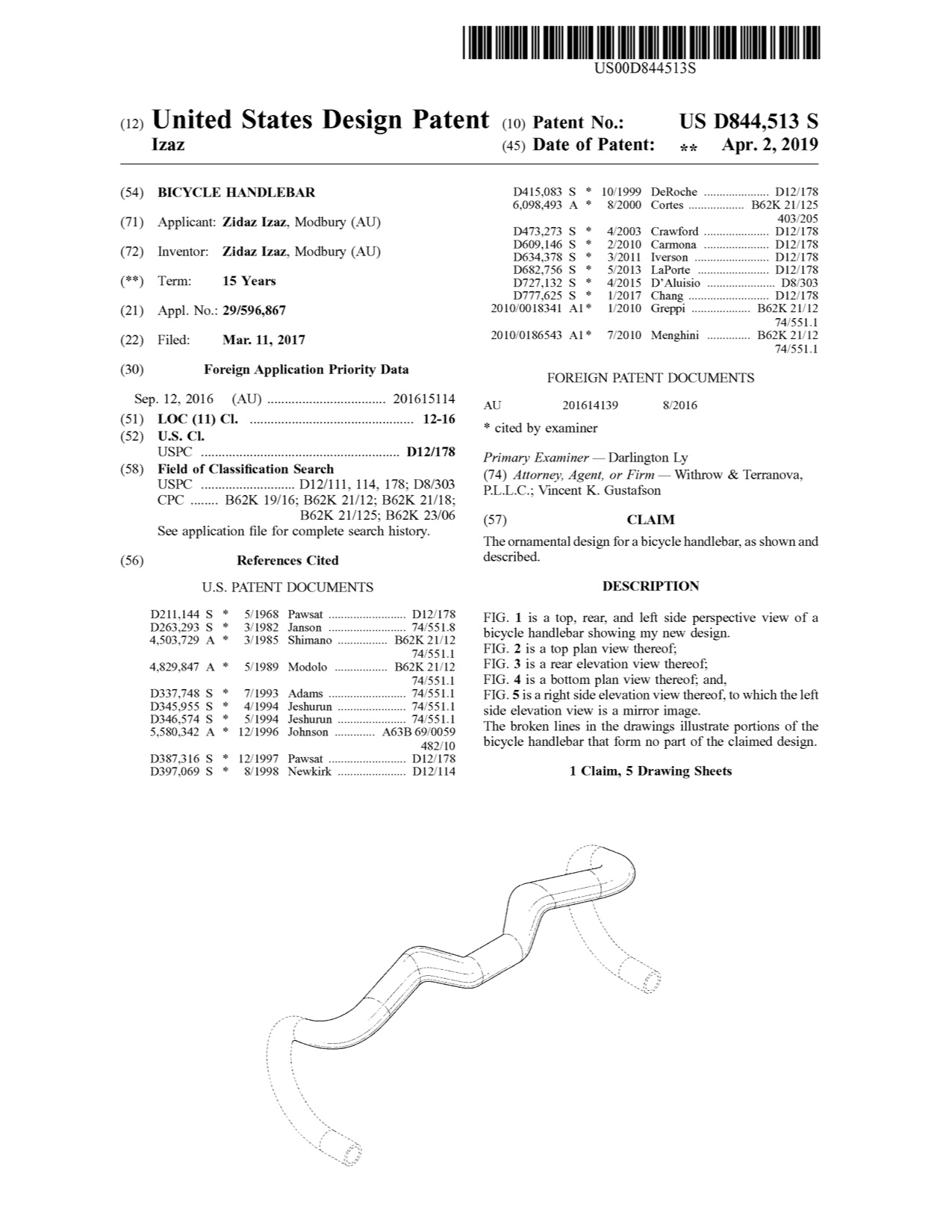 Sutton said Sheff's ergonomic handlebar design dates to 2010 or 2011, when he began prototyping the handlebars in aluminum. Sheff applied for and later abandoned a U.S. Non-Provisional Patent (15/097,374) in April 2016. He received Non-Provisional Patent status (16/024,508) on a handlebar in June 2018. His utility patent was approved Aug. 27.
Meanwhile, there are at least 62 comments under the CyclingTips review, where Sutton and Izaz have weighed in themselves, along with a cadre of self-appointed patent law experts.
But unless the two companies can come to an agreement, it looks like the dispute will eventually get decided by a court of law, not public opinion.