TAICHUNG, Taiwan (BRAIN) — Fritz Jou moves fast, thinks fast, and wastes no time.
He led the TAITRA bike factory tour at his own Fritz Jou Manufacturing (FJM) company on Thursday, and if you got caught staring too long at any one process, you risked getting left behind.
Jou is all about efficiency, so it's no surprise every step was with purpose. He refined his company with the same single-focused mindset.
"Speed is so critical in the future of the bicycle industry," Jou said after the tour.
FJM is an OEM bicycle manufacturer founded by Jou's father in 1983. It receives raw frames from major manufacturers. Tour participants, who were not permitted to take photos inside the plant, were treated to high-end bikes from Cannondale, GT, Pinarello and Intense all in different states of assembly, painting and packing. About 180,000 bikes are assembled at the 540,000-square-foot plant, 30% electric. That's expected to climb to 50% next year. To keep up with growth, FJM opened a European factory in 2017.
With Jou being wired the way he is, he sees the future and is busy staying a step ahead with the custom system called Bike e+. It integrates all parts — software, suppliers and support — into one system, delivering a comprehensive e-bike experience for brands.
FJM offers customized e-bike solutions with real time market feedback. This includes user experience and dealer software support as well as full traceability, supplier and component integration from assembler to rider.
"The future of bike e+ is completely changing the dynamic of our industry," Jou said. "It has to be traceable because the bicycle is so expensive. We believe 60 percent of bikes will be equipped with the electronic device by 2025."
Traceability is a critical aspect of FJM's factory workflow, too. From material processing, assembly and testing, a combination of systems use barcode and radio-frequency identification during each stage of production. Each frame has a hangtag shaped similar to a grocery store rewards card that is plugged into each workstation's computer to detail what needs to be done next.
One worker can assemble between 10 to 30 bikes a day, depending on its complexity. Jou said if it's a pedal road bike, a worker can reach the higher limit; an e-bike or consumer-direct bike, the lower.
It depends "on how detailed that bike needs to be," he said. "If it's consumer-direct, it needs to be fully adjusted. And that certainly will take more time."
E-bikes also receive a test ride to ensure everything, from lights to drivetrain, to motor and battery, are functioning properly. In addition to bike-build quality control, FJM also randomly checks the effectiveness of its packaging with a vibration test. A boxed bike is shaken for a period of time and opened to see if the inner packaging did its job.
While the trade war has shaken most in the industry, Jou, naturally, has taken it all in stride.
"The trade war affects everyone, the whole industry; however, that doesn't stop the demand," he said. "So the bicycle will come from somewhere. The supply chain will reallocate itself."
Apro Tech Co.
Another second-generation Taiwan manufacturing leader, Ivan Lin is trying to stay ahead of the curve. And that means making marketing and branding a priority.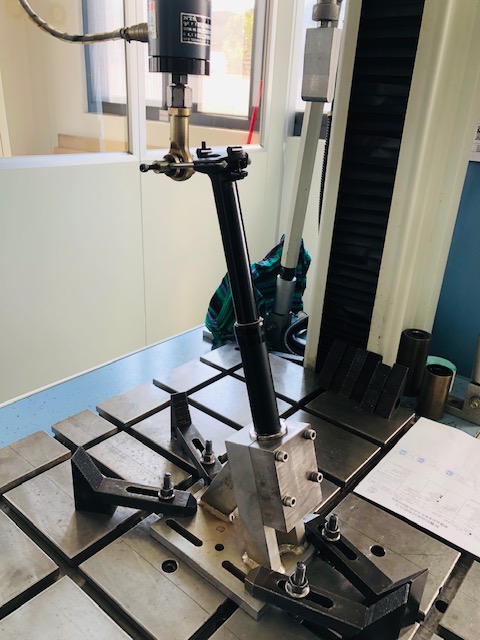 "When my father purchased this company, he didn't know any English," said Lin, assistant vice president for Apro Tech's suspension and dropper seatpost company X-Fusion. "The second-generation like me, were sent overseas to schools. We did our schoolwork. We learned the computer is made in Taiwan, bikes are made in Taiwan. We're making a lot of nice things, but we are not the boss. We're really the employee."
Lin said it's easier for the first generation to see the benefit of a new CNC machine than the value of networking.
"If they don't see it, they don't think the investment is there," he said. "Why am I burning money to host a big party for the customer or media? What does that get us? It will be the next generation owner who really sees the value of branding. It's like your son; you need to feed it everyday."
Apro — which also has a bicycle product division that manufactures aluminum frames, carbon rims and rigid forks — started in 1982 developing entry-level products before getting OEM work. In the 1990s, it was one of Taiwan's original aluminum frame-makers.
The factory produces about 100,000-150,000 units for each product and made $36 million last year.
With two factories in China, opening one in Vietnam in 2017 was a case of good timing with the trade war developing.
"It's not just the advantage on the trade agreements," Lin said. "All the business conditions are becoming more difficult day by day. Reasonable or not reasonable, it's coming to a point where the management is starting to interfere with daily manufacturing. It's the main reason why we decided to move to another place for manufacturing. If you have the government constantly at your back, it's very difficult to work. It's like having your boss sitting behind you every day."
He also said with more companies moving production to Vietnam, the opportunity to maximize that advantage is fast closing.
"In five years or maybe even shorter, the wage will come up in Vietnam," Lin said. "It already has come up. You see all these bike companies going there, buying up land. It's already a problem. It is not so much of what kind of advantage we have. It's more of, 'Is this a good choice that we go there because we don't have much we can pick from.'"
Sunrise Bicycle Industrial Co.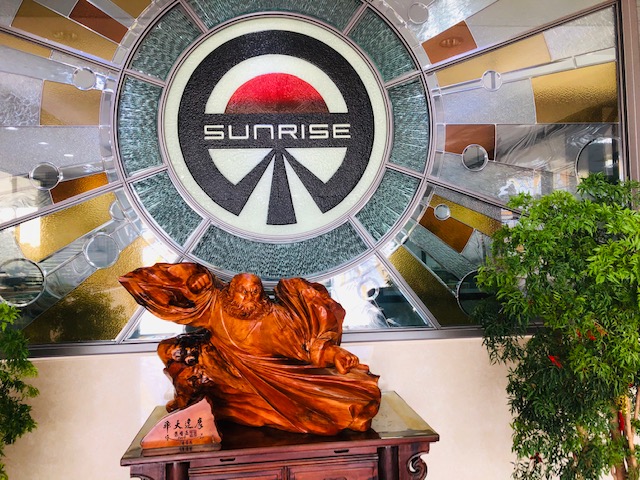 While no pictures were allowed inside Sunrise Bicycle Industrial Co.'s frame-making process, the memories of watching live metal fabrication will burn bright.
The OEM manufacturer with other factories in China and Vietnam features enough machines to fill supporting roles in the upcoming "Terminator" sequel. Sunrise has robot welding capability in addition to two CNC machines. The Taiwan facility produces almost 100% e-bike frames, with that growing category comprising 80% of Sunrise's total output.
"More and more e-bikes are coming and we have the advanced technology," said Alex Lin, Sunrise president's special assistant, who added the company has 200 welders at the three factories.
Because of the trade war and anti-dumping tariffs, Lin said Sunrise has the best logistics for breaking trade barriers.
Customers include Cannondale, Trek, GT and Bianchi.
"We are an aluminum frame manufacturer," Lin said. "However, we don't want to only be a maker. We want to be a consultant. We want to work together with client and supplier. We want to be a partner."