PARK CITY, Utah (BRAIN) — POC is working with a Swedish startup tech company to develop smart helmets that charge themselves via a new material that converts light energy — from solar or artificial sources — to an electric charge. The companies said they plan to deliver the helmets in 2020. 
POC's partnership is with Exeger Operations AB, a Stockholm-based company founded in 2008. According to Crunchbase, Exeger has received $28.1 million in venture funding since 2010, including a $10 million investment last month from SoftBank Group, a Tokyo investment company. Exeger says its technology has applications in a variety for consumer tech products, including headphones, tablets and wireless speakers. It's not clear that the company has delivered any commercial products yet, although in March the comapny said it had signed its first commercial contract, with a unnamed "leading global consumer company."
POC and Exergy plan to showcase its plans for a smart helmet at the Rouleur Classic in London, which opens Oct. 31.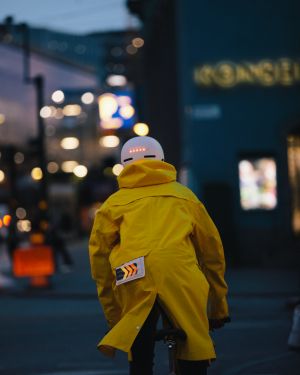 "Safety and innovation are at the very center of what we do," said POC's CEO, Jonas Sjögren. "Inspired by our mission we are driven to explore new ideas and innovate to improve protection for all. Over the years we have delivered many world firsts, and I am incredibly proud of our new partnership with Exeger which will introduce ground-breaking technology with the potential to revolutionize safety and wearable technology for our users."
Exeger's CEO, Giovanni Fili, said, "POC is known for its open-minded and innovative approach to safety and are rightly recognized as the leader in the field. Over the past decade we have fine-tuned our technology, creating what many people thought was impossible, to create an innovative material with the potential to deliver endless, sustainable energy. Our long-term partnership with POC is as natural as the light we harvest and we are incredibly excited to work together to design, develop and release the next generation of smart helmets next year."