The Denver-based fund planned to acquire De Rosa, De Marchi and Limar.
Editor's note: This story has been updated with comments from the CEO of De Marchi about OCP's attempt to buy that brand.
DENVER (BRAIN) — Samuel J. Mancini, the managing director of a Denver-based fund that had plans to invest in cycling companies, was arrested in Denver last week and faces federal securities fraud, wire fraud and money laundering charges.
According to civil and criminal complaints, Mancini's company, Outdoor Capital Partners, raised over $11 million from about 40 investors in a plan to acquire De Rosa Cycles, De Marchi Apparel and Limar Helmets. After it couldn't complete a deal to acquire De Marchi, in late 2020 the fund set its sights on acquiring Gruppo Srl, the parent of Cinelli and Columbus. (A Texas-based group announced this month that it had acquired Gruppo Srl.)
None of the acquisitions have been completed and the Securities and Exchange Commission and the U.S. Attorney's Office for New Jersey said Mancini and OCP misappropriated about $400,000 of investor money and made $800,000 in "Ponzi-like" payments to investors.
Last week the SEC filed a civil complaint against Mancini and OCP and got court approval to freeze the accounts of Mancini and OCP. The U.S. Attorney's Office for New Jersey also filed a criminal complaint.
The criminal charges could lead to up to 20 years in prison on two of the charges, and 10 years for a third.
Mancini, 55, was arrested in Denver and released on $100,000 bail pending his first appearance in the U.S. District Court in New Jersey.
BRAIN has given Mancini the opportunity to comment on this story. As of Tuesday morning he has not.  
The SEC's civil case could lead to the recovery of funds, penalties and interest, and also could result in Mancini being barred from selling securities or serving as an officer of a public company. The criminal case could result in up to 20 years in prison for each of the securities fraud and wire fraud charges, and up to 10 years in prison on the money laundering charge, plus financial penalties.
The case is filed in New Jersey because at least one of the alleged victims lives there.
'The only real alternative'
According to a 2020 executive summary of OCP's plans, contained in court documents, the fund planned to acquire the Italian brands and relaunch them on a consumer-direct website with an emphasis on sales in the U.S.
"By acquiring a specialty bike company, a high-margin helmet company and a design savvy Italian clothing company, OCP can leverage its marketing, analytics and logistics expertise without compromising the individual brands," the summary said. It said De Rosa would become "the only real alternative to Canyon (a €400MM German Company) in the Road Bicycle DTC space."
Investor communications contained in court files indicate that OCP planned to pay about 3.2 million euros ($3.7 million) for Limar, 9.5 million euros ($11.2 million) for De Rosa and 3.6 million euros ($4.2 million) for Gruppo SRL. According to an update email that Mancini sent to the investor group last November and contained in the documents the SEC has filed with the court, OCP had agreed to pay 1 million euros for a 70% share in De Marchi. However, according to Mancini's communication to the investors, De Marchi's owners then changed course and said they would sell 100% of the company for 3.5 million euros, which Mancini said he would not agree to.
On Tuesday, De Marchi's CEO told BRAIN it didn't happen like that. Mauro Coccia said the company reached an agreement to sell a majority share in the business to OCP, but that Mancini failed to pay. "We didn't change our minds — he didn't execute the wire transfer," Coccia said. "They had a good plan, but the offer expired a long time ago and we forgot about it."
Soon after the bid to buy De Marchi ended, OCP identified Gruppo Srl as a takeover target, estimating it would cost about $3 million to buy that company.
Misled and misused.
The SEC and U.S. Attorney's complaints each present instances where they say Mancini misled investors or misused funds. For example, the complaints allege, Mancini told investors he was an alumnus of the West Point Military Academy (his LinkedIn account says he studied economics at West Point from 1984 to 1988). According to the complaints, investigators found Mancini never graduated from West Point because of an ethics violation. An online database of West Point graduates that BRAIN reviewed does not include Mancini's name. The complaints said that some investors, who were in fact West Point graduates, considered Mancini's education critical in deciding whether to invest in his fund.
The complaints also charge that Mancini misled investors by indicating that he had invested millions of his own money into the fund. For example, according to the complaint, in March this year Mancini shared a capitalization table with OCP's largest investor. The table indicated that Mancini had invested a total of $9.4 million into the fund: $1.2 million personally and $8.2 million as a trustee of his family trusts.
According to the SEC this was not true. "Mancini never invested any appreciable amount of money in the Fund, either directly or as trustee of any trust," the complaint charges.
Things began to come to a head in late November 2020 when a group of nine investors demanded the return of their investments in part because they hadn't received any updates on acquisition activity. According to a declaration submitted by one of the investors, Mancini responded by saying he would take a personal loan to refund their money. He showed the investors various documents showing healthy bank balances in the U.S. and Europe.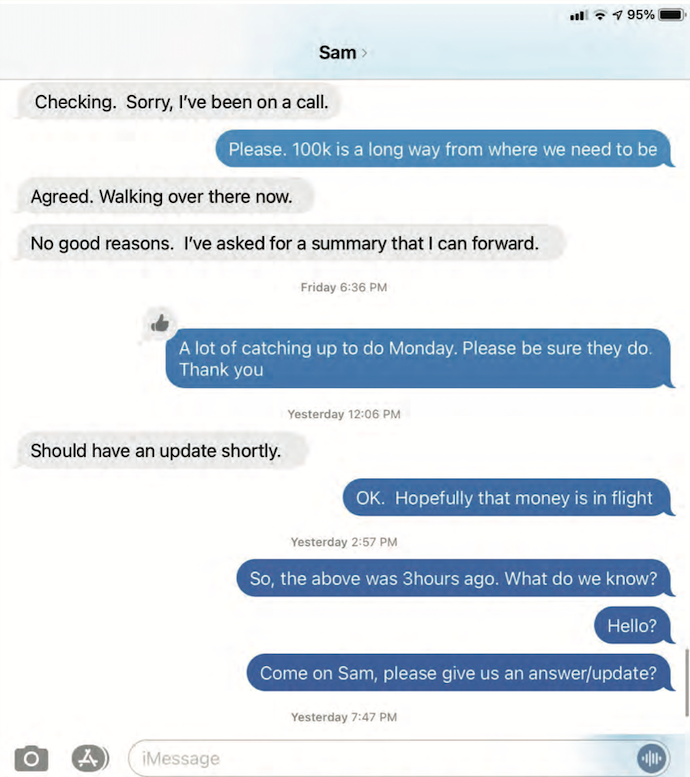 One investor who visited Mancini's office in Denver in February took a photo of Mancini's computer screen, which appeared to show an Italian bank account with a 5 million euro balance.
According to court filings, SEC investigators later determined that some of the account balance statements Mancini shared had been forged. An email from a Colorado banker, which Mancini allegedly showed to an investor to back up his story, was also forged, according to the bank.
By March 2021, some of the investors were insisting on repayment and grew increasingly alarmed as he told them via email and text that his bank was unable to complete wire transfers to them.
In the end, the investor said only one member of the group received any repayment, for $100,000 (referenced in the text screenshot above).
OCP team members 'devastated.'
The criminal complaint refers to an unnamed "co-conspirator 1," who it describes as a Laguna Beach, California, resident who acted as co-CEO and co-managing director of OCP, and managing director of OCP Italia. The complaint does not charge co-conspirator 1 with any crimes or securities violations and notes that Mancini was the sole signatory on most of OCP's bank accounts. Neither complaint contains charges of conspiracy.
OCP's website as recently as Friday listed industry veteran Andrew Herrick as a managing director. As of Sunday the company's "team member" web page had been updated to remove everyone except Mancini. 
Reached by BRAIN, Herrick said he would have no comment on the advice of his attorney. Herrick was co-founder of Pedro's and later held executive positions at GT, Crankbrothers and Intense Cycles.
Other team members formerly listed on the OCP website are Eric Horton and Michelle VanGilder, both industry veterans. Horton, Giro's former creative director, was listed as OCP's Head of Product. In an email to BRAIN, Horton said he was "devastated by the allegations," adding that he was in the process of getting legal advice and would have no comment.
VanGilder, a veteran of Felt Bicycles and Crankbrothers, was listed on the OCP site on Friday as operations director, although she apparently left the company about a month ago; her LinkedIn page indicates she now is consulting with Rossignol Group.
Horton and Herrick each resigned from OCP after Mancini's arrest. 
One of the former team members told BRAIN that they were unaware of any improprieties at OCP before learning of Mancini's arrest last week. "We are victims in this just as much as anyone else," one of the team members told BRAIN.
In 2019, OCP partners announced publicly that it was forming a partnership with Italy's De Rosa that would lead to establishing a U.S. distributor for the brand and bringing its bikes back to the top levels of professional cycling. That partnership was never established, although De Rosa is back in the ProTour, where its bikes are ridden by the Cofidis Solutions Credits squad.
Previous complaints against Mancini
Court documents show that Mancini was a co-defendant in a 2012 civil case brought against Bella's Market, a chain of Colorado groceries Mancini bought in 2006. The plaintiff in the suit, Freshpack Produce, charged Bella's with not paying $75,000 for produce it bought for the stores. It said on two occasions Bella's cut checks for partial payments that were returned by its bank. The case was dismissed in 2014.
The Denver Post in 2014 reported that Bella's Market shelves were bare in several rural Colorado towns and quoted residents saying that Mancini ran the grocery chain into the ground after acquiring it. The 2014 article also raised questions about Mancini's West Point education claims.