FOUNTAIN VALLEY, Calif. (BRAIN) — Shimano Inc. has sold off its apparel brand, Pearl Izumi, to United Sports Brands, the parent of Nathan, Cutters, and Shock Doctor, among other brands. 
Pearl Izumi will join Nathan, which offers running accessories and apparel, in USB's new outdoor division.
Pearl Izumi managers told employees of the sale Monday morning. A purchase price was not disclosed. Shimano announced the sale as the Tokyo stock exchange opened Friday local time.
Shimano bought Pearl Izumi's parent company, DashAmerica Inc., in 2008 from Nautilus for about $70 million. 
Since then Pearl Izumi has been held as a subsidiary of Shimano's U.S. business, Shimano North America Holding. Pearl Izumi's headquarters are in a 55,000-square-foot facility in Louisville, Colorado, shared by a handful of employees from Shimano's component business. The building, which has won awards for its sustainable construction, was included in the sale. 
Pearl Izumi's European business is a separate subsidiary of Shimano and was also purchased by USB. The original Japan-based Pearl Izumi operation, which Shimano does not own, was not sold to USB. It operates only in Japan.
"This is an exciting time for Pearl Izumi," Geoff Shaffer, the president of Pearl Izumi, said in a press statement. "We have tremendous momentum and an amazing team that's dedicated to continuing to grow the brand to new heights. Shimano has provided significant support and guidance throughout its ownership, and while we will miss being part of Team Shimano, we also know there is great future potential for the brand and look forward to continuing to grow our business with USB."
In an interview with BRAIN, Shaffer said Pearl Izumi's sales have "grown steadily" since a major re-position of the brand in 2019. The re-positioning included an increased commitment to sustainability and a social purpose mission. Now 90% of Pearl Izumi products are made from sustainable materials and the brands has a goal to become carbon-neutral by 2025.
Sales increased even more during the pandemic, first online through the company's consumer-direct site and then through IBDs as the pandemic waned. 
Shaffer said USB has experience with large and small retailers, including specialty team sports retailers who are similar to IBDs. He said Pearl Izumi will be one of the largest of the USB brands.
Shaffer said there will be an extended transition period as Pearl Izumi separates its operations from Shimano. "We are fairly integrated," he said, with shared sales teams and programs and many shared employees in Louisville. He said he was not sure exactly what Pearl Izumi's sales team will look like after the transition, but he said the apparel brand will benefit from having a sales force focused on its products rather than split between Shimano, Pearl Izumi and Lazer helmets, another Shimano-owned brand. 
"The one thing that retailers should know is there won't be any interruption of business during the transition, Shimano is committed to that," he said.
Pearl Izumi launched its Spring 2023 apparel line with its European sales team this week, and will present it to its North American team next week, he said. The North American teams will meet in person the following week in Bentonville, Arkansas, the brand's first full in-person meeting since the pandemic began. 
Who is USB?
United Sports Brands is owned by the private equity firm Bregal Partners, which bought Shock Doctor in 2014 from Norwest Equity Partners, and built out the group from there.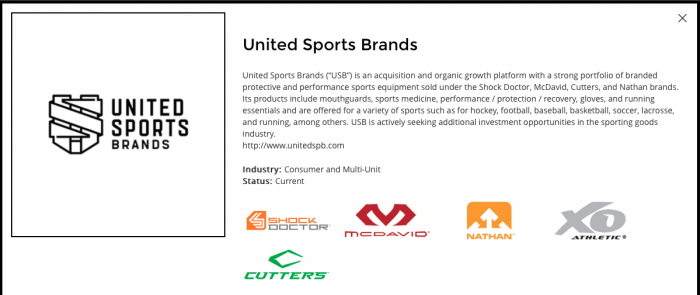 Shock Doctor, originally called EZ Guard, dates to 1992. It acquired Cutters (a sports glove brand) in 2012 and XO Athletic (an athletic cup brand) in 2014. In 2015, Bregal bought McDavid (a knee-brace brand) and merged it with Shock Doctor, rebranding the combined companies as United Sports Brands. Soon after the merger, USB acquired Nathan; it added the supplement brand Glukos Energy in 2020. 
According to a fact sheet supplied by Bregal Partners, the firm has $1.25 billion in committed capital; it owns brands across the food & beverage, business services, healthcare, energy and consumer goods industries. 
USB is headquartered in Fountain Valley, with offices in Belgium, Japan and Canada.   
Nathan entered the running apparel market last year (Pearl Izumi exited the running shoe and apparel market in 2016). Together, Nathan and Pearl Izumi give USB more presence in the outdoor market, said USB's Chief Executive Officer, Michael Magerman.
 "We are very pleased to welcome Pearl Izumi into the United Sports Brands family," Magerman said.
"Pearl Izumi is an iconic, authentic, and much-loved brand that is strongly aligned with our current portfolio of brands at USB. Their culture of driving innovation and best-in-class product development—always with a "consumer-first" mindset — is consistent with our strategy at United Sports Brands. We intend to continue that product innovation and leadership under our stewardship. The addition of Pearl Izumi, along with our running apparel and accessory company, Nathan, makes us a formidable player in the outdoor space. We see great opportunity for continued organic growth and expansion in this segment of the market," added Magerman.
In a coincidence, Shimano's top competitor in the bike component market recently entered the apparel market with its acquisition of Velocio, a small New Hampshire apparel brand.