Company takes Ranger Trek's owner to federal appeals court.
A version of this article ran in the January issue of Bicycle Retailer & Industry News.
WOODINVILLE, Wash. (BRAIN) — Without objection, "trek" is a lovely word, whether a noun or a verb. TREK™, though, is something else entirely.
Those hoping to register a trademark including those four letters should review Trek Bicycle's three decades of efforts to defend its interest in them.
Trek has opposed more than 400 applications for trademarks the company felt came too close to its turf, earning it the #4 spot on a list of prolific opposers, just behind Apple, Inc. and ahead of brands like Nike and Red Bull.
Trek has opposed applications from a tent brand (TREKYR), a Methodist church publishing arm (Trek religious audiotapes), the Oregon Board of Higher Education (Career Trek services), the maker of a vertical take-off and landing aircraft (DUOTREK), Prize Trek (a mobile app) and several bike and e-bike makers, to name a few.
While other brands threaten trademark infringement suits, the Wisconsin company often takes a quieter approach. It aims to stop potential infringers before they come to market by filing oppositions with the Trademark Trial and Appeal Board (TTAB).
"Trek is #4 on a list of 'Trademark Bullies,' behind Apple but ahead of Nike and Red Bull."
The TTAB is an administrative body within the Patent and Trademark Office. It functions like a court, holding hearings and trials to decide on objections to a trademark's registration. But it doesn't determine who has rights to a trademark and can't issue injunctions or award damages. If a party doesn't like a board decision, it can ask for a reconsideration and then appeal to a state or federal court.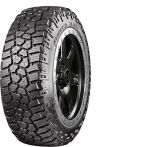 Trek's had mixed results before the TTAB. In many cases, companies have abandoned applications after Trek's opposition. Often, the applicant agrees to narrow the scope of goods and services the trademark covers. For example, when in 2020 Trek opposed Cooper Tire's Rugged Trek application, Cooper rewrote the application to specify the trademark didn't cover bicycle or tricycle tires.
A Trek spokesman said its oppositions are common practice.
"Like every other widely-known and recognizable brand, Trek is constantly pursuing fake goods and services that attempt to defraud and deceive our customers and harm our retailers," Trek's Eric Bjorling said.
"During the pandemic, we experienced a surge in sophisticated fake, copycat, and look-similar Trek branded products, websites, social media, and events. Maintaining our trademark rights is common commercial practice and provides us with the legal ability to stop potential harm to our customers and retailers."
The Trek Ranger™ case
While the objections rarely lead to court, Trek's law firm, Merz & Associates of Oak Park, Illinois, is gearing up to represent the company before the Court of Appeals for the Federal Circuit. The dispute is over a trademark registered by a Washington woman in 2016. Oral arguments are scheduled for Feb. 9 in Washington, although both sides have indicated they are willing to waive the oral hearing.
Christina Isaacs began taking her kids to national parks to participate in Junior Ranger programs 16 years ago. She later developed a line of products related to the Junior Ranger programs to be sold in park gift stores and online. She branded the products Ranger Trek and applied for a trademark in August 2016. The application was published in the Dec. 20 edition of the USPTO's Official Gazette.
On Jan. 10, 2017, the TTAB received Trek's notice of opposition.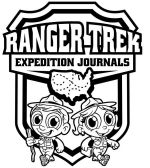 Isaacs' application stipulated the RANGER TREK trademark would cover product categories including activity books, stickers, backpacks, hiking bags, sports bags, travel bags, lunchboxes, hats, jackets, shirts, novelty badges, stuffed dolls and animals, and more.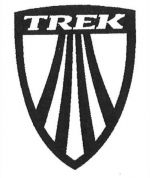 Trek told the TTAB that Ranger Trek and its related drawing were too similar to Trek Bicycle; the Ranger Trek badge (right), for example, resembled one of Trek's registered logos (left). It said the products, distribution and intended customers overlapped, creating potential confusion. It argued that the Trek mark is famous, meriting more protection.
But the TTAB said Trek is only famous for bicycles, not in other areas, and said it saw little chance of confusion. It rejected Trek's opposition.
"I kept thinking they were going to be reasonable. That was my mistake" — Christina Isaacs
Trek asked the board to reconsider, which the TTAB denied. So Trek appealed to the Federal Circuit.
In December Isaacs told BRAIN she'd never heard of Trek Bicycle when she applied for the trademark. "If I had to do it again I'd never use that name," she said. "It's taken six years of my life, and there's the financial component. … all that energy I spent on this I could have invested in growing the business," she said.
She declined to say how much she's spent on legal costs.
"In some ways, I feel like a complete idiot that I fought it," she said. "I kept thinking they were going to be reasonable. That was my mistake for thinking that."
The CROSSTREK™ case
Trek has gone to court before, notably in 2012 when it challenged Subaru of America's application to register CROSSTREK for a new car model.
Perhaps had it been another car company, the application might not have caught Trek's attention. But the application came near the end of a nearly 10-year marketing relationship between Trek, Subaru, and mountain biking (Remember the Subaru-Trek team?). Subaru regularly featured mountain bikes in its marketing. Trek saw the car company moving into its space, freeriding on Trek's brand equity.
To add gas to Trek's fire, a few weeks after filing the application for CROSSTREK, Subaru sought to modify the scope of its SUBARU trademark. The company wanted to register its name for auto brake pads, windshield wiper blades, license plate frames, and similar things. And: bicycles, bicycle wheels, rims and saddles.
Trek immediately filed a complaint with the U.S. District Court of the Northern District of Illinois, charging Subaru was infringing on and diluting its trademark, engaging in unfair competition and violating terms of their sponsorship agreement, among other complaints.
In filings, Subaru challenged Trek's trademark, bringing in a linguistic expert to testify about its "genericness." It questioned the strength and fame of Trek's brand and the likelihood of consumer confusion. Before going to trial, the companies reached a settlement Subaru's attorneys later called favorable for the car company; Subaru retained the CROSSTREK trademark.
As for the SUBARU trademark, the car company removed the language about bicycles, saddles, rims and wheels from its application soon after applying for the change.
How prolific is Trek? And why?
Most of Trek's objections never go past the TTAB system and are settled amicably.
But Merz & Associates is so prolific in filing objections that Trek's #4 on a list of "All Time Biggest Bullies" maintained by Trademarkia.com, a legal services site. No other bike company makes the list. USPTO records show that since 2020 Trek has filed 52 objections, while Specialized has filed 10 and Shimano filed one.
Why does Trek file so many oppositions? Because other companies file so many applications for trademarks that contain "trek." We found more than 2,000 active trademarks containing the word.
"I don't think Trek is trying to be super aggressive. The problem is that the word 'trek' comes up a lot — I mean think about it," said industry attorney Steven Hansen. You'd have to go out of your way, Hansen said, to infringe on trademarks that are names, like Shimano or Campagnolo, or made-up or unusual words like SRAM or Ultegra. But 'trek' is everywhere.
"It must be like Whac-A-Mole (to defend the trademark)," Hansen said.
Not all of Trek's oppositions are connected to the Trek word mark. Some are related to other model names and feature names, and, increasingly, its Electra bike brand. For example, this month Trek filed opposition to the registration of VEOLECTRA by a Texas company that said it will use the mark for "Vehicle components, namely, chassis, power train mechanisms comprised of clutch, transmission, drive shaft, and differential for electric vehicles in the nature of personal automotive vehicles, trucks and buses, scooters, bikes, and motorcycles."
Trek is obligated to defend its intellectual property, often a company's biggest assets.
"They've got shareholders, they put a number down for goodwill (in valuing the company). If you start letting little guys use your trademark, there's going to be no end to it," said Seth Gardenswartz, an Albuquerque, New Mexico, patent attorney. Gardenswartz's family once owned a chain of sporting goods and bicycle stores in New Mexico that sold Trek. 
"I tell clients, 'if some larger company wants to buy your company, what do they need? Your manufacturing? No. Your building? No. What they are looking for is the mental real estate that your brand occupies.' And even if you've been wandering around in the wilderness and never bought a bike in your life, you probably still have kind of heard of Trek bicycles," Gardenswartz said.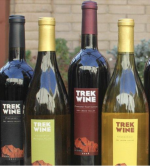 If nothing else, Trek needs to protect IP on behalf of its partners. More than a few of Trek's trademarks (it has over 400), and some of its patents, are assigned to banks as collateral, likely to secure financing. In the last two years Trek has assigned 16 of its trademarks to JP Morgan Chase Bank as collateral, for example.
We think of Trek as a bicycle maker, but the company is active in areas from Trek Travel to Trek University. It even has a trademark for Trek Wine and for The Secret Bar, a discrete watering hole at Trek-sponsored cyclocross races. In testimony in the Ranger Trek dispute, Dean Gore, Trek's VP of marketing, mentioned that Trek made lunch boxes in the past (BRAIN bought one on eBay, it's in the illustration below, that ran on the cover of BRAIN's January print issue.)
But those facing opposition would rather see the company stick to bikes.
"In my opinion, they just take a too-expansive view of the rights their trademark gives them," said Kamran Fattahi, a Los Angeles trademark attorney. More than 20 years ago Fattahi defended a client who trademarked ORBITREK for an elliptical exercise machine. Trek opposed and the companies reached a confidential settlement.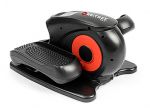 Fattahi said Trek's strategy appears to be: limit the number of registered trademarks, for anything, that contain "trek."
In defending trademarks, Fattahi said, the similarity of the disputed marks is a key factor, as is the similarity of the goods and services the mark covers. The number of other trademarks containing the same words can be a factor. "If there are a lot of other third-party trademarks with that term in it, you can argue the term is weak. And if it's a weaker mark it's not entitled, generally speaking, to a broader scope of protection," he said.
Fattahi is familar with the Ranger Trek case and said he admires Isaac's tenacity.
"It's become a matter of principle for her, I think. She's thinking she has not done anything wrong. And I say, good for her," Fattahi said.
Related: