TREVISO, Italy (BRAIN) Tuesday June 26 2012 11:03 AM MT—The venerable Italian road brand Pinarello is re-entering the mountain bike market with the new Dogma XC 9.9, a carbon fiber hardtail frame.
The company also is introducing a new road frame, the Dogma 65.1 Think 2, which is claimed to be stronger and lighter than previous Dogma frames, with integration for electric or mechanical groups.
Officials at Gita Sporting Goods, Pinarello's U.S. distributor, were not immediately available to comment on the new bikes' availability or expected pricing.
The Dogma XC
The company dipped its toes into the off-road market with some lugged steel hardtails in 1990 or earlier, and also showed a few models of carbon "Pina" mountain bikes more recently.
But Pinarello appears to be more serious about the market now with the Dogma XC 9.9, which is built with some unusual new technology. The frame's seatstays attach to the seat tube above the toptube, and the seatclamp is integrated into each of the stays with a four-bolt system. The design reduces vibrations, according to a Pinarello statement.
The disc brake mounts to the chainstay instead of the seatstay for improved braking due to the chainstay's beefier cross section. The stays are asymmetric to put more material where needed for the brake. For fork clearance, the downtube intersects high on the headtube, with a reinforcement underneath to protect the frame in a crash. The frame has internal cable routing and an integrated front derailleur mount with cable routing for SRAM or Shimano derailleurs.
The frame layup includes Torayca Nanoalloy, a technology that embeds nano-particles in the carbon fiber mesh that explode upon impact, preventing the fiber from breaking.
The Dogma 65.1 Think 2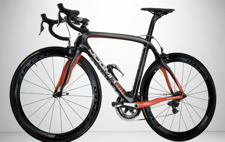 Pinarello's new road frame uses new carbon technology to make it lighter and stronger than the Dogma 2, which is used by the Sky and Movistar pro teams.
The frame is built with 65Ton HM 1K carbon fiber that is said to be stronger, more rigid and more resistant than other fibers, allowing Pinarello to make a stiffer and lighter frame.
The frame was designed to integrate with Shimano or Campagnolo electric or mechanical drivetrains.
The Dogma 65.1 Think 2 comes in 12 sizes and is available with custom paint via Pinarello's website.
Pinarello will display both new frames at the Granfondo LaPina in Treviso, Italy, on July 15. The bikes will be available to demo at Eurobike, ExpoBici in Padova, Italy, and the EICA trade show in Verona, Italy.