FRIEDRICHSHAFEN, Germany (BRAIN) — The Italian component brand Deda Elementi is entering a new product category — wheels.
The company showed three new wheelsets at Eurobike that have been two years in the making and designed with input from sponsored riders.
The launch includes two carbon wheelsets — in 45-millimeter and 30-millimeter rim widths — available in clincher and tubular versions, and a more affordable 30-millimeter alloy clincher wheelset. All five wheel models include Sandvik stainless steel aero spokes, alloy hubs and axles and are compatible with Shimano and SRAM drivetrains as well as Campagnolo's 11-speed.
The company says it was able to design faster, lighter and stronger rims by moving the spoke nipples to the hub. It also combined 3K and UD carbon with a heat-resistant aerospace polymer resin to withstand the heat of extreme braking and added basalt fibers to the carbon composite brake track to lower braking heat.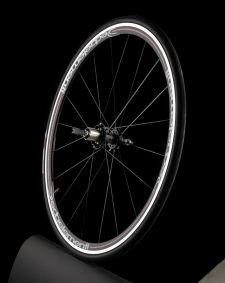 The new line is made in Taiwan and will become available in December or January. The company has not set pricing yet, but Acquati said he expected some bike brands to consider spec'ing the alloy wheelset. While wheels are a crowded product segment, Deda's Fulvio Acquati said there's room for a company with passion, design and engineering experience to enter the field and challenge other established wheel brands.
Deda Elementi is sold in the U.S. by a handful of distributors including Hawley, Sinclair Imports, Oschsner International, Security Bicycle Accessories, QBP, Euro-Asia Imports and BTI.