TAIPEI, TAIWAN (BRAIN) — Tern's new 451 Verge family of bikes feature new larger wheels, more stable geometry and the single-chainring drivetrains with wide-range cassettes.
The 451 Verge family uses 451mm/22-inch wheels, rather than the 20-inch 406mm wheels used on other Tern models. The larger wheel size creates a higher top gear, carry more momentum and are more comfortable than 405, while still offering a compact size and good accelleration and handling, the company said. 
The larger wheels add to the size of the folded bike, but allow a smaller chainring, which helps reduce the folded size.  "Overall, it's an even trade- off in size, but a huge boost for performance, said Joakim Uimonen, design director of Tern.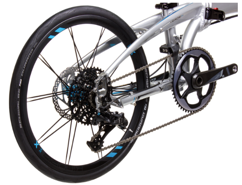 Tern is also making use of new wide-range cassettes from SRAM and Shimano, which make it possible to spec' a single-chainring bike with the same gear range as a double.  "A 1X has always been an ideal configuration for small wheeled bikes, because it reduces maintenance, weight, and complexity, but now it's better than it's ever been. With a 420 percent gear-range, the flagship Verge X11 boasts a wider gear-range than many standard- issue touring bikes in the industry, without any complication or hassle," the company said.
Tern's new T-Tuned geometry is based on experiments that began during the development of Tern's long-haul Verge Tour. The new Verge design boast a longer wheelbase, tweaks to fork rake and head tube angle, and a slacker seat tube.
More information at Ternbicycles.com