TAIPEI, Taiwan (BRAIN) — Tern's new GSD is a compact utility e-bike that can carry two kids, a week's worth of groceries, or 180 kg (400 pounds) of cargo, but is just 180 cm (71 inches) long. It packs down small enough to fit in a VW Touran or an urban apartment and adjusts to fit riders from 4.9-5.9 feet tall.
A Bosch Performance motor, with up to two batteries, powers the GSD for up to 250km. It comes equipped with integrated lighting, rack, mudguards, double kickstand, two XL panniers, and retractable passenger foot pegs.
"Most of the e-bikes on the market today basically look like standard bicycles with motors and batteries grafted on," said Josh Hon, Tern's team captain. "That means that all of the valid compromises that were made in designing a muscle-powered vehicle are carried over to the e-bike, where they don't make as much sense. The Tern GSD is the result a fundamental insight: when you design a bicycle around an electric drivetrain, you don't need to compromise key functionalities like comfort and cargo capacity to optimize for speed.
"With a Bosch drivetrain, 20-inch wheel bikes ride just as fast as 700c bikes but thanks to smaller wheels, deliver punchier acceleration. The smaller wheels also allow us to maximize cargo capacity. And with top speed removed from the optimization equation, we were free to design the GSD with a comfortable Dutch-bike riding position. Best of all, we were able to fit all this goodness into a package that's only the size of a standard city bike."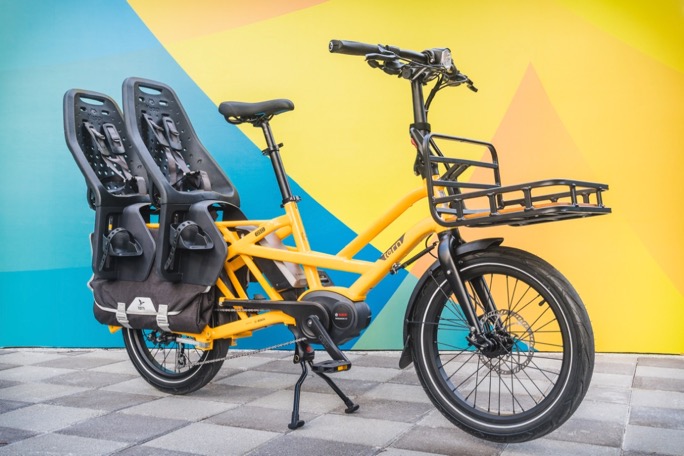 Tern said the GSD's smaller wheels, low frame, and centrally mounted motor and batteries give the bike an extremely low center of gravity. Coupled with an extended wheelbase, the GSD is stable and easy to handle.
Since the GSD is no longer than a standard bike, it will work with standard bike racks on cars and buses. Tern folding technology lets the GSD pack to reduce its height by a third and its width by 40 percent so the GSD can fit inside mid-sized cars.
The GSD is built with Magura 4-piston disc brakes, custom 2.4-inch Schwalbe Super Moto-X tires, Boost thru-axle hubs, and custom 36mm width double-joined rims. The base price of $3,999 includes a pair of 62 L Cargo Hold panniers, and a Bosch Performance mid-drive in 400 or 900 watt hour configurations.
"It's a bike that fits a family, but it's also a bike that the whole family can share" said Hon. "When you're investing $4,000 in a new electric bike, fundamental versatility makes a world of difference. Fit any riders, passengers, or cargo, and fit anywhere." Tern will debut the GSD at the fall trade shows, starting with Eurobike.
More information at ternbicycles.com/gsd.