REXFORD, N.Y. (BRAIN) — Prestacycle's new TorqRatchet has a number of features to make it easy to work around bikes, including the ability to loosen bolts and screws without damaging the torque beam. The torque scale is also readable from both sides and the wrench can withstand up to 60Nm of force when bypassing the torque beam.
The TorqRatchet uses 1/4-inch hex bits and measures torque from 2-10Nm. The compact tool is 5 1/4-inches long and comes in a zippered carry case with a selection of 12 bits.
The ratchet can be used to tighten or loosen bolts without affecting the torque beam by grasping it in the middle, red section. To finish tightening to a specified torque, the user pushes the Torque Knob on the end and reads the torque scale. The torque beam is made of hardened steel and rated for use up to 5,000 cycles. The tool can be recalibrated by Prestacycle. The tool weighs 68 grams. Retail is $59.95 with bits.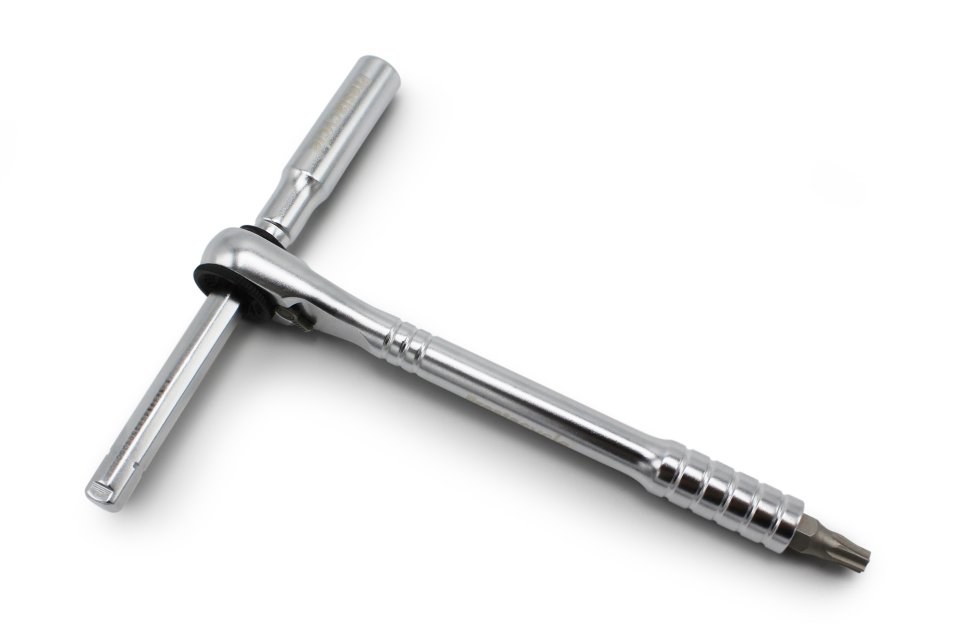 Prestacycle released the TorqRatchet on Friday. The company also recently released the T-Handle 3-way Ratchet. That tool includes a small 1/4-inch ratchet that also accepts bits at the end of the handle, for quick non-ratcheting use. The tool includes a 100 millimeter long extension that can be used as a regular extender or inserted halfway into the ratchet, creating a three-way tool. 
The T-Handle ratchet is rated to up to 60Nm of torque. It has a reversible ratchet with thumbwheel and ratchet reverse lever at the head. The tool with extension weighs 68 grams. 
The T-Handle tool is available as a complete kit with the extension and 20 bits for $39.99 MSRP. The bits, extension and ratchet handle are also sold separately. 
More information: prestacycle.com/products.