POTOMAC, Md. (BRAIN) — Former U.S. Rep. Jim Oberstar is being remembered as perhaps cycling's greatest supporter in congressional history.
Oberstar died at his home in Maryland early Saturday. He was 79 and his family said the cause of death was unknown.
"Jim Oberstar has been a friend, adviser and mentor to the entire bicycling community for a quarter century and he will be sorely missed by us all," said Andy Clarke, president of the League of American Bicyclists, in a statement Saturday on the League website.
Oberstar, a Democrat, represented his Minnesota district in Congress from 1974 until 2010 — the longest congressional career in state history.
Oberstar took up cycling on his doctor's suggestion and soon became an enthusiast. He was an expert on transportation infrastructure who became chairman of the powerful House Transportation and Infrastructure Committee. He viewed the bicycle as an integral part of the nation's transportation system, often saying the nation needed to convert "from a hydrocarbon-based system to a carbohydrate-based system."
He helped make that position law by ensuring the landmark 1991 Intermodal Surface Transportation Efficiency Act mandated access to funding for cycling facilities. ISTEA was critical for funding bike infrastructure throughout the 1990s.
"He directed more investment and more good policy — pro-bike policy — our way than anyone else who has served in government," said PeopleForBikes president Tim Blumenthal. "We're talking about billions of dollars and thousands of projects of all kinds."
At an event in 2009, Trek president John Burke called Oberstar the "father of the modern-day bike movement."
Besides supporting ISTEA, Oberstar authored the Safe Routes to School Initiative, part of 2005's SAFETEA-LU transportation act, which he co-authored and sponsored. He also helped earmark funding for Minnesota bike projects, including the Paul Bunyan bike trail and the Gitchi-Gami trail.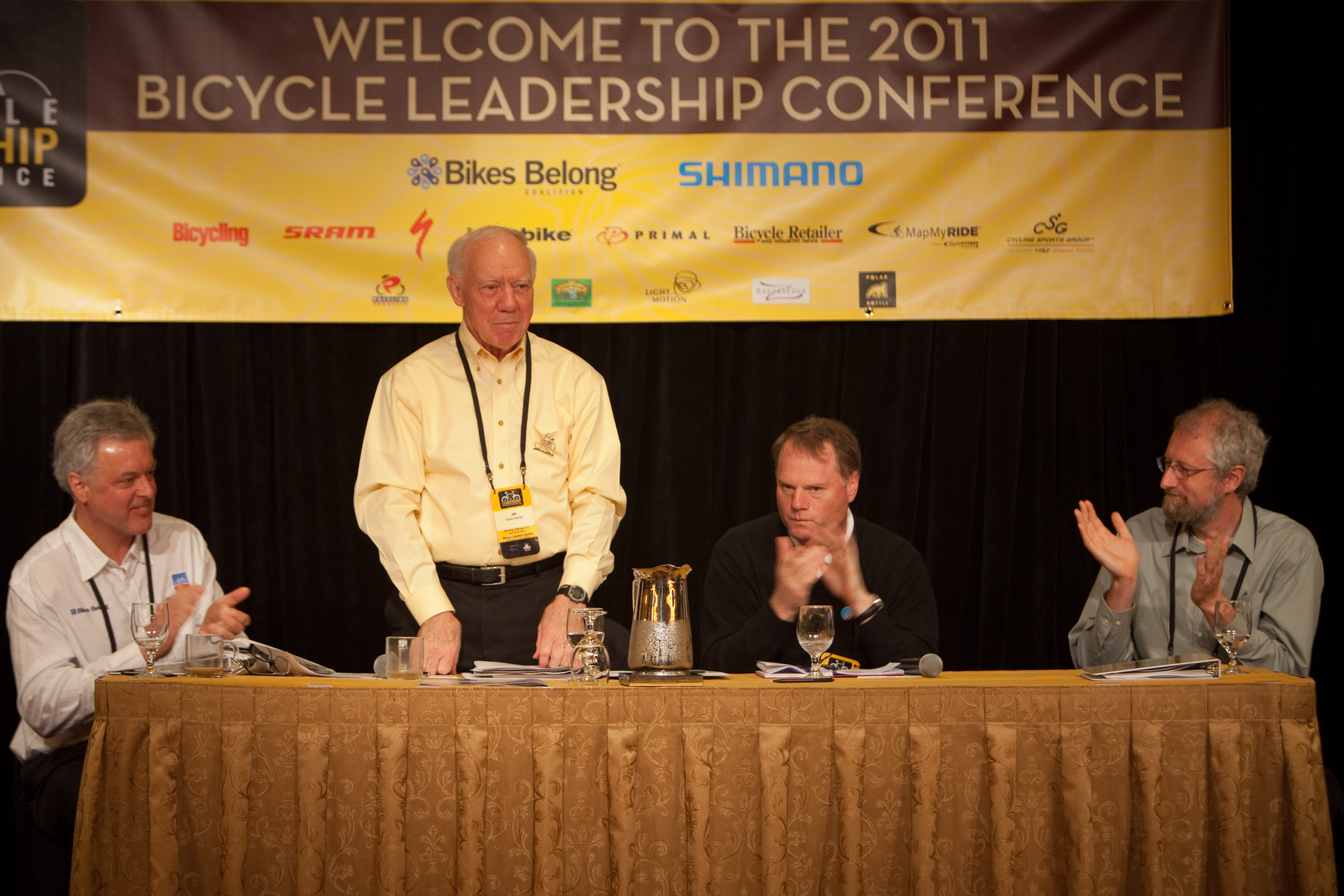 Known for his erudition and intellect, he earned his master's degree in European studies from the College of Europe in Bruges, Belgium, spoke fluent French and traveled the world extensively, often by bike. Although he had a personal passion for the bicycle, he became known as an expert on all types of transportation, from trains to planes to subways and highway construction techniques. 
In a statement, House Minority Leader Nancy Pelosi said, "Jim Oberstar knew everything there was to know about our nation's infrastructure, and fought tirelessly to rebuild and renew it."
As reported in a 2009 BRAIN article, Oberstar was the recipient of campaign donations from across the bike industry. BikesPAC, a political action committee that Oberstar urged the industry to support, contributed $19,500 to his campaigns between 2002 and 2009. He later called BikesPAC a turning point in cycling's political power in Washington.
Oberstar lost his seat to Tea Party favorite Chip Cravaack in surprise upset in 2010.
At the following year's Bicycle Leadership Conference, Oberstar continued to urge the industry to organize and make its voice heard to lawmakers. At that conference, Oberstar was awarded a BRAINy award as a Friend of the Industry.
Oberstar is survived by his wife, Jean, four children and eight grandchildren.
A wake will be held Wednesday at Gawler's Funeral Home, 5130 Wisconsin Avenue NW, in Washington, D.C. A funeral Mass will be held Thursday at 11 a.m. at Our Lady of Mercy Catholic Church, 9200 Kentsdale Drive, Potomac, Md.