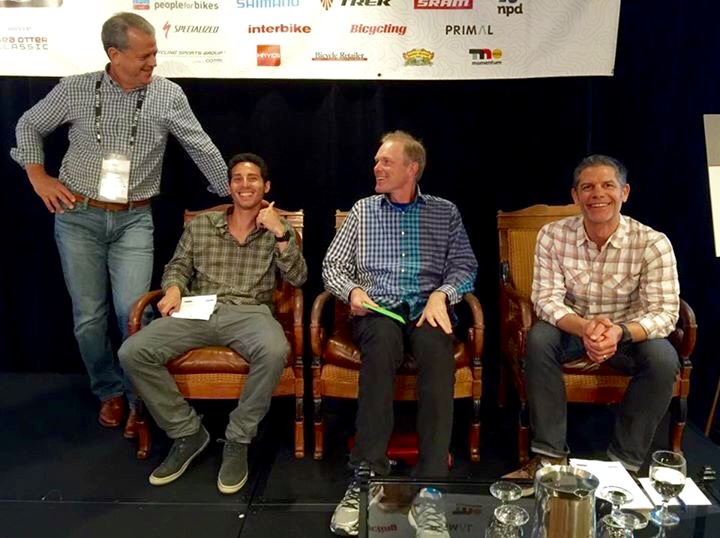 MONTEREY, Calif. (BRAIN) — When Pure Cycles' co-founder Michael Fishman took the podium at the Bicycle Leadership Conference this afternoon, he apologized for fumbling with the mouse. "I'm a Millennial. This is a PC," he said, laughing. "I don't know how to use these things.
Fishman, 27, came of age in the MacBook and iPhone era, and his comment exemplified the vast difference in not only how younger generations--including millennials--do business and engage in commerce, but how they think.
And with the theme "Thriving in a Changing World", the topic of Millennials and changing consumer habits and attititudes has come up more than a few times at the conference this week.
Fishman, who founded Pure Cycles in 2010 in Madison, Wisconsin, as a young college student, was part of the omnichannel panel at the BLC, which also included retailer Erik Saltvold, owner of 24 Erik's Bike-n-Board locations in Wisconsin and Minnesota, and Russ Hopcus, senior vice president of North America sales for Columbia Sportswear.
Moderator Pat Hus, vice president of Interbike, set the stage for the discussion in his opening remarks. "About 84 percent of people shop online before or during a trip to the store and 71 percent expect to view in-store inventory," he said. "And 39 percent of those people won't come into the store if inventory isn't visible online. It's not going away. Consumers love and expect it."
"But, only 15 percent of IBDs are technically omnichannel retailers."
And Saltvold is one of those, offering customers a variety of shopping options, from purchasing apparel, accessories and components online with in-store pickup or home delivery to buying a complete bike through eriksbikeshop.com and picking it up in the store. About 20 percent of Erik's sales are buy online and pick up in-store.
Saltvold said the benefits outweigh the many challenges of selling online, including including inventory management, collecting the correct sales tax and ensuring products are paid for and communicated to staff, as well as factoring in time for assembling and readying the bike.
"It's very complex. You want it to be a positive experience for the staff and seamless for the customer," said Saltvold, who first ventured into the ecommerce space in 2010. "By offering multiple options, we're able to better serve our customers."
Columbia Sportswear has similarly offered its customers multiple shopping options for many years, including specialty and mass merchant retailers, outdoor and department stores,and online through its own website, Amazon and authorized third party sellers.
"We are very broad," said Hopcus. "But our number one priority is around specialty. Ultimately, we have to balance providing a consistent experience for the consumer and supporting the specialty retailer."
One of the ways Columbia does that is through product segmentation and building distinct product lines that is geared toward specific channels. Its high-tech products, for example, are sold at specialty retail only, and others are sold only in online channels. It also works with its specialty retailers to enhance the shopping experience with store-within-a-store buildouts and branded signage, POP and merchandising that works within the confines of their stores.
For a young brand like Pure Cycles, which Fishman co-founded to provide affordable bikes for college students, offering omnichannel was never something they had to consciously debate or consider offering--they just did it from the beginning.
"We came from outside the industry," Fishman said. "We didn't really know there was a struggle between the IBD and online."
Pure Cycles has also sold through Amazon since the beginning, and Fishman said the platform serves double duty, providing consumers with Yelp-like product reviews.
Through its own website,which is optimized for mobile browsing because about 40 percent of its customers purchase from thier phone, shoppers can select a variety of models in an array of colors and choose from three delivery methods. They can pick up a fully assembled bike at a local retailer, have the built bike delivered to their home or choose the DIY option, which is free and includes assembly instructions but the bike is not covered by a warranty. Pure offers its retailers credits for the bikes online customers pick up in-store.
And it's this kind of support from vendors that retailers need to launch thier own omnichannel efforts. For now, Saltvold said the effort has been his own when it comes to selling online.
"We're doing it on our own, really. The actual process is an investment by the retailer. We've reallocated traditional marketing resources to help pay for it," he said. "But we want the support of all of our brands and we need the strategies and help."
But besides helping drive web traffic to retailers and providing consistent data and access to digital assets, controlling pricing is the important thing a brand can do to help retailers pursue broader sales channels.
"Strong distribution is A number one because it comes down to logistics when selling online," said Saltvold. "But the biggest thing a brand can do is control MAP."