LAS VEGAS (BRAIN) — It's been a solid quarter century since Win Allen raced bikes seriously, but the competitive juices got flowing this week as he competed in Interbike's first Mechanics Challenge, presented by Park Tool.
Out of 99 starters on Wednesday, Allen qualified with the fourth best time setting him up for a four-way showdown for the win on Thursday afternoon.
"Breakfast was tough to get down this morning," he said Thursday.
Allen is chief mechanic at Win's Wheels, in Westlake Village, a service-only shop he's owned for nearly 10 years. The 43 year old has been wrenching professionally since 1985.
In qualifiers, the Challenge required mechanics to complete four tasks — swap out a saddle, change a cassette, change a chain (including shortening the new chain by four links) and, in what competitors all said was the hardest stage, swap out an inner tube while wearing blacked out goggles.
In the semi-finals, competitors went head to head in heats of two through all the tasks. In the gold-medal round, organizers added a task that was secret until the last minute: mechanics had to remove handlebar tape from a road bike and re-tape the bars. The re-tape job had to be done well enough that a typical consumer would be pleased, in the judgment of the event's officials, a cast of experienced mechanics from across the industry chosen by the Professional Bicycle Mechanics Association.
In the final, Allen faced Wednesday's top qualifier, Shawn Miller of Dana Point, California's Cyclelogical shop. Miller, with 23 years of wrenching experience, had breezed through the earlier qualifiers, beating out his colleague, Jordan Gold, in the semi's. Gold, 20, eventually finished third overall.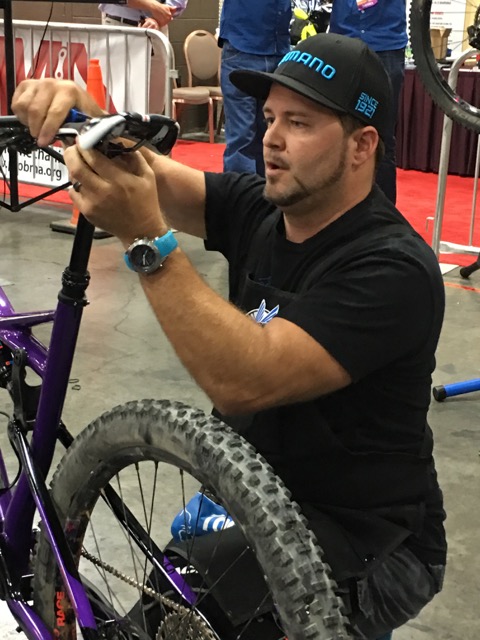 When the gold medal round started, Allen's jitters went away as he got to work. "I just put my head down and do what I do," he said.
As former pro cyclist and network commentator Frankie Andreau provided play-by-play, Miller took an early lead on the saddle swap. The two passed through three stages neck and neck and Miller stopped the clock first, beating Allen by three seconds. But officials deemed Miller's tape job unacceptable because of lumps under the brake hoods, and awarded the win to Allen.
For his efforts, Allen won a PK-2 pro tool set from Park Tool, a three-night hotel stay for Interbike 2017 and items from event sponsors Finish Line and Hutchinson Tires.