Boulder Cycle Sport named 2016 Retailer of the Year
LAS VEGAS (BRAIN) — It was a star-studded night Thursday as the Interbike Awards ceremony included a reunion of cast members of the 1985 cycling film "American Flyers." The movie, which focuses on the lives of two brothers who race bicycles and travel across the U.S. to participate in the annual "Hell of the West" stage race in Colorado, was screened on Wednesday night.
Actors were joined by racing and industry notables onstage to present 33 awards for the best in retail and supply, product, athletes, advocacy, events and industry leadership.
VeloNews selected the nominees for domestic road and cyclocross cyclists of the year as well as domestic mountain bike race of the year.
PeopleForBikes chose the advocacy award nominations within the Next Generation Award and Leadership Award categories.
The National Bicycle Dealers Association chose the supplier/distributor awards under several categories, including The Profitability Award – Bike, The Service Award, and Brand of the Year. Finalists were chosen based on key performance indicators provided by The NPD Group and derived from its bicycle retailer panel. A dealer survey was then conducted to allow dealers to choose the best performers from the list of companies.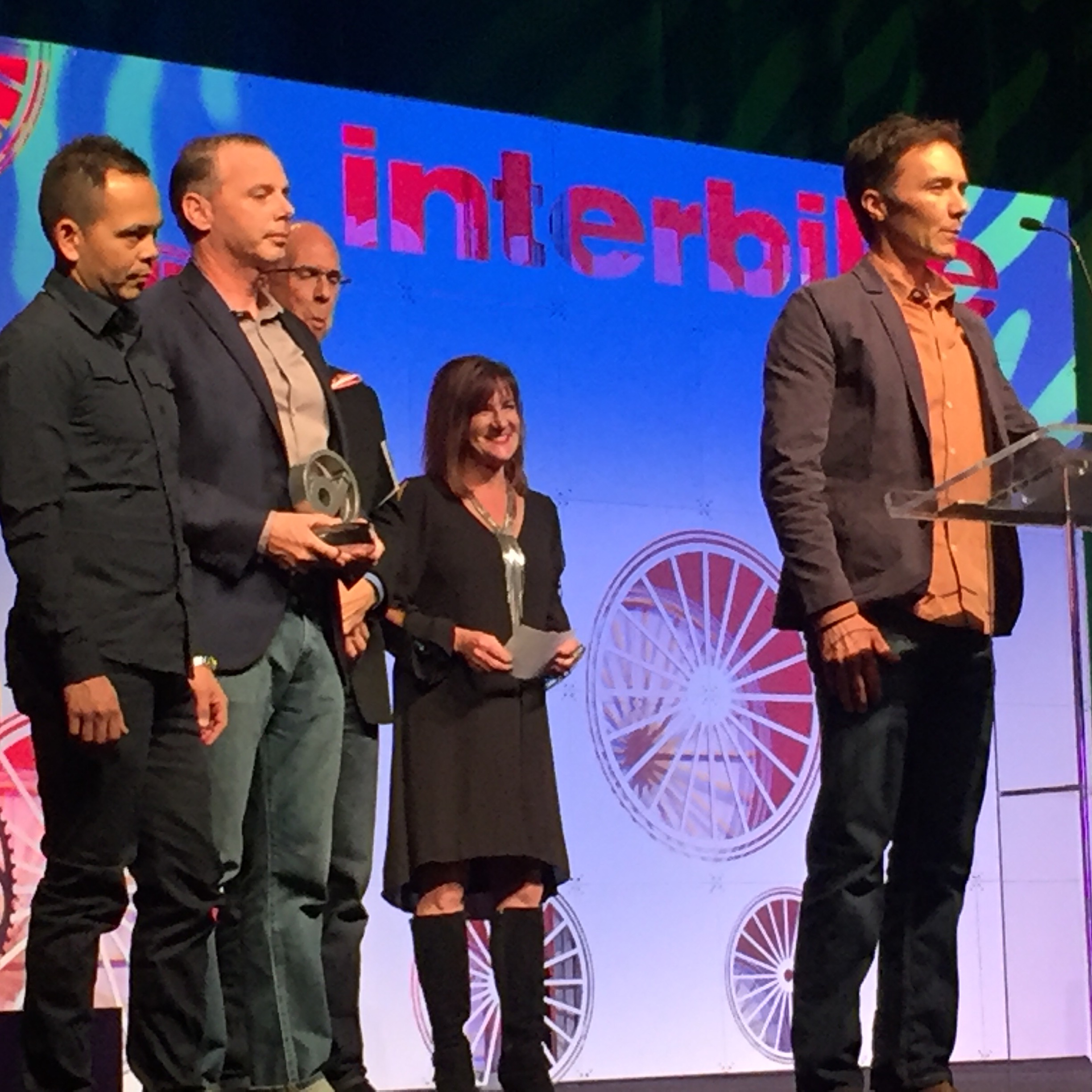 The retailer nominees, which were vetted by Bicycle Retailer & Industry News editors, were determined by an open industry online ballot.
Hi-Torque Publications, publisher of Mountain Bike Action, Road Bike Action and Electric Bike Action, chose the nominees for Mountain Bike of the Year, Road Bike of the Year, E-Bike of the Year and several other product categories.
Products nominated were chosen by the editorial teams at Hi-Torque Publications after testing and review during the 2016 product year.
And Triathlon Business International chose the nominees for the male and female International Triathlete of the Year, Breakthrough North American Triathlete of the Year and Triathlon Innovation of the Year.
Triathlon Innovation of the Year products were selected from model year 2016 products that were available for review by the TBI board of directors.
New this year, the National Interscholastic Cycling Association handed out an award for Next Generation Rider of the Year, and the Bicycle Product Suppliers Association presented the Lifetime Achievement Award to Steve Flagg, co-founder of QBP.
Retailers
Best Urban/Lifestyle Shop:
Splendid Cycles, Portland, OR
Best Pro Road Shop:
Strictly Bicycles, Fort Lee, NJ
Best Mountain Bike Shop:
Mountain Bike Specialists, Durango, CO
Best Omnichannel Retailer:
Performance Bicycle, Chapel Hill, NC
Best Women's/Female-Friendly Shop:
TriBella, Denver, CO
2016 Retailer of the Year:
Boulder Cycle Sport, Boulder, CO
Athletes
Domestic Road Cyclist of the Year (Male)
Neilson Powless
Domestic Road Cyclist of the Year (Female)
Coryn Rivera
International Triathlete of the Year
Gwen Jorgensen
Breakthrough North American Triathlete
Katie Zaferes
Domestic Cyclocross Rider of the Year (Male)
Jamie Driscoll
Domestic Cyclocross Rider of the Year (Female)
Amanda Miller
Products
E-Bike of the Year
Stromer, ST2s
E-Bike Product Innovation of the Year
Bosch, CX
Triathlon Innovation of the Year
Quintana Roo PRfive,
American Bicycle Group
Mountain Bike of the Year
Stumpjumper sixFATTIE Expert, Specialized
Mountain Component of the Year
Eagle Drivetrain, SRAM
Road Bike of the Year
TCR Advanced, Giant Bicycles
Road Component of the Year
Red eTap, SRAM
Mountain Accessory of the Year
ATB-T Trail, 6D
Best in Show
Mountain Spark RC, Scott Sports
Road Accessory of the Year
Garmin Varia Rear View Radar, Garmin
Best in Show
Road Dash Computer & Link Software, Stages Cycling
Advocacy
Next Generation Award
Bike-to-School Challenge, Northeast Ohio Suburbs
Leadership Award
Mayor Betsy Price, Fort Worth, Texas
Suppliers
The Profitability Award - Bike
Giant
The Profitability Award - Accessories
Serfas
The Service Award
Cannondale
Brand of the Year
Trek
Distributor of the Year
QBP
Events
Domestic Mountain Bike Race of the Year
Carson City Off-Road
New This Year
Lifetime Achievement Award
Steve Flagg, QBP
Next Generation Rider of the Year
Megan Bradley