BOSTON (BRAIN) — Fortified Bicycles offers simple, affordable bikes that are designed to be theft resistant and low maintenance. The company even offers a theft replacement warranty to help make potential customers in high theft areas more confident about investing in a new bike.
Earlier this week, BRAIN published an article about Urban Tribe Cargo Bicycles, a brand new cargo bike brand from Texas, whose founder was moved by the philosophy of Pete Adeney, the man behind the Mr. Money Mustache personal finance blog.
The blog inspired Urban Tribe's founder to simplify his life, and eventually to launch the new company. Even the Urban Tribe name came from a blog post title.
By contrast, the founders of Fortified were unaware of Mr. Money Mustache when they started the company in 2012. But they were already living a "Mustachian lifestyle," said CEO Tivan Amour, whose co-founder and COO is Vlad Pick.
"Back then we were budding entrepreneurs — we had tech startups and we were selling all our possessions and trying to live a spartan lifestyle to put all our resources into the startups. So we were all riding bikes. I had a nice Audi that I had sold ..." Amour told BRAIN.
The two were living in Cambridge, Massachusetts, a city with a lot of bikes and a lot of bike thieves.
A friend's bike light was stolen and then he was hit by a car while riding on Commonwealth Avenue in Boston. That was the inspiration for Fortified's first product, a theft resistant bike light launched on Kickstarter. 
Amour said that although he hadn't seen the Mr. Money Mustache blog at that point, his lifestyle and the company's ideals were already "Mustachian in nature."
"Before we were reading the blog, we were Mustachian. Our goal with the products was to offer low cost, simplicity and low maintenance," he said.
As the company grew, it made connections with Adeney.
"One of our business partners had been following the blog and he reached out to Pete from time to time, and eventually Pete took notice of us and when he heard we were developing a bike he asked about testing one."
When Fortified launched its bikes, Adeney asked the company to offer a discount code to his blog followers. Adeney has emphasized that he does not make paid endorsements and Amour confirmed that no money changed hands.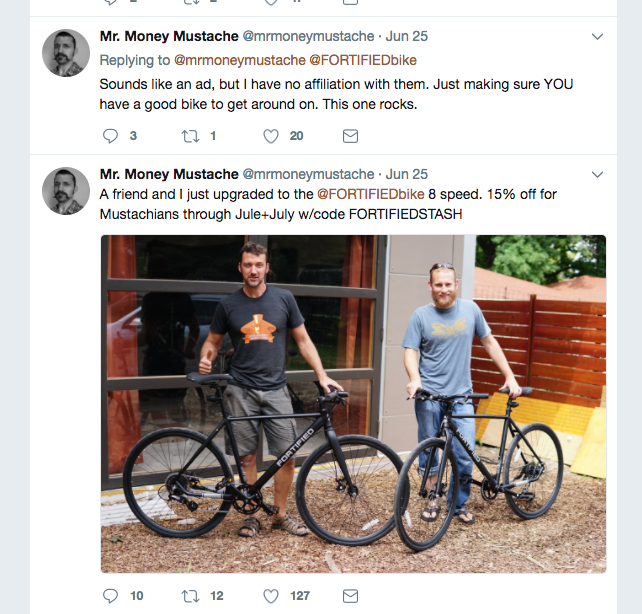 "In the early days I actually proposed that we do an affiliate ad and he kind of got mad at me," Amour said with a laugh. "He said, 'that's not what I do. I just promote things that I believe in.'"
Fortified's flat-bar, aluminum-framed bikes are available in singlespeed and 8-speed versions, starting at $450 and $750, respectively. They are sold consumer direct only from Fortified's website. They feature proprietary security bolts on components, a water proof saddle, and puncture-resistant tires.
Amour said they are the Honda Civic of bikes — not flashy, but easy to own.
"A lot of our customers are first-time bike buyers. Many are dual-income, no kids, maybe they just moved to the city and they are realizing they could get to work just as fast on a bike as on the T (Boston's public transit system). And maybe they are realizing they don't have time to go to the gym, so they could get exercise on their commute, as well. But they want it to be easy, they don't want to be worried about theft, or flats or maintenance. We are all about making it an easy decision for them to buy a bike."
A theft replacement warranty costs $99 a year, which includes a free U-lock the first year. The warranty covers the frame and any parts that are attached with security bolts. The company has shipped a handful of replacement bikes to insured owners whose bikes were stolen, Amour said.
"We've sent out a few, and the people we took care of love us forever, they are our biggest fans," he said. "But we haven't had to ship out so many that it puts us out of business."
Fortified occasionally works with bike shops to service and assemble bikes, but Amour said there are no immediate plans to begin sales through brick-and-mortar shops.
"We receive a lot of inquiries from bike shops and we keep a list of stores who are interested and who are aligned with what we are doing. We are open to bike shops reaching out to us but we are not making a push right now to begin sales through shops.
"I know there are a lot of changes to what's going on with IBDs. Bike companies are testing different kinds of relationships with bike shops, so we are going to keep an eye on what's going on and what it looks like in a few years."
He said interested retailers can contact the company at sales@fortifiedbike.com.