Less than 30 miles from BRAIN's California office, a small warehouse in Garden Grove hums with the sound of sewing machines. Women sit at workstations stitching custom cycling caps for Pace Sportswear.
It seems hard to believe in this day and age that a Southern California garment maker can hand-make apparel and still compete with products manufactured overseas. But Maria Marsh and her mother, Leonor, are making the model work by focusing on the company's heritage: cycling caps.
BRAIN sales guy Robert Roman and I visited Pace Sportswear last Thursday and got a tour of the facility. Twelve people (and two dogs) work in the small 6,500-square-foot space in an industrial park. Bolts of fabric are stacked along the walls surrounding the main workspace with a dozen individual sewing stations. Everything is done in house from graphic design to sublimation to cutting to sewing. Marsh said most of the employees have been with the company for more than 15 years.
Marsh's father, Jorge Saavedra, started the company more than 30 years ago. Working the graveyard shift as an X-ray and ultrasound technician, he spent his days riding and visiting local shops. He would pick up old spare parts from bike shops and take them down to his native Colombia, where he would trade them for custom headwear branded with the shop name. From the age of 12, Marsh would accompany him on weekend trips to Colombia so that he could bring back extra bags full of caps. He made caps for shops, teams and races in small numbers and delivered most of them personally.
Saavedra quit his night job in 1980 when he received a $50,000 order from Campagnolo USA for 60,000 hats. The original purchase order is framed in the entryway.
Leonor bought her husband out of the business four years ago when he moved back to Colombia. Now the mother and daughter duo own and run the business. Leonor, a former employee of Continental Airlines, handles the financials and human resources. Maria, who has a business degree from Long Beach State, does the sales, marketing and production.
Marsh said the company has dabbled in many things—from baby blankets to bicycle print Hawaiian shirts—but ultimately has been most successful focusing on cycling caps.
Marsh said headgear—including caps, skull caps, helmet liners and headbands—has increased from about 40 percent of sales to now account for more than 60 percent of sales. Clearly the urban fixie trend has contributed to this growth and Pace is playing into it by adding new cap styles in neutral colors and one in black with a checkerboard stripe.
The remaining portion of the business is cycling apparel, about half of which is custom jerseys and team kits. Pace apparel is sold through a number of distributors and it handles custom orders directly. Marsh said it is competitive with custom apparel because it can offer 6 to 8 week turnaround times and sometimes handle rush jobs. For example, she had just received a call from Kestrel wondering if Pace could make Rock Racing caps in time for next week's Tour of California.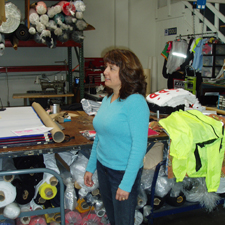 Maria Marsh explains the production process to Robert and I.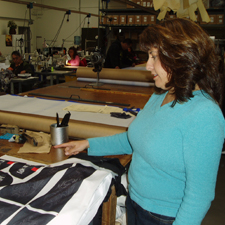 Marsh demonstrates how Coolmax fabric is first screen-printed with a design for its mesh skull caps.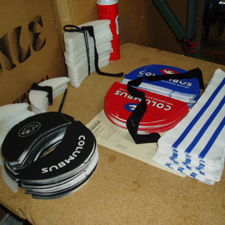 Fabric and foam are then die cut into shapes to be sewn into caps.
Die-cut pieces are then sewn into caps for customers such as Terry.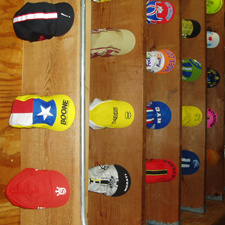 A ceiling display shows the various custom cap designs Pace has made over the past 30 years.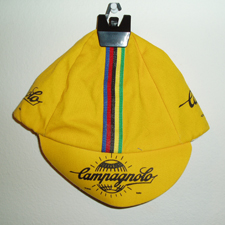 The Campy hat that started it all with a single order in 1980.