Here's a sampling of some of the new bikes and accessories Trek showed dealers last week at its 2010 product launch.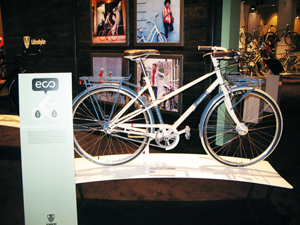 The first bike in Trek's new Eco Design sub brand, the Belleville is inspired by the French Porteurs of the 1920s. The Eco bike is designed from front to back to lessen manufacturing impact. Grips and saddle are designed for disassembly for recycling. Its steel frame is fully recyclable and has a powder coat finish with no VOC. It comes equipped with generator hubs, steel front and rear racks and fenders, and tires are made from sustainable, harvest rubber. Trek uses "close sourcing," choosing parts suppliers near to the point of manufacturing to keep transportation emissions low.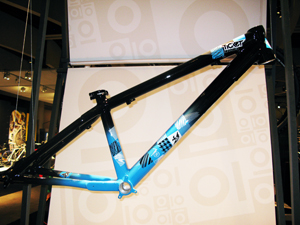 The Ticket Signature Edition dirt jump frame is the result of years of development and feedback from riders Cam McCaul and Brandon Semenuk. It accepts up to 2.5-inch tires and its chainstays are super short for quick handling.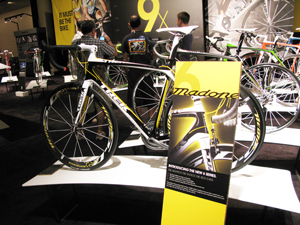 Though the new Madone 6 Series was introduced at the Tour de France and most dealers have already seen it, the bike still made a splash in Madison, Wisconsin. The frameset sheds 150 grams for 2010. It's also 17 percent stiffer in the front and 43 percent more compliant with a reshaped seatmast. The frame also features more seamless component integration with special battery mount and routing for Shimano Di2. But perhaps its niftiest feature: a modified frame that integrates a Duotrap sensor to measure speed, distance and cadence. Bye bye zip ties.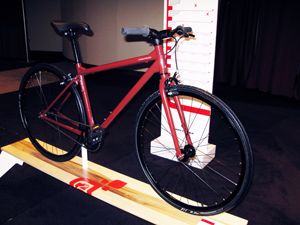 The Gritty is one of three steel commuter bikes coming out of Gary Fisher for 2010. At $400, the price will be one of its selling points. It can be configured as a single-speed or fixed-gear bike with a flip-flop hub and comes with alloy track hubs.
"It's all about 29ers," said Gary Fisher brand manager Travis Ott, adding that the brand focused on full-suspension for 2010, where there was most opportunity for improvement. The Superfly 100 is its race-ready carbon fiber full suspension 29er. It features a shortened chainstay and wheelbase for a more nimble ride. MSRP: $5,600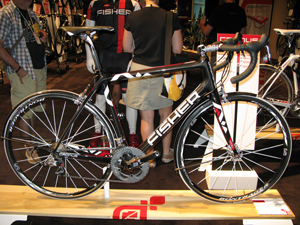 Aside from its 29ers, 2010 is a big year for road for Gary Fisher. Though last year the brand made its debut with three aluminum road models, for 2010 it's venturing into carbon with the Cronus. GF brand manager Travis Ott admitted that they needed more time to get the product ready last year. He said engineers paid particular attention to the steering column to produce a stiff front end. They also focused on utility—the Cronus accepts custom full carbon fenders with discreet mounts near the front and rear dropouts.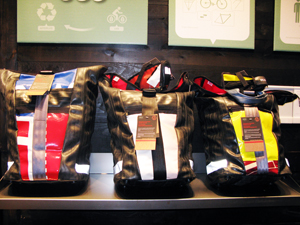 Bontrager and Trek have partnered with Alchemy Goods to reuse certain tube sizes and recycled event banners to produce panniers and other bags to be sold through Trek dealers. Bontrager brand manager Chris Clinton said no two bags are alike since the banners used are all different.