Perhaps better known for being the home to famous rapper Snoop Dogg, or tourist magnets like the Queen Mary and the annual Toyota Grand Prix, Long Beach is hoping to also make a name for itself as a bike town. And recently, it's made some huge strides in that direction. "Our city council understands the importance of cycling," Andrea White-Kjoss, president and CEO of Bikestation, told me during a recent visit to her downtown Long Beach office on Ocean Boulevard. She would know. Actively involved in city bicycling plans, White-Kjoss, who often rides into work, said she's in city hall meetings every other day.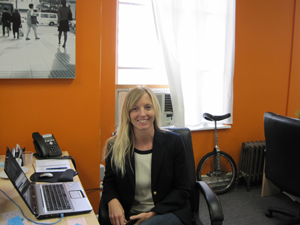 She points to two staunch advocates of cycling—Charles Gandy, the city's mobility coordinator, and Sumi Gant, with the dept. of public works. The city has raised $17 million in state and federal grants specifically for bicycle infrastructure and improvements, according to the LA Times. Plans include resurfacing streets to include bike lanes, installing "bike boulevards" and protected bikeways, and replacing parallel parking in some areas with "bike corrals."
One of the first places to see some of these changes was Second Street, a narrow four-lane corridor lined with restaurants and boutique shops in the LBC's Belmont Shore neighborhood. Late last summer, the city painted green sharrows along this congested street, which would seem ideal given the number of cyclists who ride there and the average car speed. The painted lanes draw riders away from the door zone and serves as a reminder to drivers to share the road. But they took local business owners by surprise.
"A lot of business owners were like, 'where did this come from?'" said John Genshock, who owns Jones Bicycles, a 100-year-old-bike shop along Second Street. "We didn't even know it was happening. We weren't made aware until a week before it happened. But we see a lot of people using and appreciate it." Last December, the city debuted its first bicycle boxes—a striped green box with a white bicycle symbol painted typically at intersections—to boost cyclists' visibility along busy intersections along Second Street. And lest we forget, Long Beach is also home to the first Bikestation, which opened back in 1996 as a low-tech valet bike parking facility. Now in its third move since, the Long Beach Bikestation is in a temporary spot while developers carve out a new location for it along the Promenade in downtown, which has undergone major redevelopment and renovations in the past few years.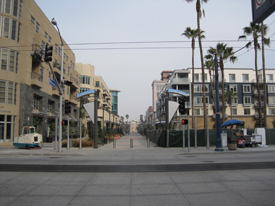 White-Kjoss, who joined Bikestation six years ago, said the new LB station—nestled in between high rises and towering mixed-use condos—will be a state-of-the art, two-story building next to a park and offer close to 2,000 square feet, up from 1,200 at its previous digs. She hopes it will be completed by summer. The current Bikestation off of Broadway has a six-person staff of full- and part-timers and provides free daytime bike parking, as well as tools and a work stand for commuters to tweak their bikes. It also offers repair services and sells a few parts and accessories. I was quite impressed with it during my recent visit. Two more in California will open later this month.
Seems the LBC has lots going for it. I, for one, can't wait to see my town become L.A.'s biking Mecca. It already seems well on its way, according to Jones Bicycles' Genshock: "This green movement is starting to kick in. We're getting a huge wave of people looking to buy bikes for transportation."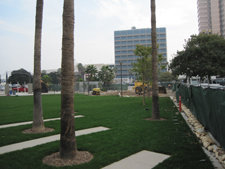 The site for the permanent Long Beach Bikestation, scheduled to open later this summer, along the Promenade in downtown LBC.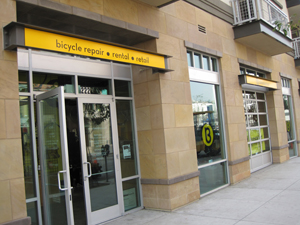 The temporary location on Broadway offers members 24/7 access to bike parking with membership purchase.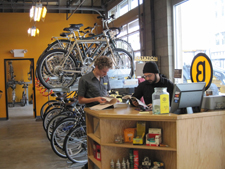 It's staffed from 7 a.m. to 6 p.m. during the week and from 9 a.m. to 5 p.m. on weekends.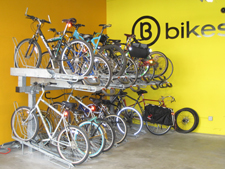 Its two-level racking system, imported from Germany, can store 20 bikes in a space no bigger than a parallel vehicle parking spot. Each individual bike rack slides out and down, making it easy for anyone to mount a bike to the top-level of the rack.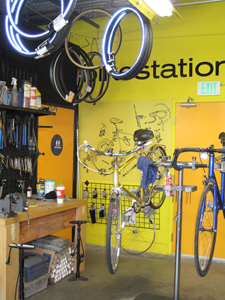 A work stand and tools are free for anyone to use. Repair services are offered for a fee for those not comfortable wrenching on their bikes.