Our group grew to 20 riders on day 2 of the BRAIN Phoenix Dealer Tour as five Giant retailers, who flew in for a GRP (Giant Retail Partner) dealer meeting, joined us along with Giant's Elysa Walk, Brad Klipping, Jackie Baker, Monica Davis and Tiffany Brown.
A shout out to hosting shops Cactus Bike, Domenic's 2 Wheelers, Tempe Bicycle and Tribe Multisport for rolling out the red carpet and accommodating our large group. Our 30-mile route took us from Scottsdale to Phoenix to Tempe, an adjacent college town, and back to Scottsdale.
Here are some snapshots from the second day: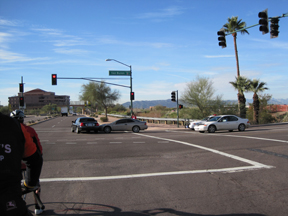 T-Boned: We passed a fender bender on our 16-mile ride out to our first stop: Cactus Bike.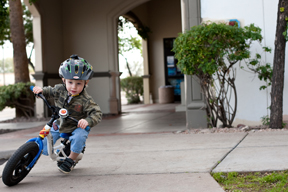 Start 'em Young: Two-year-old Kiefer, son of Cactus Bike's Ahwatukee store manager "Fish," shows us how to ride a Strider. Shop owner Brian Anciaux credited a YouTube video of young Kiefer for its sale of 40 of these running bikes for toddlers. We're pretty sure we'll see Kiefer on the MTB racing scene in a few years.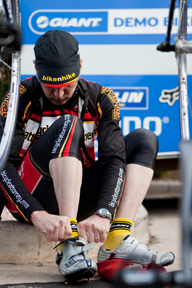 Strap 'em Up: Joining our motley crew on Wednesday morning was Bike N Hike owner Kevin Chudy, one of the 18 shop owners who came out to Phoenix for Giant's GRP dealer meeting.
Ride Leaders: Shortly after winding through the Arizona State University campus, riders wait for the back of the pack.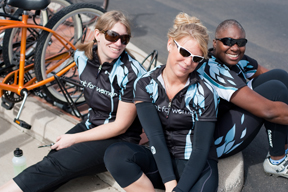 Three Musketeers: Taking in some Arizona rays are (left to right) Jackie Baker, Nicole Bochenek of D&D Bicycles and Hockey in Michigan, and Tiffany Brown. Luckily, temps rose a few degrees on Wednesday.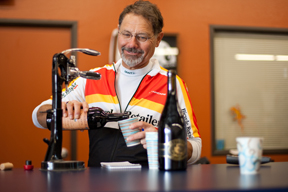 Red, Red Wine: BRAIN head honcho Marc Sani helps himself to some vino courtesy of Tribe Multisport, a tri-focused shop in Scottsdale and our last stop.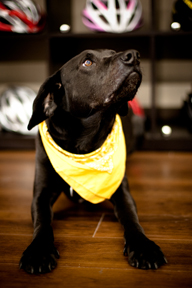 Puppy Love: Tribe's Logan, a five-year-old Lab mix, anxiously awaits the UPS guy every day, "chief" Kevin Weitzel tolds us, because he brings the pup treats.
Photos by Jake Orness