Rain stopped but winds picked up as our crew worked its way southeast to Fort Worth. With lots of ground to cover (literally, as the Dallas and surrounding areas are a never-ending sprawl), our group and bikes packed into two Sprinter vans that shuttled us to our first stop, Trinity Bicycles, a transportation bike shop just blocks from downtown. From there we rode about 15 miles north to Bicycles Inc. in Hurst, then to Knobbies and Slicks in Colleyville, and finally ended up at Mad Duck Cyclery in Grapevine. 
Then we packed up in the Sprinter vans again to head over to regional lock and bike parts distributor Hans Johnsen, where we were welcomed with snacks and Shiner Bock and given a tour of its recently completed 8,400-square-foot addition. The expanded office space was built to LEED (Leadership in Energy and Environmental Design) standards and brings the total square footage at the Dallas facility to 73,000.
Here are some shots from Day 2.
City officials may delay the striping of new bike lanes but that didn't stop Bernie Scheffler, owner of Trinity Bicycles and a Rust-Oleum striping machine, who took matters into his own hands and painted a bike lane in front of his shop.
We ventured through some sketchy parts of town and throwback businesses on our long jaunt from Fort Worth to Hurst. BRAIN web editor Jason Norman tucks in to cut through strong winds.
Joe Breeze autographs a Knobbies and Slicks cap. Owners Debbie and Bud Zarsk were stoked to meet Breeze, the first industry celebrity to stop in their 10-week-old shop.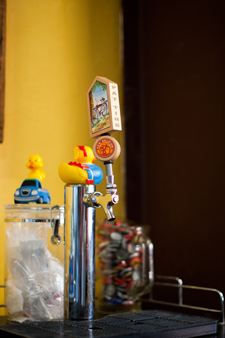 Yes, that's a keg. Mad Duck Cyclery's Clarence Muller said Fat Tire is always flowing in his shop, which is more than just a place where people shop for bikes. It's where they come to hang out, he says. Also hard to miss are the rubber ducks. Dozens decorate the counters and nooks. Customers leave most of them at its doorstep.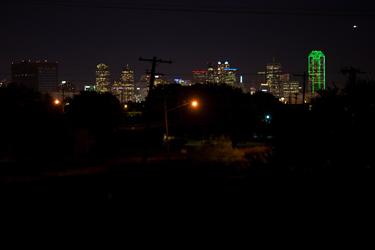 Downtown Dallas as seen from the new rooftop deck at Hans Johnsen's warehouse and office building. 
Photos by Jake Orness