Traditionally one of the reasons bike companies give for not advertising to non-enthusiast markets is that they're just not cost-effective to reach. And while that may be true when advertising is limited to magazine pages and website banners in enthusiast publications, brands willing to market outside the box should have no problem reaching fresh--and potentially very profitable--new audiences.
So why don't they? Two reasons, in my opinion.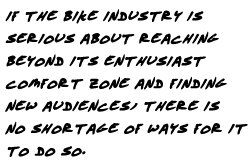 The first is that we're used to doing what we're doing, and so far we've done pretty well with it. But increasingly, we're realizing that the industry is going to have to change if it is to survive and prosper (see previous blog post). Well, maybe.
The second is that we're use to doing what we're doing and, well, we don't know how to do much else. No offense, but developing new markets is not something we're particularly good at in this industry. The flip side, of course, is that there's lots of opportunity for brands who are willing to get out ahead of the curve and begin investing...just as there were for those who went big with road bikes, or mountain bikes before that. So the upside can be very, very good.
But back to my original point: there are plenty of opportunities in the marketplace to reach non-enthusiasts. Here are just a couple of examples off the top of my head, but there are plenty of others.
MapMyRide co-Founder Robin Thurston spoke to Bicycle Leadership Conference attendees last month about using his company's product as a way to reach an entire multi-million member community of plugged-in fitness cyclists.
Sure, there's the usual complement of hardcore enthusiasts grinding out 200-mile training weeks, but Thurston told us that height/weight data indicates more than 80% of members have BMIs showing them to be clinically obese, meaning these people are cycling for fitness, clearly committed to doing something about it, and are therefore exactly the kind of customers we should be directing into specialty bike shops and onto good-quality, properly fitted cycling products that will help them make the most of that commitment. In other words, prime candidates for us to be advertising to.
So what's the catch? There really isn't one. Based on my initial research, MapMyRide delivers unique visitors per month comparable to any number of road racing sites or mountain bike forums I could mention, and the company's media kit says that 70% of visitors come to the site three times a week or more. I haven't checked CPM (cost per thousand impressions) and the initial buy-in is a bit stiff (but not unreasonable, even by bike biz standards), but assuming they're in line with industry rates, there's no reason any number of bike or equipment companies can't jump on this one and ride it straight to the bank.
Active.com is already well-know to enthusiasts as the go-to place to register for races, but it's also home to thousands of other cycling events as well, from centuries to charity rides and everything in between. Which also makes it a prime advertising opportunity for brands who want to reach out to those non-enthusiast cyclists, from just plain folks getting ready for their first-ever half-century (and who might be considering upgrading that department-store special) to old hands who might go years at a stretch without watching a bike race, but still are happy to spend thousands on a top quality ride or new wheels.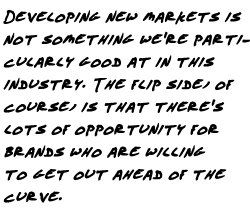 To a marketer's eye, these are prime and highly underserved consumers who can be linked very closely to existing retailers because--by the very nature of Active.com-- they're already linked to specific localized events. And this makes them pure gold as advertising opportunities.
I haven't advertised with Active.com in a few years, but when I did, their rates were quite reasonable and their ability to customize programs extremely impressive.
All of which brings us to an even larger point. MapMyRide and Active are not just new advertising venues for the bike business. They are examples of entirely new ways for us to do the business of marketing; in many ways, they are more different than the move from print to online was ten years ago. We'll talk about that in another post, but for the time being, the core message is clear: if the bike industry is serious about reaching beyond its enthusiast comfort zone and finding new audiences for its products, there is no shortage of ways for it to do so.
Which also means to say, no excuses for not doing so.
Editor's note: Rick Vosper's quarter century in the cycling business includes executive stints as director of Airborne Bicycles, director of global marketing for Specialized Bicycles, and VP of marketing & product for Veltec Sports. Outside the cycling industry, he's worked as an award-winning copywriter and creative director for advertising, collateral, web, and multimedia agencies.
To discuss this blog, or any other article on BicycleRetailer.com, please visit our Facebook page.