It goes without saying that shops have been inundated for the past few months. From questionable essentialness to sell outs and too much work to do, most owners I talk to have been spending more and more time at the shop. While it may seem like a strange time to start thinking about a remodel, I'm willing to bet that this situation has revealed update needs. 
The flaws of your receiving area, service zone layout, cash and wrap counter, even the location of your phone, could be staring you in the face every day. If only the incoming shipments were located better, then boxes would not be piled mid-shop. If the phone were closer (or cordless), then you would not have to walk across the store mid-customer. Or if the service area-to-bike storage passage was smoother, then moving bikes would not be such a chore.
Sold through lots of old inventory? Seeing your shop in a new light now that inventory is low? Perhaps you always wanted to add a coffee shop area, or a spot for customers to relax and enjoy a cold one? This couldn't possibly be the best time to start a project like this – or could it?
Depending on your current business situation, it may or may not be the best time to actually start a remodel, but it certainly is the right time to begin thinking about it.
There are some aspects of the business to address as soon as possible, and others where you may want to simply begin the planning process now.
If you are letting customers into your store, remember that visual merchandising can have psychological effects on your customers. The store layout, cleanliness, and saturation of the displays can influence and persuade a customer to purchase from you. There are several small-scale remodels that can be done during business hours or after hours that will not halt operations.
As we sell through inventory, it is important to refresh your store by updating your layout, revamping bike lineups, and rebuilding shelf displays. Set up your floor plan to make it easy for customers to navigate your store. Order in needed accessories or rearrange current stock to keep displays full and high-profit items at eye level.
Maintaining a tidy, clean, and uncluttered service area should be an integral part of the bike shop operation. During the past few months many shops have been inundated with repairs and the service department organization and management has been stressed. Consider a focused remodel to increase efficiency, accuracy, employee morale and safety. Step back and look at the overall service process from intake to the completed bike transition procedures. Identify areas to streamline the process. Consider changes that could reduce customer wait times, jam-ups, employee errors, and communication failures. Look at the service layout with a bird's eye view, and consider if you have the space for expansion. Regardless, rearrange service stations and workbenches so employees can have dedicated space to work without having to constantly move other objects out of the way. Reduce clutter, and think about storing or displaying the basic repair items needed close by so parts can be pulled or assigned to a repair in case of future sell out. A remodel could be as simple as installing new dedicated signage directing customers to the repair department, or advising them of pricing, policy and procedure.
Several studies have pointed to retail sales increasing after a remodel and experts suggest your shop have a revamp every 2-3 years. This could include a fresh coat of paint, lighting fixtures or flooring. Store renovations transform the look and feel of the space, and interestingly enough, impact our new customers the most. New customers may be drawn to your store because of the cleanliness, atmosphere, and layout. Create an environment that attracts these new cyclists back for future spending, and consider renovating to cater to our new convenience features such as curbside pickup, grab and go, or even self-checkout.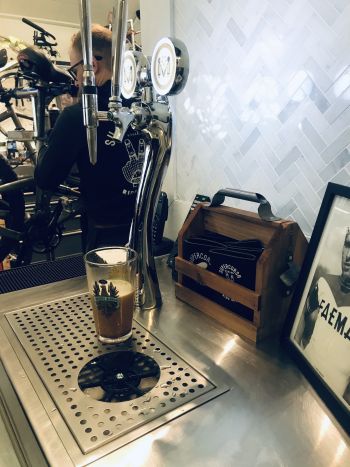 The potential shortage of bikes may have you thinking about ways to keep your business profitable moving forward. Have you always dreamed about adding a side coffee cafe or brewery business to your shop? Now may be the time to move those dreams to reality. With the COVID-19 outbreak, construction activity has fallen to an all-time low. This downturn could actually play in your favor. You may be able to negotiate preferable project pricing with contractors looking for work. Even if you decide to wait until late fall or winter, this is a good time to plan the project. Begin talking to potential contractors about how you could incorporate a café into your current facility and draw up plans for when things fully open back up.
For many shop owners, adding in a coffee or cycling bar to their business has yielded bigger than anticipated payouts. Not only do you provide a friendly welcoming space that encourages your cycling community culture, you also provide cyclists their daily fix. As a bike shop owner, you may not know the first thing about running a coffee or cycling bar, but with many successful shops mixing up the bike shop environment in the past years, it may be time to consider. Mix in the relatively low cost of startup with some of the highest potentials for significant return on investment of any other small business, that empty space in your shop that was once filled with new bikes for sale may have an undiscovered future.
While right now may not be the best time to begin a large-scale remodel, it is a great time to think about the future. There are small changes you can make today and larger considerations you should take as you think about the new normal. Remodeling can be a great marketing and morale boost that represents your desire to move the store forward post-COVID-19. Consider your remodel a marketing expense that highly benefits your bottom line, while grabbing the attention of your new customers.