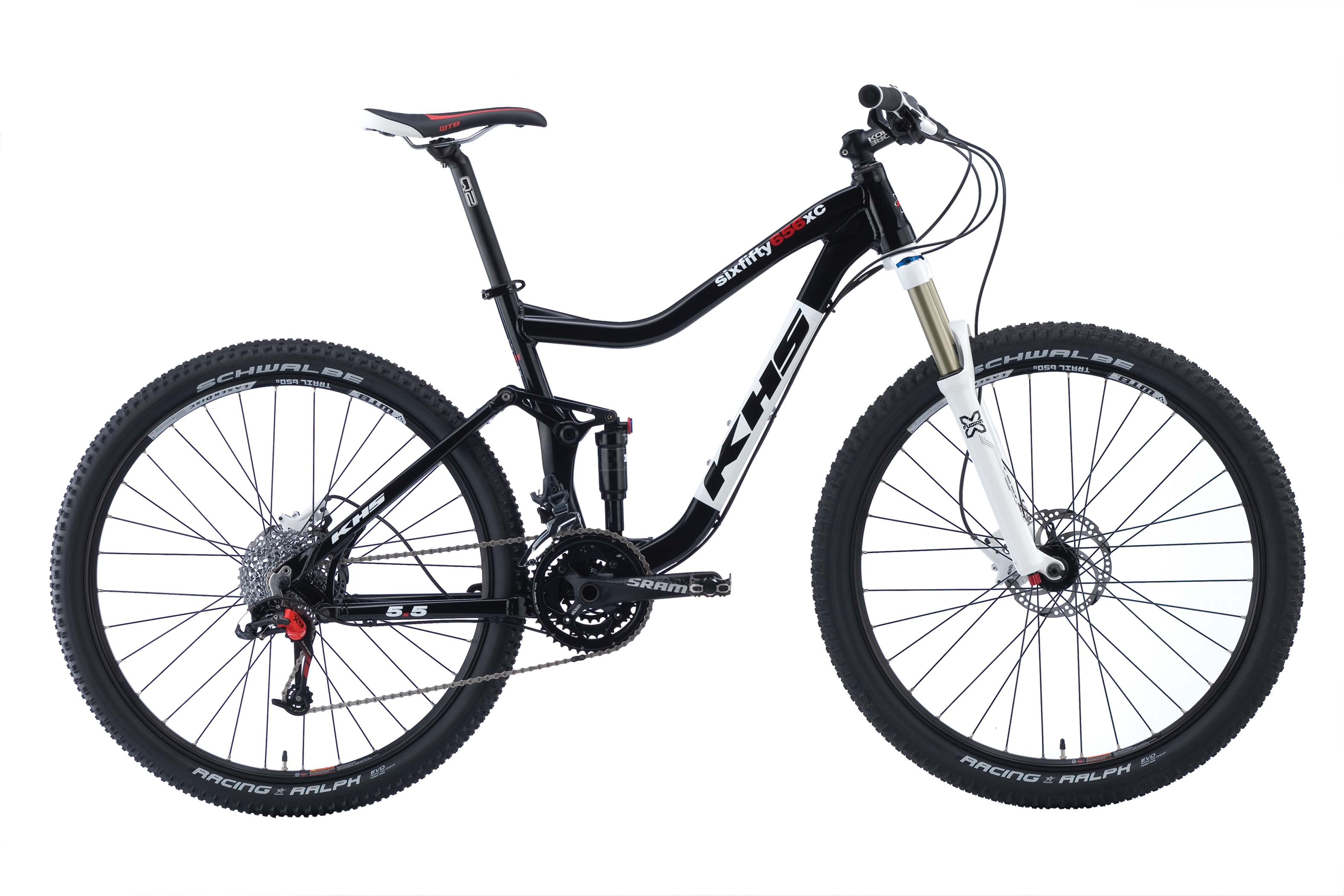 The SixFifty656xc is one of five new 650b models from KHS for 2012.
By Toby Hill
It's long been the ignored middle child of mountain wheels, but 650b—the size that falls between 26 and 29 inches—is commanding a great deal of industry attention lately.
Limited selection of dedicated 650b components—suspension forks from White Brothers and X-Fusion, a half-dozen tire models, few rims and wheelsets—have kept large bike suppliers on the sidelines. But that looks to be changing as more fork, wheel and tire makers introduce components for this wheel size.
Fox Racing Shox has developed its upcoming 650b fork based on the 34-millimeter stanchion 29er fork it introduced in the 2012 model year, said Mario Galasso, Fox corporate executive vice president.
"I think 650b is intriguing the industry for that category of bike between a short-travel full suspension and a full gravity full suspension—150 millimeters of travel. That's where the 26, 29, 650b thing is being debated," he said.
Adam Micklin, director of global sales at Hayes Bicycle Group, whose products include Sun-Ringlé 650b rims, said Hayes will offer multiple Manitou 650b forks for 2013. And SRAM has displayed a new 650b Rock Shox fork on its SRAM Choice Factory intranet site for OEM customers, according to industry sources.
SRAM declined to comment on those reports, saying in an email: "There's definitely been an increase in interest and discussion over the 650b wheel size. We're not ready to reveal our 2013 line at this time, but whether or not there's a 650b offering, you can be assured that we've taken the wheel size into consideration."
After being approached by bike suppliers, DT Swiss plans to introduce OE and aftermarket 650b rims and wheelsets for 2013, said U.S. marketing director Paul Guebara. He anticipates the company will start with two or three wheelsets and four rims—two widths in both welded and seamed versions.
Velocity, which started making 650b rims for Rivendell touring bikes a decade ago, has increased its 650b mountain rim and wheelset selection in recent years, said general manager Matt Ruiter. All future mountain rims and wheels will be offered in 650b iterations as well as 26 and 29 inch, he added.
Kirk Pacenti, who previously designed Velocity's P35 650b rim, also recently introduced a new 28-millimeter rim through his Pacenti Cycle Design brand to complement the 27.5-inch tires he began selling in 2007.
Tires in 650b are also currently available from Kenda, Panaracer, WTB and Schwalbe, and Pacenti believes other manufacturers will have their own offerings soon.
Euro bike brands lead the charge
Component manufacturers already making 650b products say they have seen a surge of interest from European bike brands.
"The 650b thing seems to be primarily driven from the European side, at least for us. Almost the entire discussion at Eurobike this last year was German guys talking about 650b," said Joel Smith, general manager of X-Fusion.
Hayes' Micklin said individual European bike makers are considering as many as 15 models in 650b for 2013.
Smith believes the strong European response is a product of the market's late reaction to the 29er trend. "They're behind on that and now they're seeing that growing. So I think they don't want to see that situation again where they're behind the curve," he said.
Stateside, early 650b adopter Jamis has increased its lineup from two to four models for 2012, while KHS is bringing five 27.5-inch models to market this year, up from one in 2011. And other bike brands are now exploring the segment more seriously, some attracted by the fact that a fork with Fox's strong brand recognition will be available.
Last year, word that Fox would produce a 650b fork for the 2013 model year sparked rumors that a major bike supplier such as Specialized was getting into the segment. Scott's name also circulated throughout the industry.
But Adrian Montgomery, marketing and public relations director for Scott Sport's U.S. bike division, says nothing is set at this point.
"It's got a place; we just haven't decided where. We've been testing it on everything from hardtails to all-mountain full-suspension bikes, and if it works the way we want it then we'll produce something," he said.
And that other rumored company—the one with the big "S"? "No plans whatsoever right now," said Specialized product manager Joe Buckley. Specialized experimented with the wheel size but didn't see enough of a performance benefit to warrant getting into 650b, he added.
Giant declined to comment on any 650b plans and Trek did not return calls seeking comment.
Canada's Norco, meanwhile, will offer at least one 650b model for 2013, said Dustan Sept, public relations coordinator for the company.
And after retiring its El Bastardo 650b model, high-end frame maker Ventana put an all-new 650b frame on the drawing board when Fox said it would make a fork.
"Those two forks [White Brothers and X-Fusion] are just not mainstream enough to cause a groundswell of interest in 650b. So it kind of lived and died on what fork makers were doing," said Ventana owner Sherwood Gibson.
At KHS, whose five 650b bikes for 2012 range from a $769 entry-level aluminum hardtail to a $4,299 carbon race rig, sales and marketing vice president Wayne D. Gray believes 650b is on the cusp of a breakthrough.
"If one of our large competitors decides to get behind the 650 program—a Giant or Specialized—component selection will get much better. And we think that will be 2013," he said.
Bottom photo: Norco's Dustan Sept test-rides one of the Canadian manufacturer's 650b prototypes.