What will a carbon-wheel engineer do with a classic European brand?
INDIANAPOLIS, Ind. (BRAIN) — Josh Poertner is an engineer, but not that kind of engineer.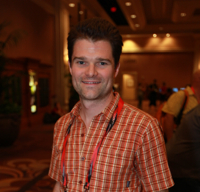 The 36-year-old is well-known across the bike world after spending more than a decade as the lead engineer and technical director at Zipp. He joined Zipp when it had only a dozen employees and was central in designing and manufacturing carbon products inspired by Indianapolis' thriving auto racing industry. Zipp wheels helped change the look and even the speed of cycling forever, while also creating a new product category in the bike business: the surprisingly large and growing market for wheels costing $2,000 a pair and up.
Poertner is a mechanical engineer who minored in material science.
"I have an engineering background, but I tend to be more on the creative side of the spectrum," Poertner told BRAIN recently. "I have more of a design focus; I excelled in more fuzzy engineering, pretty non-linear stuff. I'm pretty comfortable in that space."
Since Poertner left Zipp last summer to buy the nearly century-old Silca pump brand from the Italian family that built it, he's had to access his linear and non-linear thinking, because he's become a one-man company, operating out of his house in Indianapolis.
"I'm realizing how spoiled I was at Zipp," he said. "We had accountants, we had a shipping and receiving lady, now I have to do all that. Shipping and receiving is a nightmare!" (Poertner plans to move Silca out of his house and into a new facility next month.)
It's Poertner's comfort in non-linear spaces, perhaps, that allows him to grasp the nature of the Silca brand, its past and its future.
"I excelled in more fuzzy engineering, pretty non-linear stuff. I'm pretty comfortable in that space." — Poertner
Silca, founded by Felice Sacchi in 1917 near Milan, is one of a handful of Italian cycling brands — along with Campagnolo, Cinelli and bike brands like Pinarello — that captured the imagination of cyclists worldwide in the 1970s bike boom and then again more recently among aficionados of vintage cycling gear. Silca enthusiasts post sepia-colored Instagram photos of their pumps, create photo galleries devoted to the brand, and wear T-shirts and cycling caps featuring the rainbow-backed Silca logo, whether they've owned a Silca pump or not.
Aside from the waxed-moustached hipsters, just about anyone who took up road cycling between the 1960s and 1990s has a Silca story to tell. Poertner has heard most of them and, a former amateur racing himself, has a few of his own.
But Poertner said Silca isn't ready for the museum cases; after all the company earned its stature with innovation, including the first pump with a gasket (made of leather) that allowed high pressures, the first floor pump with a gauge, the first lightweight frame pump (initially made with a cellulose barrel) and the first valved Co2 inflator. Modern cyclists who appreciate classy gear now prefer wooden handles on their floor pumps. But in the post-World War 2 era, Silca's now-familiar plastic handle, with its two grooves for looping the hose, was on the bleeding edge of material technology.
So while some collectors may have hoped Poertner would resume production of "replica," or heirloom versions of Silca's Italian-made pumps, he's determined instead to put Silca back on the forefront of inflation technology. Silca products are sure to appear in shops alongside leather saddles, cotton bar tape and hammered aluminum fenders, but Poertner would like to see them in other parts of the store, as well. Near the electronic shifters and carbon wheels, perhaps.
Recent history
Last summer, just weeks before Silca's third-generation owner, Claudio Sacchi, died of cancer, Poertner bought what was left of the company — little more than its brand and industry relationships.
Silca had been in decline for a few years; Sacchi continued to manufacture in Italy but was unable to compete on price with Asian-made floor pumps. The framepump market all but dissappeared because they don't fit on modern carbon frames. And Silca's history of innovation went on hiatus: the once-ubiquitous SuperPista floor pump had its last significant update in 1989.
Sacchi began looking for a buyer last year and found Poertner, a life-long Silca fan who met Sacchi while at Zipp, which sourced disc wheel valve adaptors from Silca.

Rubber and leather
What will Poertner do with the brand? 

A hint at the future, the mix of the old and the new, is revealed in some of the first small replacement parts that Poertner will begin shipping next week to distributors and dealers.
One new part is the gasket inside the pump head that creates an airtight seal around the tire valve. Traditionally on Silca pumps this has been a big chunk of black, carbon-filled natural rubber, not unlike a test tube stopper from your high school science lab.

 But Poertner knew there are better materials available, and he looked to the oil and gas industry to find an elastomeric material that offered better performance and durability, albeit at a slightly higher price.
So the gaskets used in the new U.S.-made stainless steel presta head and disc adapter are a deep red. The material looks more like a skateboard wheel than a test tube stopper. Poertner said the material and a modified design allows the gasket to seal to pressures as much as 100 percent higher than the old rubber gasket, while it's expected to last five times longer. And the new gasket fits Silca pump heads that have been on the market for more than a half century, as well as the new heads.
On the other hand, Poertner took a different approach when it came to the plunger end — the piece that pushes air down the pump barrel. Silca may be the only pump company that uses a leather plunger cup, instead of an o-ring design. O-ring plungers are cheaper and they work, but not as smoothly, or for as long. The greased leather lasts for decades and slides smoothly inside the barrel; the smooth pump stroke is something of a Silca trademark, even if some owners are not quite conscious of it.
Poertner worked with pro cycling teams in Europe while at Zipp, especially during the spring classics season, when he made it something of a personal mission to get pros to use Zipp's carbon wheels on cobbles. He said he saw race mechanics who relied on Silca pumps, instead of sponsor-supplied pumps from other companies, to air up tires on fleets of team bikes before the start. Most floor pumps would stop working part way through the chore, because they overheated and the O-ring plungers could no longer create a seal against the pump barrel. The Silca leather plunger had no such problem.
For decades, Silca has bought its leather cups from an Italian leather company that also handles hides for Ferrari and Maserati interiors, as well as high-fashion houses making pricy shoes, briefcases and custom luggage. Poertner concluded there's nothing better.
Besides the function and the intangibles, the leather plunger has other advantages: the cups are made from scraps of leather that otherwise might have been thrown out.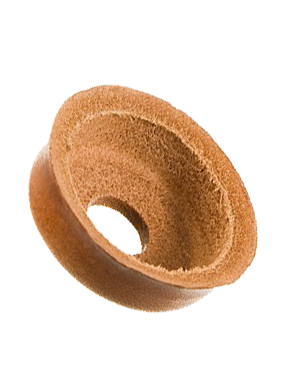 "It's beautiful to see that rather than disposing of these excess corners and edges, they take the unused material to produce rings, which are then pressure-formed into our gaskets," said Poertner.
There's also something appealing about sourcing the plungers from the same Italian company that's been making them for Silca for more than five decades, he said.
Poertner is taking a similar hybrid approach to another key replacement part, the inner valve assembly. It has just three pieces: a tiny brass pin (called a "spillo" in Italian), a spring and an o-ring. Poertner is continuing to source the spillo from the same Italian shop that has made them for years, but he's substituting a higher quality Dupont o-ring and a U.S.-made stainless spring. The $8.50 part will fit any Silca pump made since the 1940s, and Poertner said he designed the new one to last 30 years or more.
What's next?
While Poertner is shipping a handful of small replacement parts this month, a full U.S.-made pump is still a few months away from the market.
He said it will be "unlike any pump ever sold," and concedes it will be among the most expensive on the market, although he said he's not aiming for a specific price. He said it might bear little resemblance to recent Italian-made SuperPista floor pumps.
"I started out thinking it would be 50 percent carryover (from the Italian-made pump). Now it's more like 20 percent," he said. He expects the new pump to share some replacement parts with previous versions. And he expects it to share their durability, repairability and smoothness.
"There is so much opportunity to bring technology to this category, but there also needs to be time spent and real thought brought to bear around the realization that we exist to create heirloom quality products you will pass on to your children," Poertner said.

"That was the vision of the brand 100 years ago, and it absolutely has to stay in there today. There are a ton of people making tools or pumps to hit a price point. You know, 'we need a pump at $59, $79 and $99, make it happen.' Well, number one, there's no opportunity in that space, and number two, there's not a lot of enjoyment in that for me. The point is to sort of merge old world craftsmanship with new world technology."
Poertner said the new floor pump will likely be available in late February. The replacement parts will be available this month from distributors including QBP and BTI and dealer direct. They also will be available consumer direct on the Silca website, silca.cc.