With Eurobike and the Tour de France coming up, expect a flow of new product introductions this week.
LONGMONT, Colo. (BRAIN) — Early July this year is prime season for new product introductions across the bike industry. And excepting this week's holiday in the U.S., manufacturers are planning on rolling out new products to the public and the trade each day before the Tour de France start on July 7 and the opening of Eurobike on July 8.
On Monday, Giro, Cannondale and Orbea announced a new helmet with innovation safety features, a new top-end road bike, and a new e-road bike, respectively. On Monday the French brand Racer also announced its new heated shoe cover, which is featured in our New Product section.
Giro Aether MIPS
The Giro Aether MIPS is a new $325 helmet that will be worn by the BMC team in the Tour. It features a new approach to using the MIPS system to manage rotation impact energy, while maintaining comfort and ventilation.
Giro calls the new technology MIPS Spherical. Instead of the MIPS liner used in other models, the Spherical technology relies on two layers to the helmet's protective foam that can rotate in relation to each other to mitigate the rotational energy. The design preserves the fit and ventilation of the helmet, which Giro claims also offers class-leading ventilation and aerodynamics. 
"The demands of professional-level road cycling helmets are unique and intense: protection must be accompanied with comfort, low weight, and optimal ventilation," said Giro's helmet product manager, Scott Junker. "And, through the testing and validation performed in The Dome, we've long been convinced of the efficacy of MIPS® to reduce rotational energy. So we invented a new integration of MIPS® that allows us to improve rotational energy management while truly optimizing comfort and ventilation."
The Aether MIPS will be available Aug. 1. More information at: giro.com/us_en/aether.
Cannondale SystemSix
Cannondale claims its new SystemSix has the least drag of any UCI-legal road bike on the market. 
"SystemSix is the result of a ground-up design where each element is optimized in pursuit of speed," said Nathan Barry, a Cannondale design engineer. "Aerodynamic drag is the single greatest resistive force that riders have to overcome so it is important to everyone, not just racers. SystemSix delivers more speed, to more riders, more of the time."
The SystemSix is built on a six-part foundation — frame, fork, seatpost, bar, stem and wheels that all work together as a system. The bike is available only in a disc-brake design, which the company said "freed SystemSix from the constraints imposed by rim brakes, allowing engineers to achieve new levels of drag-reducing integration between the frame, fork and wheels. Precisely truncated airfoil profiles in the frame, fork and seatpost maintain air flow attachment across important yaw angles and minimize drag, while delivering world-class stiffness and ride feel."
The SystemSix bikes include the brand's new HollowGram KNØT64 wheels and KNØT SystemBar. The wheels are aerodynamic and designed for wider tires than previously. The KNØT SystemBar provides the low drag and sleek look of a one-piece bar and stem, with the adjustability and convenience of a two-piece system, with 8° of pitch adjust, as well as the ability to change stem length and bar width.
The bikes also come with ready-to-activate Power2Max power meters, and Speed Release thru-axles. The SystemSix lineup features four men's models, in sizes 47, 51, 54, 56, 58, 60, 62 and one women's model, sizes 47, 51, 54. Prices range from $4,000 to $14,000. 
More information at: cannondale.com/TheSystemSix.
Orbea Gain 
The Gain is a carbon hybrid/road e-bike that weighs just 24.9 pounds. It features an optional extra battery to extend outings, hidden cables, minimalist system controls, and Mavic wheels.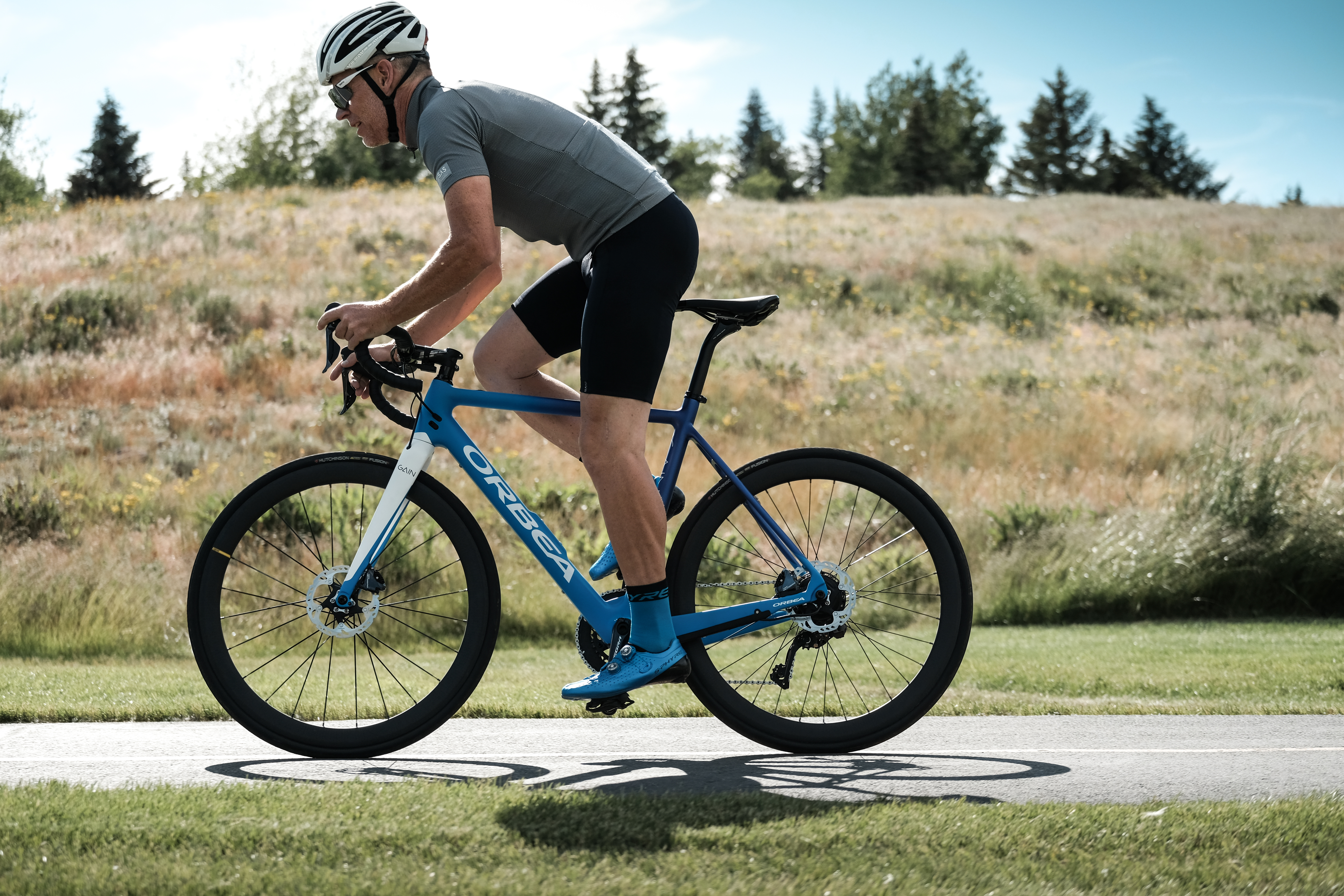 Orbea notes that the Gain removes motor controls from the handlebars, for a clean look and to allow users to install a bike computer if they choose. Gain's control center a "discreet" button on the top tube.
"With the simple iWoc ONE interface you can power the system on or off, check motor assist level and view the remaining battery charge. Colored LED lighting puts all the information you need right at your fingertips," the company said. The CAN (Controller Area Network) bus port provides a single interface for charging, system diagnosis or attaching the external backup battery.
The battery also is hidden within the frame, while an extra battery that fits in a bottle cage also is available. The bike has clearance for tires up to 40 mm wide. 
The Gain is available in five sizes and will be sold in the U.S. with three build options: with Shimano 105, Shimano Ultegra mechanical, or Ultegra Di2. Retail prices are $3,999, $4,799 and $5,799, respectively.