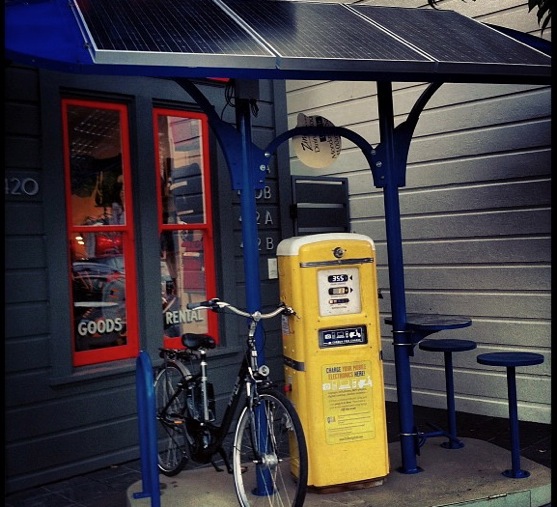 SAN FRANCISCO, CA (BRAIN) Tuesday June 26 2012 8:56 AM MT—E-bike specialist retailer The New Wheel has partnered with Sol Design Lab to install a solar recharging station in front of the shop in San Francisco's Bernal Heights neighborhood.
Through the summer, The New Wheel will use Sol's SolarPump station to charge its fleet of pedal-assist electric bikes and offer free solar-powered outlets for customers to charge their e-bikes and mobile electronics.
The charger has three solar panels and is capable of charging 10 e-bikes at once, said Brett Thurber, who co-owns The New Wheel with wife Karen. Time for a full charge runs about two hours, depending on the speed of the bike's own charger and its battery capacity.
"We'd like to find a way to make something like this permanent in the neighborhood, so this is a way to start the conversation about that," said Thurber. He hopes to establish a dedicated bike parking area and e-bike charge station in front of The New Wheel through the San Francisco Planning Department's Pavement to Parks program, which converts wasted spaces of wide public rights-of-way into public parks and plazas.
The SolarPump is also an attention-grabbing way to raise awareness about the efficacy of pedal-assist bikes, added Thurber, who commutes via e-bike with wife Karen 30 miles round trip each day from their home in Sausalito, across the Golden Gate Bridge from San Francisco.
"The secret of electric bikes is that, because people are commuting maybe 10 or 15 miles each way, all our bikes have the range capacity to do that," he said, adding that it costs only pennies in electricity to charge a bike for 65 miles of riding—or 45 miles in San Francisco, given its hilly terrain.
And while U.S. adoption of e-bikes has been slow compared with the explosive growth seen in Europe, business at The New Wheel has far exceeded Thurber's expectations since the two-year-old shop moved to Bernal Heights four months ago.
"It's remarkable how much interest there's been. We've been selling double what we initially thought," he said.