MIAMI (BRAIN) – Rolling from The Mutiny Hotel in Coconut Grove on a balmy 75-degree morning, the BRAIN Dealer Tour immediately got a taste of what cycling in Miami is like. We made our way north along Biscayne Bay on narrow roads with slim-to-no shoulders toward Key Biscayne, where we would not only visit our first two shops of the tour, but also see our first bike lanes.
Once the largest coconut plantation in the continental U.S., Key Biscayne is an island community connected to the mainland by the four-mile Rickenbacker Causeway—where the biggest "hill" in southern Florida can also be found.
The first two stores we visited do a good job of representing what we've seen of the Miami bike market so far, which is seemingly one of extremes: plenty of low end and high end, with not a whole lot in the middle. A lack of infrastructure in many parts of Miami equals a small commuter market, made up mostly of people who have to ride for economic reasons. But at the other end of the spectrum, the large number of triathletes and other racers who can train here year-round drive demand for high-end bikes and other gear.
Our first stop was Mangrove Cycles, which has been in business for 41 years on Key Biscayne. Sales of beach cruisers and lifestyle bikes, rentals to tourists and small repair jobs constitute most of its business.
Cruising by a strip of oceanfront properties starting at $10 million for a fixer-upper, we made our way to Ultra BikeX, a shop that opened three years ago and serves Key Biscayne's burgeoning triathlon market. While it's a full-service shop with a range of price points, a growing number of Retül bike fits are done in its dedicated studio next door, indicative of its high-end road and tri market. Serious Ironman and other triathletes come to ride Computrainers that can simulate course topography far better than the actual flat Floridian landscape. (Article continues below video)
The population of Key Biscayne includes celebrities and wealthy Colombians, Venezuelans, Peruvians and Brazilians who own second homes they visit several times per year. But the many Latin Americans who visit do more than vacation in Miami. They come here to shop, and it's well worth their while because bikes and other gear can cost three times as much in South America than in the U.S, even with the duty they pay to bring it home, making Miami a hub of Latin American commerce.
With unverifiable addresses in many places coupled with high taxes and duties, online shopping for bikes and parts on Amazon or Wiggle, as many Miami locals do, is largely out of the question for Latin Americans.
We rode back over the causeway and made our way to Coral Gables in west Miami. Flags from various Latin American and Caribbean nations hanging on every street corner along Ponce de Leon Boulevard welcomed us as we rode towards our lunch spot at the bookstore bistro Books and Books.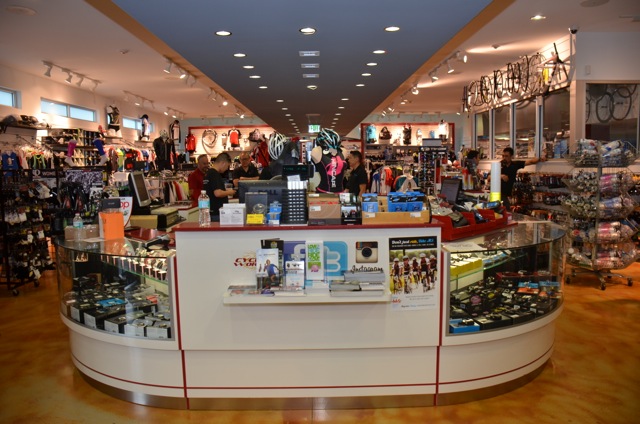 Conveniently, multi-sport retailer No Boundaries was located just across the street. A large part of its customer base also hails from Latin America, seeking everything from high-end camping hiking, and running gear and apparel to road and mountain bikes that can be prohibitively expensive in their home countries.
For Cycle World, our last shop of the day, 60 percent of its customers are from South America, which heavily influences buying decisions. Because customers are typically here for short stays, it's critical to have the biggest selection possible in stock—there is simply no time to wait for special orders or shop around.
More from the first day of the BRAIN Dealer Tour in Miami: Investment in wheelbuilding pays off for J&B.