OGDEN, Utah (BRAIN) — Any city set against a backdrop of snow-capped mountains and hemmed in by two rivers is bound to be an outdoor recreation mecca — even only if by proxy. Skiing, biking, trail running, kayaking and fishing are all activities that many Western towns can boast, bringing in dollars from both residents and tourists. Such recreational pursuits are the lifeblood of any mountain town. 
But what sets apart Ogden, Utah — the scene for day two of BRAIN's Salt Lake City Dealer Tour — is that the government is actively promoting the city as not only a recreation destination, but as a place for outdoor and cycling industry companies to set up shop. 
And it's working. Efforts by Mayor Mike Caldwell, an avid cyclist who joined the Dealer Tour crew for the day on his decked-out Salsa Fargo, and other city officials have resulted in a number of bike industry companies relocating to the city in the past few years, including Scott and TRP. Enve Composites has a factory here and QBP also operates its Western warehouse in Odgen, taking advantage of two major interstates and extensive railroad infrastructure nearby.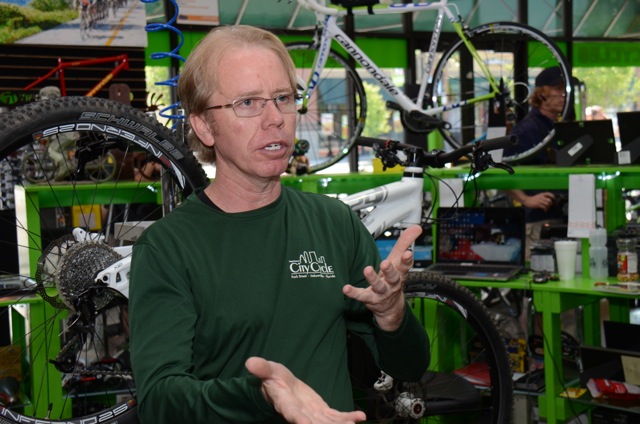 Caldwell and his staff have gone to great lengths to package Ogden, located 40 miles north of Salt Lake City, and sell it to the industry, including hosting 25 Taiwanese executives from companies like KHS, Topeak and KS Suspension for a multi-day bike tour of Utah's national parks that ended at Interbike's OutDoor Demo in 2013. And five officials, including Caldwell, attended the Taipei Cycle Show in March to meet with more than a dozen companies in hopes they will open offices in Ogden.
As the interest grows in developing Ogden as an outdoor industry hub, the quality of life for all residents will also improve — at least this is the goal. Massive efforts are being made to improve the cycling infrastructure in the city of just under 100,000, from adding miles of bike paths and constructing protected bike and pedestrian lanes to completing its section of the Bonneville Shoreline Trail, a mixed-use biking and hiking single track trail that will one day stretch from the Idaho border 280 miles south to Nehpi, Utah, along the Wasatch front. One hundred of those miles are already designated and growing each year as individual cities and counties work together to fill the gaps. 
And these efforts aren't being made with just recreation and industry in mind. Caldwell hopes that providing access to safe routes on and off road will get more people out of their cars and onto bikes. At the beginning of this year, Caldwell vowed to commute to work by bike every day of 2014, and so far he's on target. "I invited everyone in the office to join me," he said. "Not everyone has, but as [Ralph Waldo] Emerson said, 'What you do speaks so loudly, you can't hear what you say'. And this is how I want to lead." 
As the infrastructure improves and trail access gets easier, retailers also benefit. "We weren't always this cycling oriented," said Matt Hasenyager, owner of Skyline Cycles and lifelong resident of Ogden, complimenting Mayor Caldwell and others who have worked to push infrastructure inside and outside of the city. 
One newcomer to the Ogden IBD scene is Drew Johnson, who recently opened City Cycles in town. Johnson moved to Utah from Florida, where he worked as a Cannondale rep for years before opening his own store in Jacksonville. He began scouting Utah as a potential place to land more than 20 years ago while on a ski trip. A welcoming city and friendly neighbors helped Johnson ease into his new life and business in Ogden. 
Johnson has nothing but high praise for the mayor's office and Steve Fishburn, a city official who helped him find a location for his store and negotiate a lease. And when he first walked into the city's municipal building, a clerk immediately arranged a meeting with Mayor Caldwell. And when he moved into his new home in Ogden, his neighbors welcomed him with open arms by inviting him to barbecues and bringing him cookies and treats and toys for his dog, Maxwell. 
And it's exactly this kind of hospitality Mayor Caldwell and others hope will also help attract new companies and their employees to Ogden — and the modest cost of living and active lifestyle the scenic Utah landscape affords just might seal the deal.
The Salt Lake City Dealer Tour is sponsored by Advanced Sports International , Finish Line/White Lightning, Bell Helmets, Lizard Skins, Interbike and PeopleForBikes. The tour wraps up Thursday in Salt Lake City, where Mayor Ralph Becker will join the crew for part of the day.