AUSTIN, Texas (BRAIN) — Austin's skyline is in constant flux. Even as more skyscrapers erect downtown, towering construction cranes are ubiquitous and signal the ongoing redevelopment and transformation happening in the Lone Star State's capital. The growth has posed a challenge for new shops looking for a place to call their own as well as established businesses and owners who don't own the building they occupy.
As major tech, advertising, gaming and marketing firms have established offices and headquarters here in recent years, Austin has experienced a constant influx of new residents and businesses. They're all challenged by the demand on space, which has driven up the cost of rent and a storeowner's ability to sign long-term leases.
As population increases so have the number of high-density condos, and the number of businesses looking to serve a growing, highly educated and young demographic. All kinds of companies are setting roots in Austin and the environs, from restaurants to bars to bike shops and they're all vying for space that's becoming more expensive. 
Natalie Goforth, owner of Fast Folks Cyclery, has moved twice since she first opened for business in 2009. The latest move—from 6th Street to East Cesar Chavez—was this past July. "I had to move because my landlord couldn't give me a longer lease. And she kept increasing my rent. She increased it $1,000 per month and said she could get double the rent from someone moving here from New York," Goforth said.
"I saw this location and I was able to afford the rent," she added. "My dad helped me negotiate based on the other two places I had. But if I hadn't gotten this location, I don't know what I would have done. I probably would have moved to San Marcos."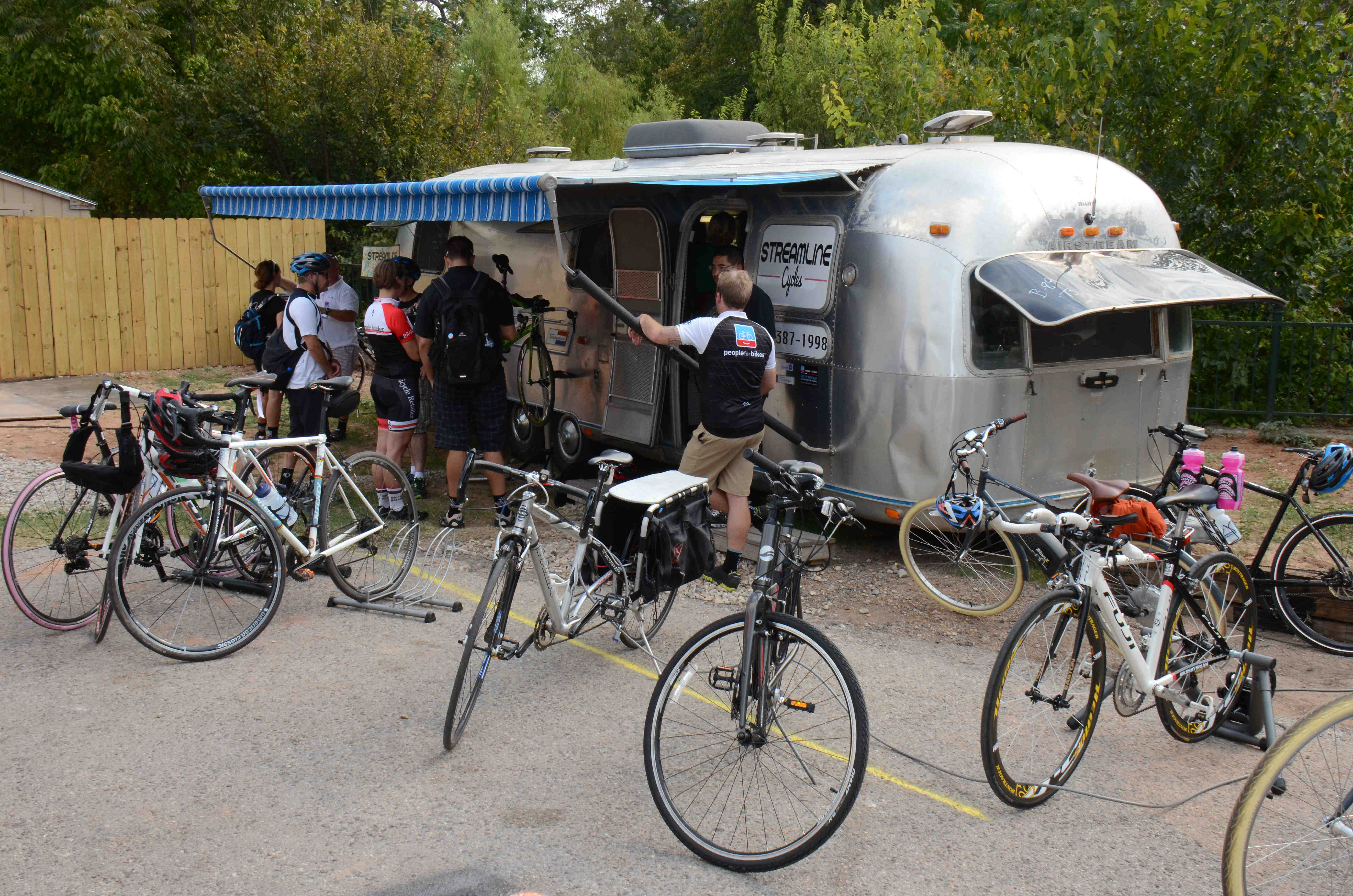 The move gave Goforth the opportunity to add a café, and room needed to host more community events at her store, which include everything from benefits and fundraisers to bike polo event pre-parties and even a lingerie race.
Ross Bennett, a loyal customer of Goforth's shop and an Austinite, summarizes the changes he's seen in his city succinctly as he sat on a bar stool, working away on his laptop.
"For a long time, people didn't give this place a chance," he said. "Now there's 150 people moving here a day. It's all y'all and people from the East Coast. Every major tech company came here—even GM. Dell started it. Now we've got 80,000 people who come here for a week during the tech conferences, and that's fueling the city."
Bennett, who drops in at Fast Folks anywhere from three to four times a week to hang out, enjoy some coffee and relax, said despite the growing number of bike shops, there was a need for a shop like Goforth's. "I can go to any shop in the city but I come to hers. It's a community. And she's done it all on her own."
As space in downtown became less available and more expensive, some retailers saw the opportunity to tap less developed, nearby areas. John Dalton Jr. and his father, John Dalton III, opened Division 1 on East 7th Street in 2012, a largely Hispanic neighborhood. Just a few blocks from downtown in East Austin, the store's located in an up-and-coming area that's more affordable.
"For us, this community will grow and change. There's no high-end shopping here yet," said Ted Arnold, general manager of Division 1. "We're ahead of the curve."
Arnold said traffic has increased significantly in the city and residents are willing to drive outside of downtown to shop. And that's something he thinks will drive business to retailers in outlying areas, including the East Side.
Still, Austin's rapidly developing landscape is a concern for retailers longterm, even mobile businesses like Streamline Cycles, which operates out of an Airstream trailer parked on East Cesar Chavez Street in the heart of downtown.
"Austin is changing so fast. Unless it's a W hotel or Four Seasons, you're not guaranteed you'll be at the same location. And construction happens fast," said Brian Robbins, who along with Jesse Tonche, launched Streamline Cycles in September, primarily as a bike repair and service business.
They rent their parking spot, and at least for the next two and a half years, have a secure spot where they can operate. But the city has drafted plans to build a park and two tall towers that will require them to move their Airstream after that.
"We have options to stay in the area," Robbins said. "And we've looked at spaces that weren't astronomical in rent, but we don't want to be a bike shop. We don't want to sell bikes. We really take pride doing solely service."