BALTIMORE (BRAIN) — After working on the project for more than two years, renowned mountain bike champion Marla Streb has opened HandleBar Cafe and Bike Shop with her husband, Mark Fitzgerald.
The couple renovated a 7,000 square-foot warehouse, which houses 4,200 square-foot cafe and bar and a 1,000 square-foot bike shop on the ground floor and mezzanine levels. Showers, lockers and a barre fitness studio space, leased by a third party, occupy about 3,500 square feet of space upstairs.
Streb said that the bike shop isn't set up like a typical store.
"It's a full bike shop, but the footprint is smaller than average. And, it's literally in the restaurant," said Streb, who was inducted into the Mountain Bike Hall of Fame in 2013. "We've got bikes displayed gallery style all around the restaurant. It's really fun to finally be open and have people roll in on their bikes — having the tribe here is really great."
HandleBar carries Yeti and Orbea, both brands Streb rode for during her racing career, as well as Public and Spot. It stocks parts and accessories, including a mix of urban, BMX and commuter products to cater to the shop's primary market. But Streb said she's already sold several mountain bikes since opening in early March.
"A big part of the story is that we wanted to carry brands that were loyal to me when I was racing and later when I was getting pregnant and having kids," she said. "I'm trying to represent these companies, like Timbuk2, Shimano and RedBull, and it's been fun to give back to them."
The restaurant serves breakfast, lunch and dinner seven days a week, and delivers beer growlers and pizza by bike. Fitzgerald, a restaurant industry veteran, did much of the build out, including hand crafting an indoor bike rack, concrete countertops with bike parts inset into the surface, as well as bar stools featuring chainrings and other components. The bar taps have bike grips for handles, and up-cycled wood from the Baltimore port for local flavor is used throughout the space. Streb said she wanted to incorporate elements from different aspects of her bike-racing career, including stained glass she bought in Durango.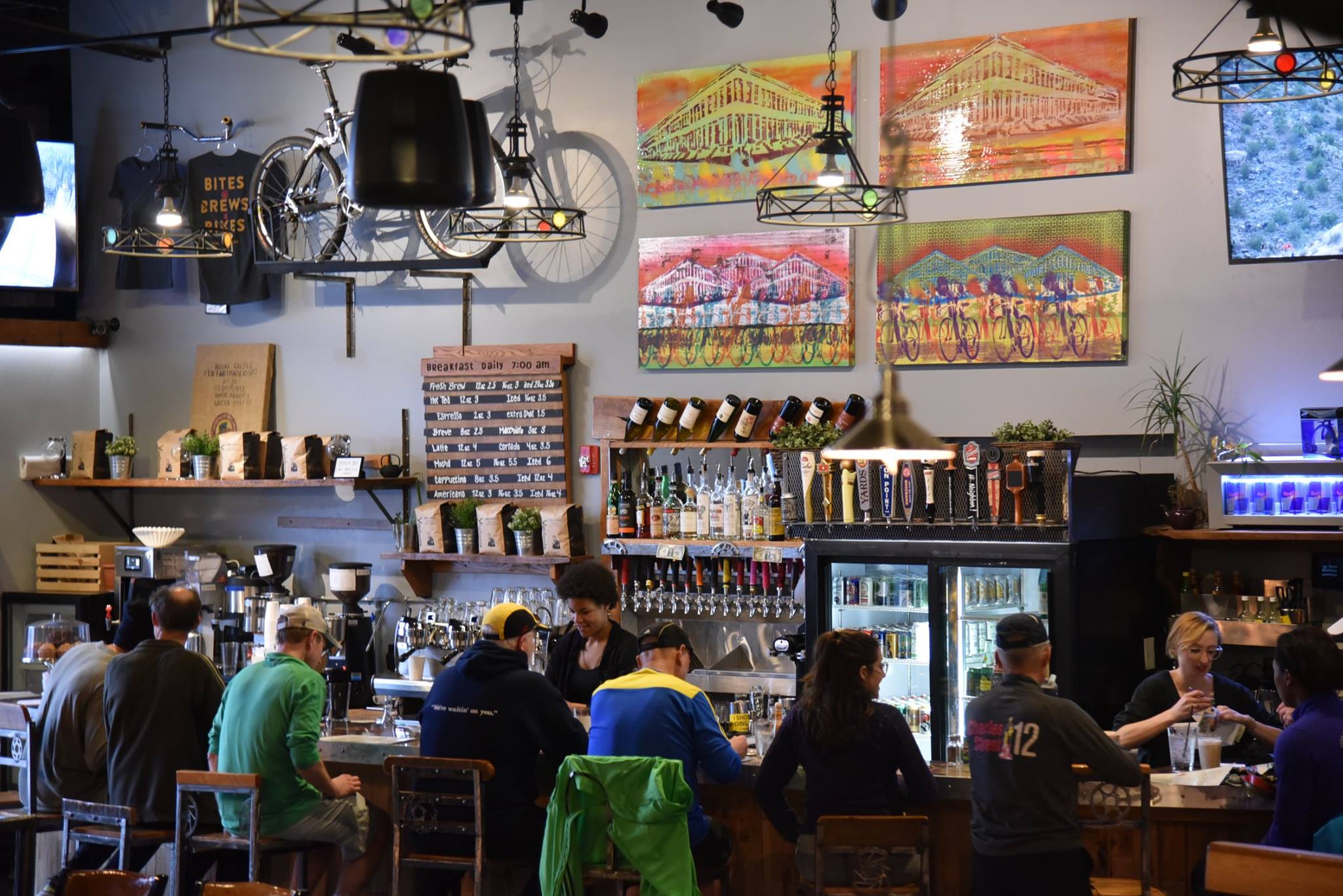 Streb and Fitzgerald have hired about 25 employees, including one man Fitzgerald hired to help with the build out who now works as a mechanic in the shop. About eight employees run the bike shop, including an in-house wheelbuilder who works out of a small studio.
HandleBar also has a fit studio run by a third party, and Cream Cruiser, an ice cream company that delivers by bike, also leases an upstairs space. All of the businesses operating in the building are female owned.
Streb takes customers who purchase new bikes out for a ride to help get them acquainted with their new wheels — something fun and unique she said she loves offering.
HandleBar also stocks Strider and other kids' bikes, and has a chalkboard and games for kids. And customers might see one of Streb's 7 and 10-year old daughters, who've clearly inherited their mother's cycling talents, riding a unicycle around the restaurant.
"I got the unicycle last fall and they stole it from me and learned to ride it in a few days," Streb said. "So if you eat here, you will see them riding around on it, clearing tables."