PALISADE, Colo. (BRAIN) — BRAIN's Dealer Tour braved rain and even a bit of snow pedaling about 20 miles from Grand Junction to the small town of Palisade on Thursday, visiting the town's Rapid Creek Cycles & Sports.
While Palisade is best known now for its wineries and its peaches, the town could become one of the major mountain biking destinations in a few years, if the owners of Rapid Creek have any say in it.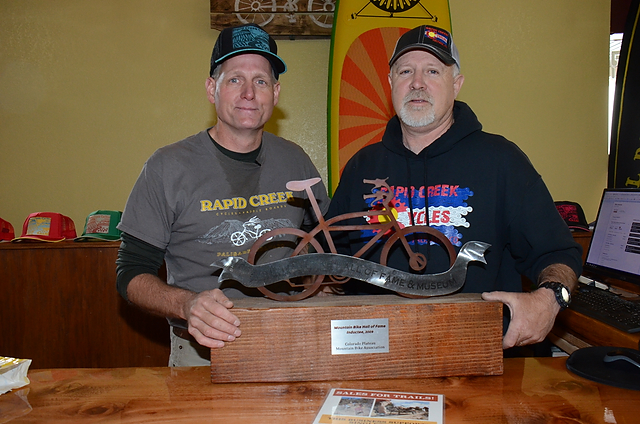 The store is owned by Scott Winans and Rondo Buecheler. Buecheler was the founder of Over The Edge Sports in Fruita, Colorado, (where the Dealer Tour visited Wednesday) where he helped build the trails and biking community that made Fruita one of the most popular mountain bike destinations in the country. In Palisade, he has similar plans. The town already has several good trails, and the shop does a good business renting mountain bikes for the trails and e-bikes for winery tours. The shop also rents and sells paddleboards and other water sport gear. 
The store's founders also are working hard to establish a new trail that would descend from the nearby Grand Mesa about 6,000 feet over 30 miles to downtown Palisade. The trail, which Winans compared to Moab's Whole Enchilada Trail and the Monarch Crest Trail near Salida, Colorado, would be a huge asset for the Grand Valley and a destination for many. Supporters are working with multiple agencies and land managers to build the trail. Winans (who is also MRP's vice president of engineering) said that trail builders might break ground as soon as May 2018. Construction will take about 18 months.
Watch for more on the Dealer Tour and the proposed new trails — called the Palisade Plunge — in the June 15 issue of Bicycle Retailer.