HOUSTON (BRAIN) — A massive slice of southeast Texas is essentially shut down for business as Hurricane Harvey continues to drench the region in rainfall. Steve Matill, director of sales for Hans Johnsen Company, a Dallas-based distributor, said he knows of at least five stores that are flooded and most likely several more.
"This will shut down business in that part of the state at least for the rest of the year," said Matill, who's been monitoring the situation. "We have a rep in Houston whose home sits on what now looks like an island and he's just waiting for the water to come up," Matill said.
"It's going to impact business and that would include J&B, QBP and others. And this on top of what has been a generally disappointing year," he said.
Attempts to reach a dozen shops in the Houston area were unsuccessful, but at least two shops were open Tuesday: Urban Bike Gallery, and iCycle Bike Shop, both inside the 610 Loop of Central Houston.
UBG manager Jon Pursley said the store was closed Sunday and Monday, but reopened Tuesday in part to give locals a place to hang out. At midmorning Tuesday, he said one customer had come in to pick up a repaired bike. The store also was collecting donations of clothes, food and other items to bring to the George R. Brown Convention Center, which is being used as a shelter.
Urban Bike Gallery suffered no damage and Pursley said he and his staff's homes also escaped damage.
"We are pretty lucky where we are at," he said. "Where we are is elevated relative to the bayous to the south of us."
Pursley said he's heard second hand of several Houston bike shops that were heavily damaged.
"It's amazing to see how many local people are out helping their neighbors. ... People are loading up boats and heading in to help people evacuate instead of just waiting for authorities to provide help. Everyone is pitching in," Pursley said.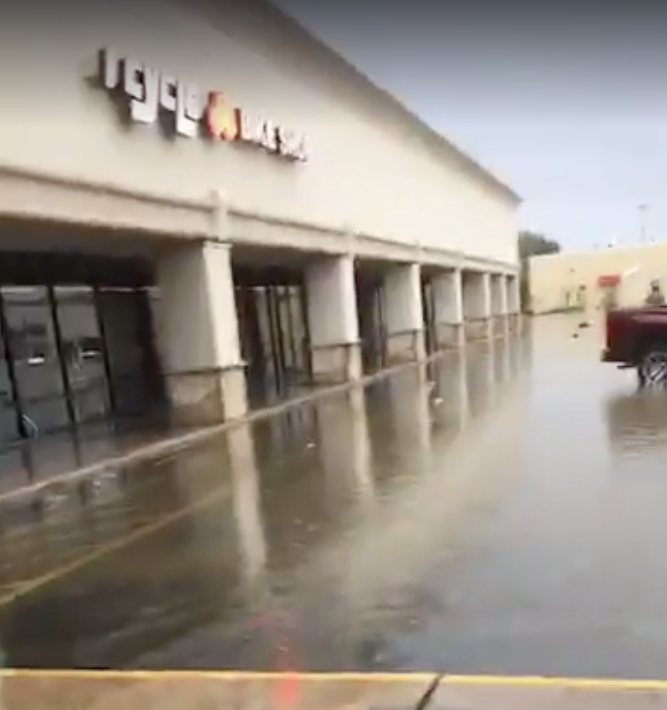 Another store inside the Loop, iCycle Bike Shop, was open Tuesday. Owner Matt Wurth said the shop had a few inches of flooding that was easily mopped up. The store is close to White Oak Bayou, which has an 18-mile bike path running alongside.
"We knew we were close to the bayou, so we have all our fixtures up off the floor and the electrical is up high. ... We love the bayou. It has the path and it's normally very peaceful and beautiful, but you have to take some bad with the good," he said. Wurth said some shoe inventory was soaked in the flood and the store was offering them at half price Tuesday. "We've made a few sales. Mostly to our local loyal customers — maybe they are mercy sales, but I'll take it," he said.
He said some bike boxes got wet so the store is assembling them right away to make sure nothing is damaged. 
Wurth said the flood waters came within an inch of getting into his house. On Facebook Live, Wurth broadcast his bike commute through deep water and  gave a tour of his shop. He rode through chest deep water in places. "I'll definitely have to overhaul that bike," he said.
Bike Barn is a seven-store chain in the Houston area. Other local retailers said that at least one Bike Barn location is in an area that was heavily flooded, but BRAIN was unable to confirm that the store was damaged. Attempts to reach several of the Bike Barn locations were unsuccessful, but the location in College Station, about a two-hour drive from central Houston, was open for business. 
Judd Crater, the store's service manager, said the managers at most of the other stores were told to close up, go home and take care of their family and property. As for the College Station store, near Texas A&M, it was open and handling the annual rush of students returning to campus. "Right now it's pretty much business as usual," Crater said.
Pat Cunnane, president of Advanced Sports International, which owns the Performance chain of shops, said both Performance stores in Houston were shut down. "Performance has two stores in Houston — all of our people are OK. Both stores are still closed and as of now I don't have a damage assessment," Cunnane said in an email while attending Eurobike.
Jennie Leverett and Jason Wise, the husband-and-wife owners of Society Cycle Works in Sugar Land, Texas, evacuated their store and house on Monday evening. They drove their camper to San Antonio, which is normally a three-hour drive but took 6½ hours Monday because of road closures and traffic.
Leverett said that their home and shop were undamaged when they left, but they were in a voluntary evacuation zone.
"We made a last-minute decision last night that we had to get out," she said Tuesday. "We are not too concerned about the house or the store, but we have a separate storage space that is in an area that is at high risk for flooding, so we are concerned about that."
She said they didn't have flood insurance on the store or storage area. "We never thought this would happen," she said.
Leverett said they had planned to celebrate the shop's third anniversary on Labor Day weekend.
"We usually do a big shop ride that weekend, but we'll have to wait and try to do that another time," she said.
Josh Greenberg, a Houston-based sales rep, said he was aware of several stores that were heavily damaged. He said the bike market in the area will bounce back in part because Houston is one of the fastest-growing cities in the country, with a vibrant growing economy. However, recent energy industry layoffs had put a damper on sales prior to the flood, Greenberg said.
"There's going to be probably two to four months for everyone to recover," he said. "Houston is a huge financial center so I expect everyone will recover. ... Once the rains stop and the water goes down, people will deal with things and business will still go on." 
Marc Sani and Steve Frothingham contributed to this story. It will be updated as we learn more about the status of Houston retailers. Please contact us at sfrothingham@bicycleretailer.com or msani@bicycleretailer.com if you have any information.