LAS VEGAS (BRAIN) — Giant Las Vegas held its grand opening last weekend at its store just off Highway 160, which serves as the southern entrance to Red Rock Canyon and Cottonwood Canyon, two of the most popular riding areas in the Las Vegas region.
The store has three owners, all of whom are experienced businessmen and cycling enthusiasts, although none of the three have a background in bike retail.
Barry Winter is a casino executive. His partners are Tim Foley, an operations director for a Las Vegas CBS television station, and Dennis Leffler, owner of an automobile reconditioning business. The three became friends on local group rides and decided to open a store together.
"When we decided to open a store, it became very apparent that Giant was who we wanted to partner with based on what they offered through their retail services team," said Winter in a press release provided by Giant. "The services that Giant provides have been invaluable considering our ownership is made up of three individuals who have never had any retail or bike shop experience."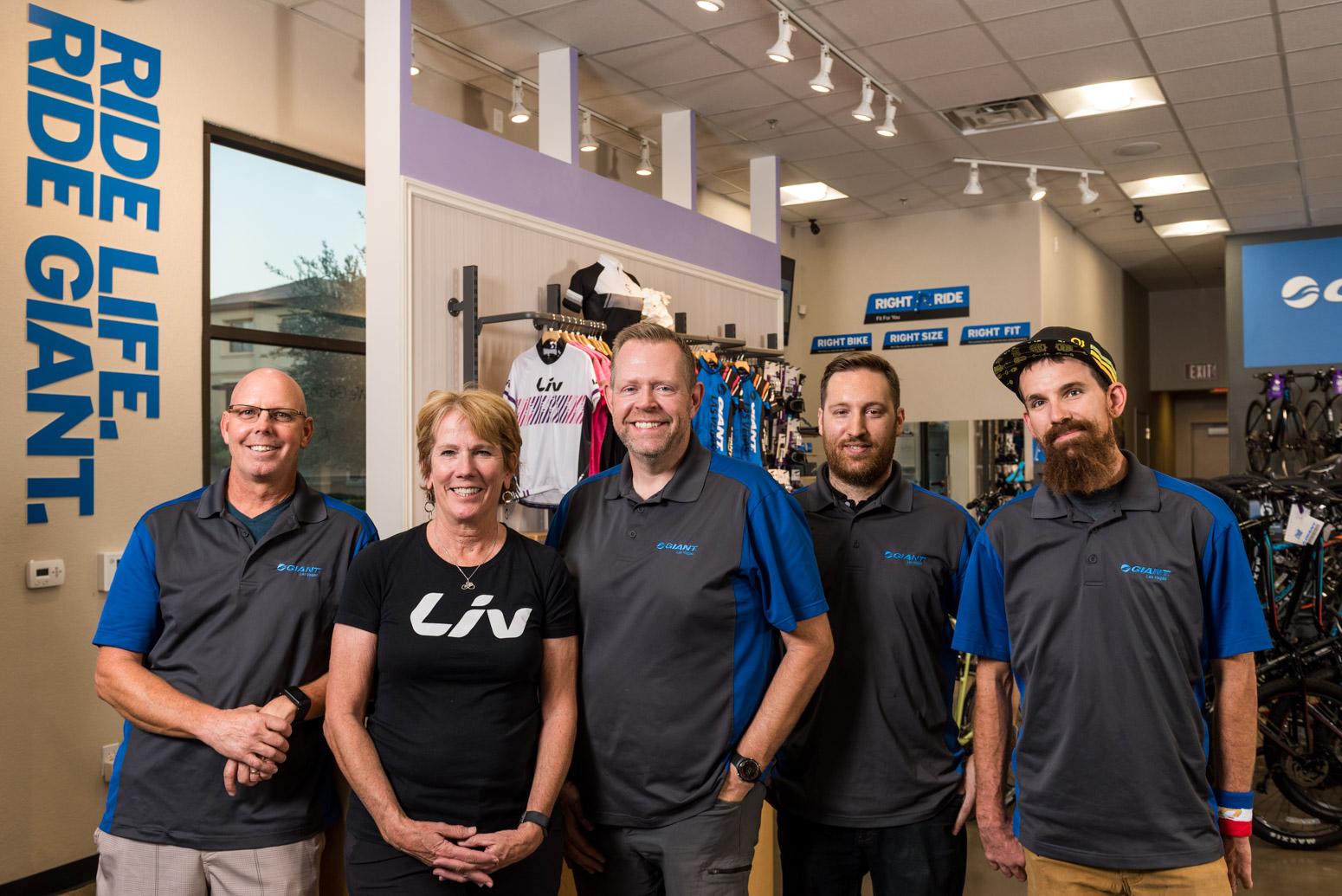 Giant's retail services team led the design and layout of the 3,000-square-foot space, which offers Giant, Liv and Momentum bikes and gear. "Everyone has been great to work with at Giant," Winter said. "The store turned out beyond our expectations."
Last year the three partners launched a mobile bike repair business together, and that experience revealed a clear need for a full retail shop in a specific area of Las Vegas. They assembled an experienced staff that includes general manager Carol Vails, who has more than 20 years of bike industry experience, and service manager Steven Zellers, a mechanic with roots in the Las Vegas cycling scene.
"When the owners Barry, Dennis and Tim came to us about a year ago, they brought a diverse and compelling background," said Eric Woods, Giant's regional sales manager for the Southwest. "They had already launched a successful mobile bicycle repair business, and because of this they had a very strong understanding of the market. They realized the importance of establishing a brick-and-mortar location to provide their customers with a place to gather, shop and learn. Further, they had made a very clear decision before even coming to us that Giant and Liv were the brands they wanted to partner with."
Winter said the location off Highway 160 is ideal. "It's an extremely busy link between the master planned communities of Mountain's Edge and Rhodes Ranch with the rest of Las Vegas. The city has spent a considerable amount of money improving the roads to include large shoulders and bike lanes. Group rides originating from our shop can enjoy dedicated bike lanes in almost every direction of travel."
Last week's grand opening drew more than 150 attendees for a host of activities including demo rides on Giant and Liv bikes, a trials stunt show by Giant ambassador Jeff Lenosky, a barbecue, and a raffle.
"On the Saturday of our grand opening weekend, foot traffic was extremely busy and we experienced our highest number of transactions in a day," Winter says. "And Sunday turned out to be our best day in terms of sales since we opened. Customers are extremely happy to have a bike shop in the neighborhood. Previously, the closest shop was 12 miles away. Most of the comments we've received are on how well the space is utilized, the organization of the store, and how nice it looks."
Giant Las Vegas is hosting weekly road and mountain bike rides and supporting advocacy efforts. Regular group road rides leave from the shop, while mountain bike rides venture into Cottonwood Canyon. The shop is also working to develop a mountain bike racing program in local schools with hopes of competing against teams in Utah and California.
More information at GiantLasVegas.com.