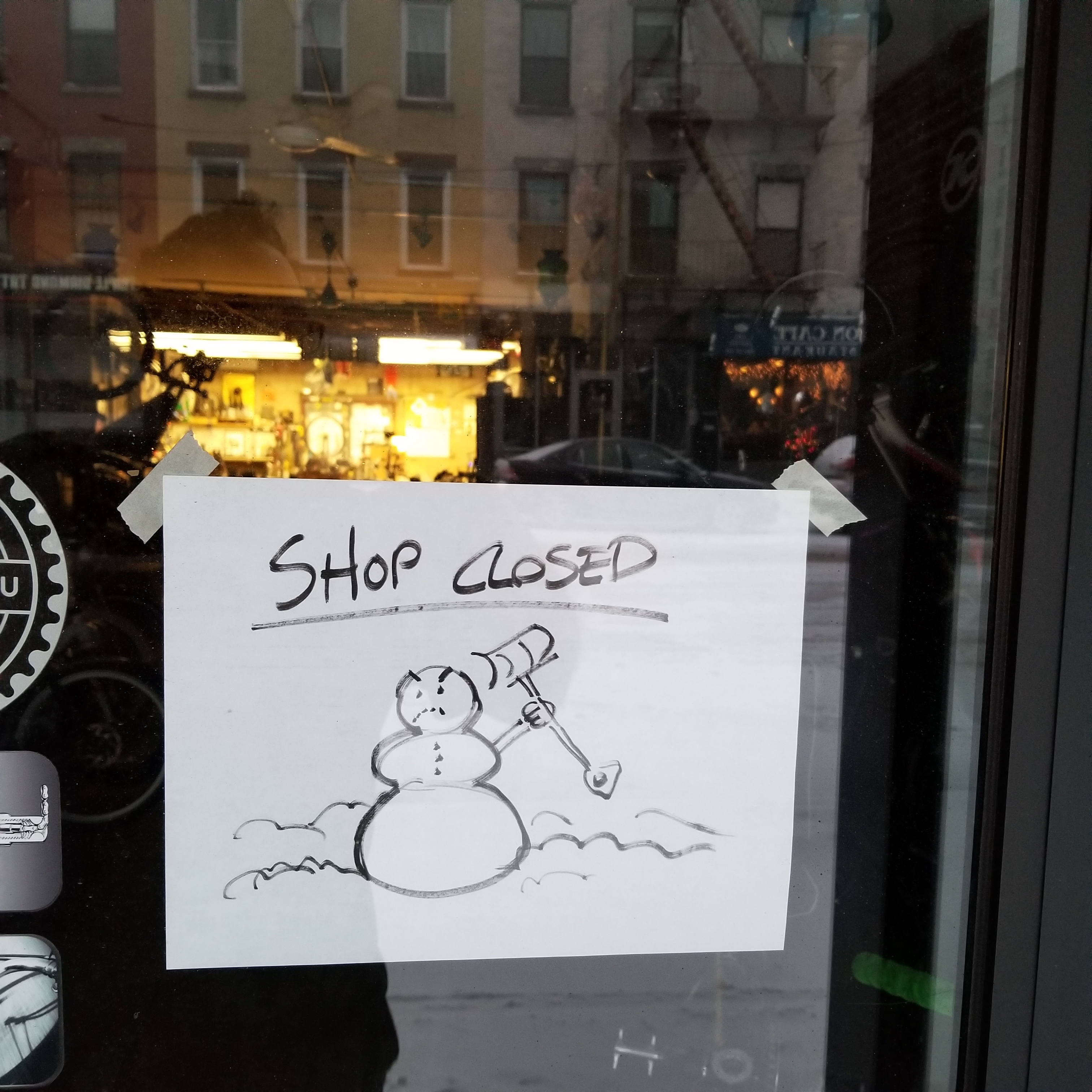 NEW YORK (BRAIN) — Bike retailers up and down the East Coast are closing this week as the so-called "bomb cyclone" weather phenomenon dumped more than a foot of snow on eight states and knocked power out for tens of thousands of residents. 
In New York, retailers closed their doors as snow and wind pummeled the city. Brooklyn's 718 Cyclery, which historically closes only three days a year, didn't open for business on Thursday.
"It was too dangerous for my employees to get to work. There is tons of snow and wind and it's very cold," owner Joe Nocella told BRAIN in an email Thursday. "Snow is fun, but sometimes conditions are just unsafe and no sales are worth risking the safety of anyone."
While the shop was closed, 718 offered a 50 percent discount on selected items in its online store with the promo code "snowbomb." Nocella reopened his brick-and-mortar store on Friday.
Seawater flooded the streets in some parts of Boston following a 3-foot tidal surge along the Massachusetts coast. Many retailers closed, including Landry's, which shuttered all of its seven Boston-area stores on Thursday. None of the Landry's stores were affected by the high tides, and all locations opened on Friday.
"It stopped snowing midday yesterday (Thursday), so it was business as usual today. It's cold, about 15 degrees. It's supposed to get colder over the weekend," said Dan Fitzgibbons, who works as a bike fitter at Landry's Boston store.
Conte's Bike Shop closed several of its nine Washington, D.C.-area stores Thursday. In a post on Facebook, the retailer told customers to "stay warm by hopping on the trainer!"
"We are slowly opening our stores back up today, but with little foot traffic due to the fact that it is 28 degrees here today and not much is melting," owner David Conte told BRAIN in an email Friday.
Some regions unaccustomed to dealing with severe winter weather, including Georgia, the Carolinas and Florida, were hit with snow and freezing temperatures. In Florida, iguanas frozen stiff (but still alive) fell from trees. It also snowed in the northern part of the state.
But the inclement weather didn't put the freeze on shipments from Hawley's East Coast warehouses.
"We've had no delays to date from either our Pennsylvania or South Carolina distribution facilities," Pat McGinnis, vice president of commercial for Hawley, told BRAIN in an email Friday. "We can report that phone and web store activity are very slow, even by January standards."
While businesses and residents dig out, power is restored and the East Coast braces for an even colder weekend, some intrepid souls are still riding their bikes.
"Bike commuters are out riding today and even some of our staff rode to work today. Commuters and everyday riders are still coming into the store," said Landry's Fitzgibbons. "But it's been this cold for a couple of weeks, so you just start getting used to it."