PORTLAND, Ore. (BRAIN) — After building frames independently for almost a decade, Portland-based framebuilders Tony Pereira and Ira Ryan came together to launch Breadwinner Cycles in 2013. The pair worked out of their garages until May of 2017 when they moved into a 3,000-square-foot building in North Portland.
Breadwinner, which produced about 120 frames in 2017, recently expanded its business by opening a 400-square-foot cafe and retail space. They wanted to create a place for customers and friends to socialize and watch frames being made.
"We went from no overhead, so renting a space was a huge jump," said Ryan, who has been building frames since 2005. "We had been saving up to make this leap for awhile. We did most of the renovation work ourselves, and adding a kitchen was a big part of that budget. We partnered with Water Avenue Roasters, and they've helped up get the cafe off the ground. We had always wanted to add a cafe and place for cyclists to meet before and after rides."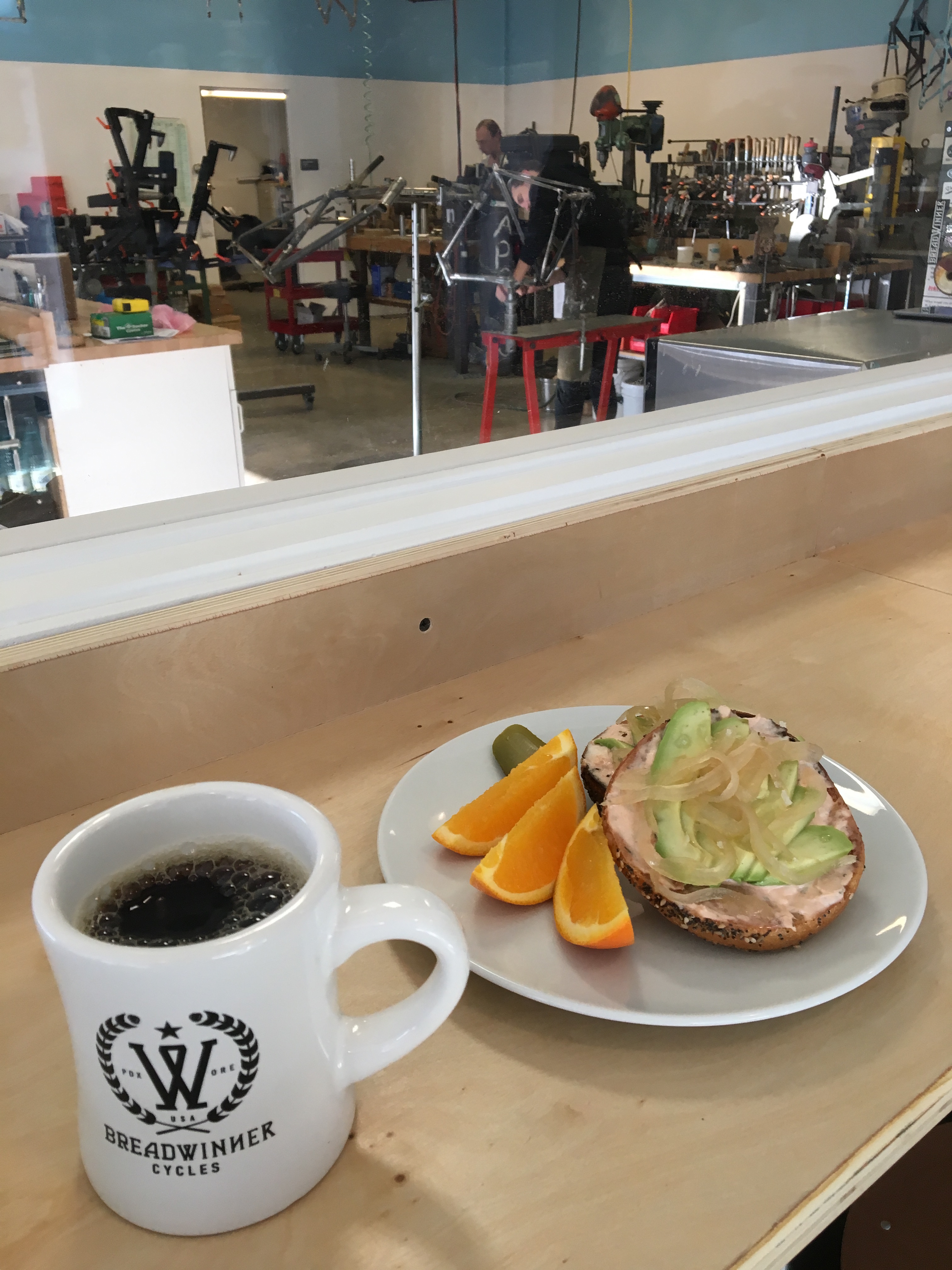 The Breadwinner Cafe serves coffee, beer, wine, small plates, baked goods, sandwiches and a selection of custom toasts and bagel options, a play on the process of building a Breadwinner custom frame. Portland chef, restaurateur and avid cyclist John Pettitt manages the cafe, which is staffed by four employees.
"The cafe is connected to our workshop with a window. A big part of the vision was that people could come in and have a cup of coffee and see a bike being made," Ryan said. "To my knowledge, no one has done this with framebuilding."
Finished Breadwinner frames hang above the window, and bike races and films play on a large-screen television. The cafe also sells water bottles and some branded merchandise, which is also available online. Ryan said he hopes to expand Breadwinner's offering of branded merchandise but there are no plans to offer other parts and accessories, as to not compete with local bike shops.
Pereira and Ryan lease space to Metrofiets, a Portland-based cargo bike manufacturer, which does finish and assembly work on-site. A physical therapy and bike fitting business, Endurance PDX, also rents two offices in Breadwinner's building.
"It's a really great combination of small businesses," said Ryan. "We're located right along the North Williams bike corridor, and thousands of cyclists go past the shop every day."
Breadwinner plans to hold a grand opening in early February.