GREENVILLE, S.C. (BRAIN) — Retailer Robin Bylenga opened Pedal Chic in 2010 to cater to female cyclists. In February, Bylenga moved the store into a larger space on the bike path in downtown Greenville, about two and half blocks from Pedal Chic's previous location.
"The downtown has grown, and so has Greenville," Bylenga said. "The statistic is that we are one of the top five fastest growing cities in the the country, which has been good for business. But as traffic got heavier it became more intimidating for customers to ride right from the store. I'm so excited about the new location because it's right on the bike path."
The new 2,000 square-foot Pedal Chic store has a full-service repair department and employs anywhere from four to eight people, depending on season. The shop's 27-foot ceilings gave Bylenga room for a mezzanine-level office, and she has installed a Lift-n-Store overhead bike storage system to better utilize the tall space.
Pedal Chic carries Linus, Jamis and Bianchi, which has installed a store-within-a-store in new location.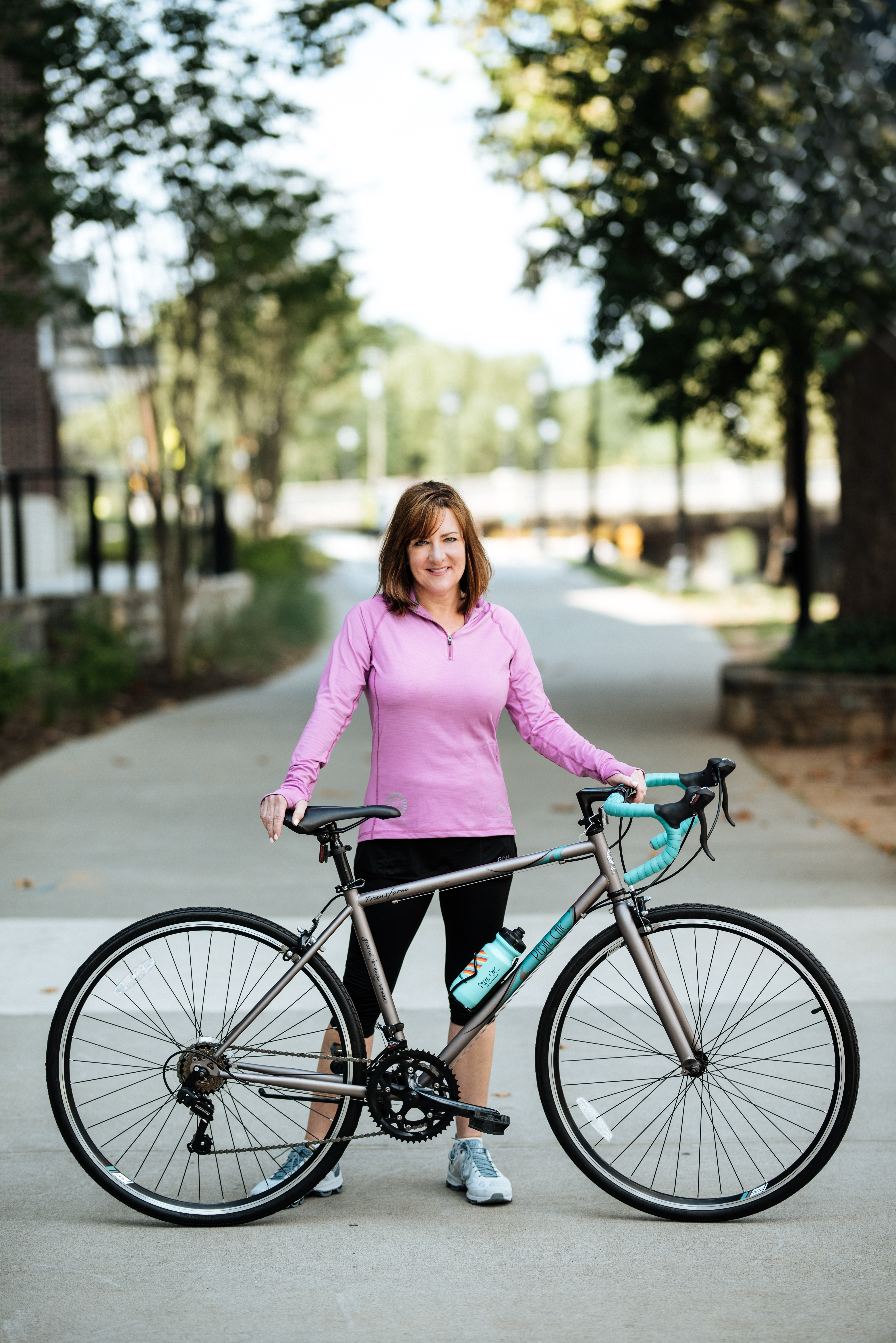 Bylenga has also launched a line of women's Pedal Chic bikes, which debuted in October 2017 and are now available. She worked with Kent International on the six-model line, which includes a Dutch-style step-through, a road bike, a flat-bar fitness bike, a seven-speed city bike, a beach cruiser, and a step-through hybrid. Bylenga based frame geometries on years' worth of notes she has taken while doing bike fits for women.
All Pedal Chic models retail for under $500 and are available now at Pedal Chic's brick and mortar or through its website.
"The bikes are here now and we have them in our rental fleet. We did a lot of rentals in our other location and will do a lot here as well," Bylenga said. "We do group events, like bachelorette and bridal parties, and team-building events. I recently hired a guest services director to help manage it all. There are lots of hotels and apartments in the area, and we are located right across the streets from the Performing Arts Center. Just recently we got to repair bikes from the Willie Nelson band."
While Pedal Chic was in the process of moving, there was some downtime that Bylenga said was awful on her nerves but also allowed her to reevaluate the business.
"I had to do some layoffs while we were down, but that gave me a chance to hire people seriously committed to our brand and our culture. We believe the lives of women and their families can be transformed by bikes," she said. "That's what we need to think about, and we need to motivate and inspire. And, when you move you have to be careful you don't lose what you started, what people fell in love with in the first place. This is Pedal Chic 2.0. Everyone has been so supportive and I'm really excited about this year."
Pedal Chic is hosting a grand opening celebration, starting Friday, March 9, with a ribbon cutting ceremony at 4 pm. The party will continue Saturday with product demos, a group coffee ride with Pedal Chic vendors, educational sessions and kids' activities.
To learn more, visit pedalchic.com.