SYCAMORE, Ill. (BRAIN) — The Krate Fest — a celebration of Schwinn Stingrays and other classic bikes — has been around longer than Blue Moon Bikes, the retailer that hosts the event.
"It started with three guys with three bikes, in Milwaukee," said Matt Mutchler, the manager of Blue Moon, which opened in 2001. "The next year it was 10 guys, then 20 … it moved around the Milwaukee area for years before we took it over."
The 27th Krate Fest was getting going Friday night, with a traditional preshow get together at the store, which features its own collection of vintage bikes and Schwinn memorabilia.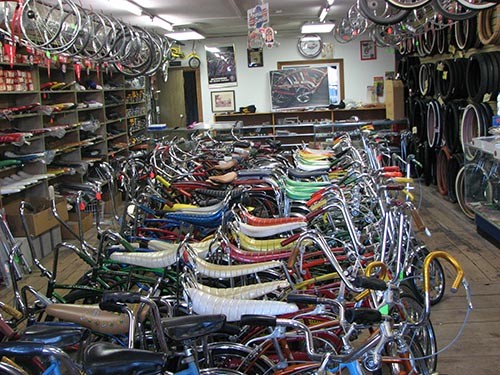 On Saturday, the Krate Fest will take over two city parking lots near the store. There will be a swap meet with vendors of collectible bikes and parts, and a vintage bike show, with trophies awarded in several categories. 
"I don't want to say it's huge, but we do get people from all over. Last year some guys drove up from Missouri, and this year they are coming back with more guys."
He said Krate Fest is not about being a moneymaker for the shop; it's just part of being in the community of people that enjoy the old bikes. 
"We travel to shows around the Midwest. Everyone knows everyone," he said. 
This year's Krate Fest may go in the record books for being the hottest. Mutchler said the forecast is for temperatures well above 100.
Store owner Rod Griffis began collecting vintage bikes with his son, Mark, years before opening Blue Moon Bikes.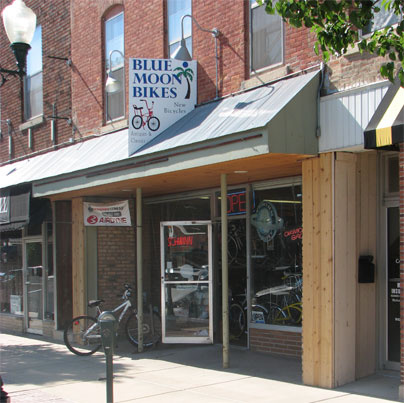 The store is in a three-story location. First floor is a typical small town shop, with new bikes from Schwinn, GT, Raleigh, Haro and Masi, as well as some used bikes. The second floor is a replica old-time Schwinn shop, and the third floor, which features a vaulted ceiling, is home to the store's museum of about 200 bikes. 
"We are just a small-town, mom & pop bike shop, without the mom," Mutchler said. 
More information: bluemoonbikes.com.
Related articles: