Editor's note: This article on BRAIN's visit to Decathlon's first full-scale U.S. store is paired with the latest Channel Mastery podcast episode, produced by BRAIN and Verde Brand Communications. The podcast episode features a discussion with Decathlon USA's COO Sophie O'Kelly de Gallagh.
EMERYVILLE, Calif. (BRAIN) — Since the world's largest sporting goods retailer retreated from the U.S. market in 2006, pundits have said Decathlon's private-label, value-priced model won't work in the U.S., where sports consumers presumably value the high-end service, premium brands (and prices) of independent bike dealers, REI and the consumer-direct brands.
Fast-forward 13 years, and not only has Decathlon adopted its business model to work in 48 wildly different countries on five continents in some 1,600 stores, but it has tripled sales to $16 billion, through some 25 brands across some 80-plus sports. With bike sales estimated at $2.2 billion in 2018, it is arguably the world's largest bicycle retailer on a revenue-basis, moving some 4.5 million bikes annually and outfitting more cyclists in its private-label bike clothing than any other brand. Since leaving the U.S. market, the company has developed more higher end house-brand products.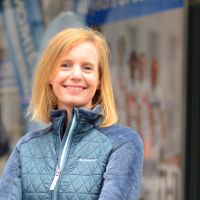 But that's all outside the U.S. And Decathlon's prior failure here stuck in the French retailer's craw.
"How can we claim our value proposition works, if it isn't successful in the world's biggest sports market?" asked Decathlon USA's COO Sophie O'Kelly de Gallagh, before going on to explain Decathlon's research shows New York and Los Angeles to be the planet's two largest "city" markets for sporting goods. "The United States retail market is the world's most sophisticated and demanding, and with so many sports and general lifestyle trends starting in the U.S., we have to be here." 
It is no accident that the French firm, based in Villeneuve d'Ascq on the Belgian border (just 8 km from Roubaix), chose the San Francisco area for its U.S. reboot. With three of the world's leading tech brands based here (Apple, Google and Facebook), it is ground zero for online sales migration, new retail approaches and savvy year-round sports consumers.
Decathlon also felt it needed to listen and learn from these consumers before launching a full-scale rollout in the U.S. It sent over a crew in 2016 to study the market and in early 2018 opened a 8,300-square-foot "lab-store" in downtown San Francisco to test various retail concepts.
Decathlon's prior failure here stuck in the French retailer's craw.
For example, the lab-store tried going completely cashless by eliminating registers (like Apple Stores) but found some U.S. consumers still use cash and want a more conventional checkout experience.
Americans also preferred that stores be less crammed with inventory floor-to-ceiling and didn't want to tippy-toe to reach merchandise stored near the rafters.
Some consumers new to Decathlon thought the brand just offered "me too" knockoffs of popular brands and were unaware the French company had a huge R&D investment and in-house manufacturing capability. It found a huge willingness among Americans to order product online, necessitating a sophisticated omnichannel strategy.
And lastly, it found U.S. customers wanted authentic store help, people who actually used the products sold by Decathlon, so the brand needed to hire experienced runners, cyclists, swimmers, skiers and triathletes.
The store itself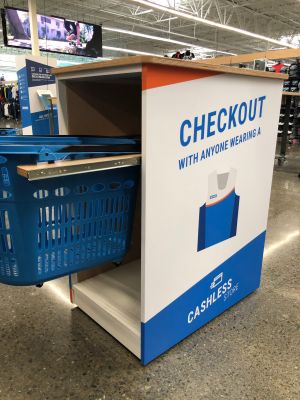 To see how this all translated to the launch of its first 47,000-square-foot "superstore" in nearby Emeryville, we visited shortly before the grand opening in April. The site — in the same neighborhood as an Ikea, Super Target, Home Depot and Best Buy — was chosen as it had good public transit, road and cycling access and is within an hour's drive of six million consumers.
Well-merchandized, bright and airy, the store seems less cluttered than other Decathlons we have visited in the U.K., Mexico, and Italy; although, it still claims more than 7,000 model codes — reflecting feedback to not cram as much merchandise in every square foot. Standup paddleboards, ball sports (every conceivable one, including pétanque, a lawn game similar to boulles), equestrian supplies, snow sports, vast quantities of footwear for seemingly every outdoor activity, camping and technical climbing equipment are on-sale. Nearly all products are under its own house brands and sell at prices that would typically be considered "wholesale" in most categories. Some in-house brands (Quechua and Simond, for example) are claimed to have the largest sales in the camping and climbing categories of any brand worldwide.
We were introduced to team members who told us they had been to national championships in running, swimming, triathlon and cycling. Theft, efficient inventory management and checkouts were addressed by every item having RFID tags attached — and a single front-end checkout station. Shelf talkers and in-store video touted Decathlon's in-house product development teams (who knew it had 200 bicycle product engineers?) and its own factories.
It is expected most consumers will use RFID-enabled mobile checkout stations like those that are sprinkled throughout the store. Interestingly, Decathlon was unable to find mobile stations to its liking, so it designed and built each by hand; when we were visiting three days before the grand opening, we saw CEO Michel d'Humières assembling one by hand, replete with hammer and screwdriver!
Each retail associate is equipped with an iPhone with a proprietary Decathlon app that interfaces with an RFID reader in the mobile checkout station to enable a cashless checkout.
Kid focus
Also noteworthy is the amount of space devoted to children's sports. Roughly 25% of the retail space and 35% of the SKUs are dedicated to minors; for example there are far more kids bikes, helmets and clothing than typically found in an IBD. Decathlon says parents like both the low prices and technical nature of its products, which have many of the same features of its adult lines. One obvious age-old strategy is that by introducing young consumers to its brands, it will keep them as they grow older. Decathlon has also committed to marketing outreach at local schools; it drove its cool 1970s vintage Citroën van to one elementary school in Oakland and distributed 800 athletic balls to a throng of screaming students.
Omnichannel strategy
While Decathlon declined to estimate the number of inventory turns per year it seeks from the Emeryville store, the chain is known for lean inventory management and fast replenishment. In the Emeryville store's case, it is helped that Decathlon's main U.S. warehouse is just a few miles away in Oakland. If a product is out of stock in the store, same or next day replenishment is offered or it can be shipped free to consumers. Online sales now constitute more than half the brand's U.S. sales.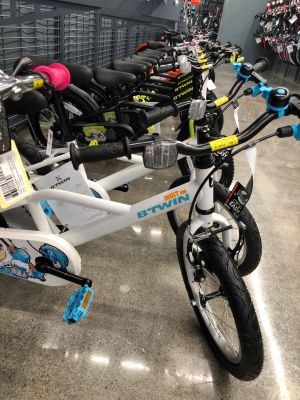 The bike area in Emeryville
At the front of the store are 4,400 square feet set aside to sell Decathlon's B'Twin, Van Rysel, Triban, Oxelo, Aptonia and Kalenji bicycle and triathlon brands. Merchandising, while clean and straightforward for the bike area, was nothing remarkable or trendsetting in a market with some very sophisticated independent bicycle dealers; what was especially noteworthy were the retail prices on softgoods. Bib shorts for $40. Cycling gloves for $5. Full-featured rain capes costing $20 and $25 helmets. All appeared to be of excellent quality. While parts, tools and accessories under Decathlon's various brands were available, they weren't lower priced or better made than counterparts widely available online (example: house-brand 10-speed chains were $25). Inner tubes were a bargain, though: House-brand 700x25-30 presta tubes retail for $3 online and $3.99 in store.
More than 200 bikes ranging from $50 kid striders to $4,000 full carbon road bikes were on sale with a notable focus on triathlon and kids bikes. Pricing was attractive but about on par with equivalent offerings from direct-to-consumer brands like Canyon and Fezzari — perhaps reflecting the relatively low-margins complete bicycles now see in the U.S.
One new focus is the Van Rysel brand of high-end apparel, bikes, shoes and helmets, launched earlier this year with higher price points. Decathlon believes markets are increasingly "niching" into smaller and smaller segments and that it must adopt its products and marketing to this new reality. Expect the French retailer to roughly double the number of its in-house brands in the next few years.
Noteworthy was a storewide focus on triathlon, which Decathlon believes is underserved in U.S. retailers. The store doesn't yet carry triathlon bikes but its house brand tri-bars, wetsuits, shoes and apparel are specifically targeted at multisport.
Surprisingly missing were e-bikes, which the brand sells in some other markets and which are awaiting U.S. compliance. Until its own e-bikes are available in the U.S., Decathlon will be selling e-bikes from Pure Cycles.
Decathlon's U.S. strategy
In addition to its "omnichannel" (internet/retail) distribution O'Kelly de Gallagh said Decathlon will expand to additional locations, first in the San Francisco Bay Area, provided certain sales "triggers" are met, then gradually across the United States in big sporting goods markets, such as New York and Los Angeles. "We're still learning this market," she said, "so we're being methodical about it."
So what's the difference from Performance Bicycle, which attempted to grab the "value" segment of U.S. bike consumers — and failed at it? Decathlon believes that thanks to a large in-house product-development and sourcing team, its brands are comparable or better than anything in the market at less cost. It believes it is a better merchandiser, has better in-stock availability, offers a superior and in-store and online experience, more experienced retail help, and, perhaps most importantly, is a well-capitalized player who has made its formula work across five continents.
Does Decathlon make money on an $40 bib short? We asked an experienced bicycle-clothing product manager familiar with sourcing in Europe and Asia how Decathlon can come to market with an $39.99 retail-priced bib short. Looking at the short, he said with Decathlon's huge scale, direct purchases of fabric and chamois, and sophisticated supply-chain management that the total landed cost was likely in the $15 per unit range, yielding a gross margin of 62%.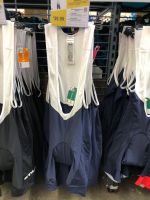 "I'm actually surprised at the (good) margin and quality," he said. "Heck, I'd ride these."
As there are no middlemen or distributors Decathlon can price the product at $39.99 and still eke out a modest profit (overall EBITDA in 2018 was reportedly in the 4% range).
Decathlon's impact on local sports retailers
The impact of Decathlon on the decline of independent bicycle shops in France has been well documented, where IBDs hold less than 10% of the overall bike market — and Decathlon reigns supreme. "Our view is that by making sports much more affordable we broaden the market to many more participants," O'Kelly de Gallagh said.
Who owns Decathlon?
Decathlon was founded by Michel Leclercq, and Decathlon Group continues to be a family-owned business. Gérard Muilliez (widely touted as France's richest individual) is part owner through the private holding company Association Familiale Mulliez.