UPDATES with Bay Area Shelter in Place announcement.
BOULDER, Colo. (BRAIN) — With increased concern over the COVID-19 outbreak and news that many national retailers — including Nike, Apple, REI, and Patagonia — are temporarily closing all their stores in the U.S., bike retailers are rapidly reassessing their response to the virus.
Starting Monday, University Bikes in Boulder will service customers by appointment only, manager Lester Binegar told BRAIN. "We will allow a maximum of six customers in the store at any time," Binegar said.
Chain Reaction Bicycles in Redwood City, California, is remaining open but minimizing contact between staff and customers.
"We're sanitizing touch points, minimizing physical contact (if looking for a touchy-feely experience, that's not us right now!) and keeping on top of retail 'best practices' for your health and safety. And ours!" the store said in an email to customers.
"Part of that means keeping our doors open even when cold outside, so on a colder day, you might want to wear a light jacket. But, you don't have to touch a door handle," the email continued.
Other stores are reducing hours. In Seattle, some stores are closing two or three days a week due to reduced foot traffic and staffing challenges.
At Turin Bicycle Chicago, customers are being asked to stay near the front of the store and to not touch anything.
"Let us know you are here to look at a bike or for some equipment," the store said in an email to customers. 
"We will either bring you to the area where you can see what you are looking for or bring item to you (for example a tire or tube) or, if you are looking for a bike we will walk you through the store. Please do not touch anything without our knowledge.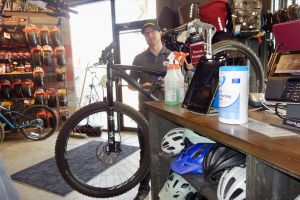 "We will wipe down anything touched by a customer so we need to know exactly what you may be contacting."
At the Angry Catfish bike shop and cafe in Minneapolis, customers were being asked to resist some urges. "Please do not grab bags of retail coffee and tea and rub them against your nose to smell them. Trust us, they smell good," the store asked in a email send to customers on Friday.  
Like many coffee shops, Angry Catfish is not refilling customers' reusable cups and has put creamers. lids and sweteners behind the counter. "Please ask your barista for help with the finishing touches on your drink," the store said. It also encouraged use of contactless forms of payment, but said it will be disinfecting all touch screens frequently.  
Signature Cycles in Greenwich, Connecticut, is remaining open but closing its showroom. "Bike exchange and merchandise delivery will be at the front door ONLY," the store told customers in an email Monday. Signature is also not scheduling bike fits.

Mandatory closures
In Italy and Spain, non-essential businesses, including bike shops, have been ordered closed. So far in the U.S. the only mandatory closures of non-essential retail has been in Puerto Rico and a one-mile radius "containment zone" in New Rochelle, New York.
On Monday afternoon, officials in the San Francisco Bay Area announced a shelter in place policy to begin at midnight. All non-essential businesses in a six-county area are being told to close until at least April 6. Walking, running and bike riding is allowed for exercise as long as participants maintain a 6-foot buffer. (Full order)
Redwood City's Chain Reaction Bicycles will be affected by the order. Owner Mike Jacoubowsky, who is also a board member of the National Bicycle Dealers Association, said the shut down will be brutal on small businesses like his.
"We, speaking for the (Local Bike Shops), are in the middle. We're not too big to fail, and we're not small enough to be nimble and find a safe place to hide. The government assistance appears to pay for two weeks for an employee who is sick; it doesn't say anything about a three week shutdown," Jacoubowsky said, referring to legislation passed by the U.S. House on Monday. The Senate has yet to take up the bill.

"Do I use what little cash I have, actually have to borrow money, to pay employees that would normally be paid through dollars coming in? Knowing that only two weeks of 'pay' might be recovered, and nothing more?" Jacoubowsky continued.

"Do I become more forward-looking and figure out what opportunities may currently exist in bankruptcy? How to make sure I'm protected as best possible?

"What do I expect from my industry partners?

"What about my landlord? Do I expect him to be understanding and forgive three weeks' rent? On what basis? Will there be an emergency law forgiving rent & housing debts for the three weeks?"
San Francisco's Huckleberry Bicycles emailed customers Monday afternoon. "You can and should continue riding your bikes right now.  It is important to stay physically and mentally healthy while we collectively deal with the COVID-19 emergency.   The Shelter in Place order does not restrict hiking and biking, so long as social distancing guidelines are followed.  So get out there and ride!  We'll see you back in the shop once it's safe to do so," the store said.

Other mandates are taking effect across the country as states and cities declare emergencies. In Ohio the state has ordered all restaurants and bars to close after Saturday evening; New York City also ordered restaurants closed except for delivery and takeout; Maryland ordered race tracks and casinos to close; in Colorado, the governor ordered all ski resorts to close starting Sunday.
Besides Nike, Patagonia, and Apple, several other national retail chains have voluntarily closed, including Lululemon and Urban Outfitters. Additionally, many national grocery and department store chains, including Walmart, are reducing hours. Starbucks has eliminated seating at all its locations and closed some stores.
Mandatory school closures in some areas make it harder for all stores and other businesses to maintain staff.
A beneficial activity
In Spain, bike riding is now banned, out of concern that hospitals are overloaded and can't handle any bike-related injuries.
Hopefully, such a ban is unlikely in the U.S. But many groups and shops are canceling organized group rides and USA Cycling on Sunday suspended all race permits through April 5. The organization is recommending the cancelation of all group cycling activities.
However, many retailers, such as Mississippi's Moore's Cycle, are promoting bike riding as a fun stress reliever during a crazy time. 
And bike riders seem to agree without much urging. In New York, use of the CitiBike share system is up significantly and bike-counters on some bridges are seeing a 50% increase over the same period last year. Bike riding is seen as safer than riding subways, taxis or ride shares.
And even in regions that don't have subways, bike use seems to be on the upswing. With resort skiing, indoor gyms and exercise classes closed or viewed as unsafe, bicycling looks even better. 
At University Bikes, Binegar said the store had an excellent sales weekend even has he prepared to shift to the appointment-only policy Monday morning. "We were getting hammered Saturday," he said.
BRAIN can report that bike paths in Boulder were especially crowded with families and enthusiasts on Saturday and Sunday, despite it being a somewhat gray and cool weekend. Anecdotal reports from other retailers around the country indicated that bike retail is having a mini-boom. 
However, Binegar is bracing for an economic slowdown for a few weeks. He's already laid off some part-time workers and other employees have volunteered to take time off. He's prepared to offer some employees financial assistance and said he planned to ask his major supplier to shift payment due dates this month. "This is the month where the bank account level is at its lowest for most shops," he said.
At the nearby Full Cycle, employees said they'd seen no decline in sales in recent days. On Monday, the store began a policy of allowing only five customers at time into the showroom area. It also began new policies in the Tune Up cafe part of the business. 
Legislative mandates and aid
The U.S. House passed an emergency bill Friday that among other things would mandate all employers offer additional paid family and medical leave, with quarterly tax credits available to smaller businesses to offset the cost. Small business advocates immediately said they do not have the capital to absorb those costs in the short term. The House is expected to modify the bill Monday morning and the eventual compromise reached with the Senate will likely be significantly different.