Philadelphia includes bike shops on its list of essential businesses.
SAN FRANCISCO (BRAIN) — Despite an order from Bay Area health officials that all "non-essential" businesses close Tuesday, at least a few bike shops remain open, arguing that they are performing an essential service during the region's shelter in place order.
Mike Jacoubowsky, owner of Chain Reaction Bicycles in Redwood City, said the store was open Tuesday.
"We are open until told otherwise," Jacoubowsky told BRAIN. "We will engage the relevant authorities (which we tried to do yesterday) and make our case."
On Monday, Jacoubowsky tracked sales at the store and determined that 70% of transactions were for essential transportation needs, including service and repair parts. He categorized new bike sales and accessory purchases as non-essential. 
Market Street Cycles in San Francisco is making a similar argument.
"OK, new plan," the store said on its Facebook page Tuesday. "We are declaring ourselves an essential service much like auto repair shops which are allowed to remain open."
Six Bay Area counties, plus nearby Santa Cruz County, have enacted the shelter-in-place order. While the orders in individual counties might vary slightly, the order from San Francisco's Department of Public Health said essential businesses include healthcare businesses; grocery stores, farmers markets, and related food businesses; newspapers and other media; gas stations and auto repair and auto supply businesses; banks; hardware stores; plumbers, electricians and other similar service providers; and more. Restaurants are closed except for delivery and carryout.
Local advocates confirmed with officials on Monday that recreational bike riding is still allowed under the order, as long as riders maintain a six-foot distance between themselves and others.
"Nobody is going to come around and shut us down and red tag our door …" — Kash, owner of Warm Planet Bikes.
Kash, the owner of Warm Planet Bikes, a transportation oriented bike shop in San Francisco, said his store is making service appointments but is otherwise closed. While he believes that his business should be considered essential, he urged retailers and others to be careful not to take a confrontational approach to health authorities.
"There is this undercurrent that The Man is somehow putting us down and we are under their jack-booted authority. This is about public safety and we all need to think about our behavior and whether that can keep us healthy and what we can do to keep people safe," he told BRAIN.
"Nobody is going to come around and shut us down and red tag our door … Nobody in authority has it in for bicycles or is deliberately ignoring us. (The order) is a high-level document; there are a lot of businesses that are not specifically mentioned that will remain open."
American Cyclery, the city's oldest bike shop, has closed its showroom but is still servicing bikes. "Our service department is open, and we are offering curbside dropoff and pickups during normal business hours. It is our understanding that bicycle hardware and repair are essential to residents of our neighborhood, especially the many medical staff we serve," the store said in an email to customers.
Mike's Bikes, which has 12 locations in the Bay Area, continues to operate its mobile service and online sales, said Ken Martin, the chain's founder and CEO. "Mobile is running, online is running, but the shops have been reduced to minimum basic operations with a physical barrier between staff and customers," he told BRAIN.
Mountain bike pioneer Gary Fisher, a San Francisco resident and Trek Bicycle employee, said other retailers were making the case for bike shops to be considered essential. 
"I believe a number of well connected shops have reached out to city government to make this argument," he told BRAIN. "There is a great need for a safe bicycle!"
Fisher's wife is a medical doctor and he has two young children and a 90-year-old mother; he's been a vocal supporter of the shelter in place order on social media.
THANK YOU!! Today a Bay Area 'shelter in place' expected: Only essential businesses open in 6 counties with 6.7 million people until April 7 https://t.co/tFH1KTO3xP

— Gary Fisher (@Gary_Fisher) March 16, 2020
Preemptive approach
In Colorado, at least one retailer is asking officials to preemptively declare that bike retailers are essential. The state's Gov. Jared Polis has ordered bars and restaurants, gyms, theaters and casinos to close for 30 days. He also ordered ski resorts to close.
On Monday evening, the Boulder, Colorado, City Council discussed adopting a shelter-in-place order like San Francisco's, but decided against it.
On Tuesday Lester Binegar, general manager of Boulder's University Bikes, emailed a letter to the Council asking that, if the time comes to mandate business closures, bike shops be allowed to stay open.
"We're seeing explosions of bike use in big cities as an alternative to public transportation. Here in Boulder, the additional benefit will be about family time outdoors, safe, healthy, solo exercise, and a great escape from home and the media," Binegar wrote.
"We don't expect the shops to be selling many bikes. We're all expecting a spike in demand for service and repair work. The focus is on making products and services available to keep people's current bikes running.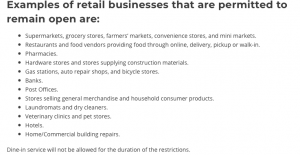 "Boulder by all accounts leads the nation as a city that makes biking convenient and accessible. Of course there's risk to both the shops and customers. Let's let the shops and the customers make their own decisions by letting the shops stay open."
Binegar has shared the letter with other Boulder bike retailers; it's not clear whether they have sent similar messages to the council. 
In Philadelphia, where the mayor ordered all non-essential businesses to close Monday, the city included bike shops on a list of essential businesses.