By Paul Tolme
SEATTLE (BRAIN) — When the co-founder of the Seattle Pedaling Relief Project recently added up the weight of all the food and supplies the nonprofit initiative has delivered on behalf of food banks since last spring, he was stunned at the number: 88 tons. "I was blown away," says Maxwell Burton.
Created in the early days of the pandemic, when layoffs and job losses caused a sharp spike in demand for food assistance, the project has enlisted more than 450 volunteer bicyclists to deliver 176,000 pounds of goods over the past nine months. 
The project's success lies in the fact that it taps the energy and goodwill of the cycling community and channels it to help solve a community need, Burton says. "We have developed a core new way that cyclists can get involved in their communities and help their neighbors." 
While many members of the Seattle's nonprofit bicycling community have supported the initiative, one bike shop in particular was instrumental in getting Seattle Pedaling Relief Project started: G&O Family Cyclery.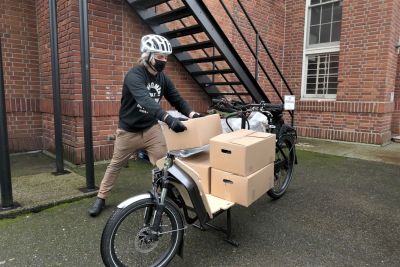 G&O, a pioneer in the rapidly growing segment of shops that specialize in practical electric bikes and cargo bikes for families, has lent its shop space and supplies, helped Seattle Pedaling Relief obtain a fleet of Burley Flatbed trailers at cost, and enabled one of its senior mechanics, Mike Lang, to wrench on the project's loaner bikes while on the clock.
"G&O is far more than a sales floor and a repair shop," says Lang, who co-founded the project with Burton. "I believe we are the gravitational center of cargo cycling materials and culture in Seattle. Mutual aid and participation in the community are valued at G&O far more than at other bike shops I've worked at in the past."
G&O's owner and founder has a long history of community involvement and volunteerism that focuses on using bicycles to help people in need. "In times of great threat and uncertainty it is the responsibility of every individual and institution to do what we can to support people and communities when they are in trouble," says David Giugliano, known to many in the industry by his moniker, "Davey Oil."
Using bike trailers and cargo bikes borrowed from G&O and other bike nonprofits, and tapping the leg power of a growing cadre of volunteer bicyclists, the Seattle Pedaling Relief Project has delivered approximately 5,751 bags and boxes of food to more than 3,400 homes, making thousands of trips and working with five food banks around the city, according to Burton. 
By delivering food directly to homes in many of Seattle's low-income neighborhoods, it eliminates the need for people to visit food banks and risk contracting or spreading COVID-19. The project has also obviated the need for vans or cars to make these deliveries — saving the food banks money and valuable staff time, while also reducing carbon emissions and car traffic. 
Seattle Pedaling Relief also enlists bicyclists to collect donated food from grocery stores and pedal it to food banks so that it can be redistributed. In addition to collecting food, the initiative has rallied volunteer bicyclists to collect and distribute children's books, as well as sanitary supplies. Last summer and fall, the initiative partnered with Seattle's P-Patch Community Gardening Program to harvest and deliver fruits and vegetables to food banks by bike. Now it is expanding a program that uses bicyclists to stock Little Free Pantries, self-serve food stations located in neighborhoods where individuals can grab a few items without visiting a food bank.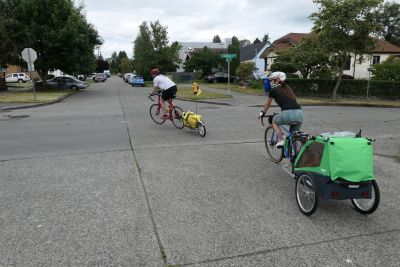 "Our goal is to give cyclists an opportunity to get involved in their neighborhoods, no matter where they live, in this time when many people are experiencing food insecurity," Burton says. 
By promoting utility cycling and volunteerism, Burton adds, the project is "helping to shift the public perception of cycling away from being just a recreational activity to being an alternative to cars or trucks for carrying cargo in an urban environment."
Burton and Lang came up with the idea for Seattle Pedaling Relief last spring while collaborating on plans for the next Disaster Relief Trials, a competition where cargo bikes are used to deliver heavy supplies as part of a mock disaster such as an earthquake. "When COVID-19 hit, we realized we had a disaster on our hands and this was no longer a trial," Burton says.  
Pedaling Relief volunteers run the gamut, from newbie riders to bike racers, young and old, pedaling everything from creaky hybrids to brand new electric cargo bikes. 
Volunteer Kirill Glushko, who says he previously only rode lightweight carbon fiber road bikes, bought an electric cargo bike, a Riese & Muller "Packster," from G&O, so that he could carry more weight and do more deliveries. 
"I love riding my bike, and I ride a lot of miles," says Glushko, who estimates he has done 100 trips with Seattle Pedaling Relief since last summer. "When COVID hit, I realized I should do something helpful with all those miles I was riding."
While the pandemic and resulting economic fallout have hit many low-income workers and families hard, many professionals are working from home with a desire to get out and ride. The Seattle Pedaling Relief Project gives those bicyclists who have prospered during the pandemic an opportunity to ride for a cause. "We want everyone in the Seattle cycling community to know that if they ever have free time and they want to serve their community they can sign up and join us. It's very rewarding," Burton says. 
For Gugliano, who has participated in many bicycle-powered community efforts in the past, helping Seattle Pedaling Relief is a logical step. "G&O was directly born from activism," he says. "Starting a for-profit shop focused on transportation was an opportunity to help lessen car-dependence for folks in Seattle, especially moms, women in general, and tradespeople."
Seattle Pedaling Relief Project is now seeking donations and grants that will enable the initiative to become a permanent institution in Seattle that can be called upon in times of need. The project offers volunteer delivery times four days per week, at five food banks, from Wednesday through Saturday. Learn more at pedalingrelief.org
Editor's Note: Paul Tolme is a journalist who has written several articles for BRAIN in the past. He is also an employee of Cascade Bicycle Club, which is a financial supporter of the Seattle Pedaling Relief Project. He has ridden in multiple food bank deliveries and finds it way more fulfilling than doing a solo ride for exercise.