BOULDER, Colo. (BRAIN) — Police have recovered stolen prototype bikes valued at $80,000, thanks in part to help from local retailer Full Cycle. The store's owner became suspicious when a man walked in with a $12,000 e-bike and a pair of bolt cutters. 
Three bikes and some other gear were stolen overnight on March 30 from the Boulder headquarters of Driven, the drivetrain startup connected with component brand CeramicSpeed.
The following day, a man walked into Full Cycle with one of the bikes, a $12,000 Specialized Levo, a stock personal bike owned by Driven's founder, Jason Smith. The Levo was stolen along with two bikes with prototype drivetrains and other gear. The prototypes were valued at $70,000 combined. 
The man, seen in store security footage below had bolt cutters sticking out of his backpack.
"The guy came in with a flat and we sold him a hand pump, then called police.  He left but the police caught up with him 2 hours later," Full Cycle owner Russ Chandler told BRAIN.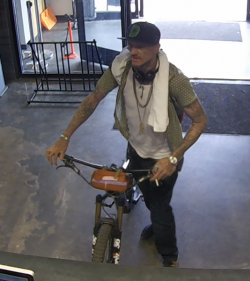 "It was so obvious that this guy was a thief. He even had bolt cutters in his backpack!" Chandler said in an email to Smith, which Chandler shared with BRAIN.
Police said that the arrest of the man from the bike shop led to recovery of one of the prototype bikes and other stolen property in addition to the Levo. Separately, a community member spotted the second prototype bike in another part of the city this week and notified police.
"I am so proud of the great work done by everyone involved with these cases. I'd like to thank the community members who spotted these bikes, knew something didn't look right and called us," Boulder Police Chief Maris Herold said in a release this week. 
Police did not release the name of the suspect arrested after visiting Full Cycle and declined to share more details because the investigation is ongoing, Boulder Police Public Information Officer Dionne Waugh told BRAIN.