THOUSANDS JOIN GIANT GROUP TO CELEBRATE RIDE LIKE KING EVENT AND SUPPORT WORLD BICYCLE RELIEF
12th annual celebration of founder King Liu drew more than 2700 riders on Zwift and generated a donation of 100 bicycles to people in need
Giant Group, parent company of the Giant, Liv, Momentum and CADEX brands, celebrated its 12th Annual Ride Like King event August 14-16, bringing together people from around the world to honor company founder King Liu and his longstanding efforts to promote the positive benefits of cycling.
This year's event, named RLK12, was focused on global bicycle advocacy, leveraging fun virtual group rides to generate meaningful donations for a charitable cause. Along with partners Zwift, the online training program that allows people to train and ride together virtually, and World Bicycle Relief, a global charity that works to mobilize people in developing countries, Giant Group brought together thousands of people to ride, celebrate King Liu's passion for cycling, and donate life-changing, specially-built bikes to people and regions in need.
RLK12 participants rode in four different Zwift events over three days. A total of more than 2700 people finished these rides, accumulating nearly 120,000 kilometers. The open rides were led by Giant athletes and ambassadors including two-time New Zealand time trial champion Paddy Bevin of CCC Team; Australian Tim Searle, the founder of the popular weekly Aussie Hump Day Ride on Zwift; and former U.S. national criterium champion Rahsaan Bahati.
The women's RLK12 Zwift rides were led by Liv ambassadors, including legendary endurance racer Rebecca Rusch; and Liv Racing athletes Serena Bishop Gordon and Ayesha McGowan. Many Giant Group employees, including Chairperson Bonnie Tu, Chief Branding Officer Phoebe Liu, and Giant Australia GM Darren Rutherford, also completed the Zwift rides.
One of the main goals with this year's Ride Like King event was to help World Bicycle Relief mobilize as many of their specially designed Buffalo Bicycles as possible to people in need. To honor 12 years of Ride Like King, Giant Group agreed to donate one Buffalo Bicycle for every 1200km ridden on Zwift over three days.
The Buffalo Bicycle is a purpose-built bike that's engineered for heavy loads, long distances and rugged terrain. The bikes are simple to maintain and easy to repair, ensuring years of reliable use in harsh conditions. They are manufactured by Giant Group and assembled by World Bicycle Relief employees in local regions around the world. In the end, with the help of all the riders who participated, Giant Group was able to donate 100 new Buffalo Bicycles.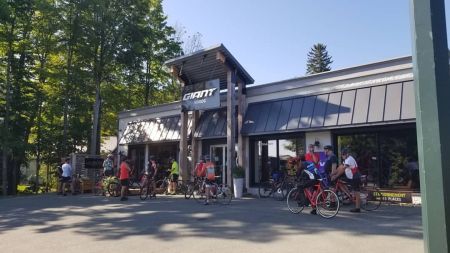 "It was amazing to see the global cycling community come together for Ride Like King 12 to support World Bicycle Relief," said F.K. Day, co-founder of World Bicycle Relief. "Thanks to Giant Group, Zwift and the thousands of riders who all helped to bring life-changing Buffalo Bikes to rural communities worldwide."
All Zwift ride participants were assigned RLK12 kits during their rides. Having completed their rides, they can now unlock these kits for future Zwift sessions. Participants also had a chance to win real commemorative RLK12 jerseys by random drawing. Five jerseys are being awarded from each ride, and those winners will be named in the near future.
Beyond the Zwift rides, many supporters of Giant Group from around the world organized their own rides on roads, paths or trails. They shared their experiences by posting photos and stories on Giant and Liv social media channels with the hashtag #RideLikeKing. More prizes were awarded to these participants, with another 12 people to be selected as winners of the limited-edition jerseys.
"Inspired by WBR's vision on the 'power of bicycles,' our company came together with riders worldwide to ride for a better world," said An Le, Giant Group Global Marketing Director. "While RLK12 was a three-day event, these 100 Buffalo bikes will have a lasting impact on communities for years to come."
To learn more about World Bicycle Relief, go to worldbicyclerelief.org.
About Giant Group
Giant Group was established in 1972. With the Brand Purpose "Raise The Bar," it is committed to advancing the entire cycling world and actively promoting a new cycling culture worldwide. Today Giant Group is the world's largest bicycle manufacturer and operates four major product brands: Giant, Liv, momentum and CADEX.